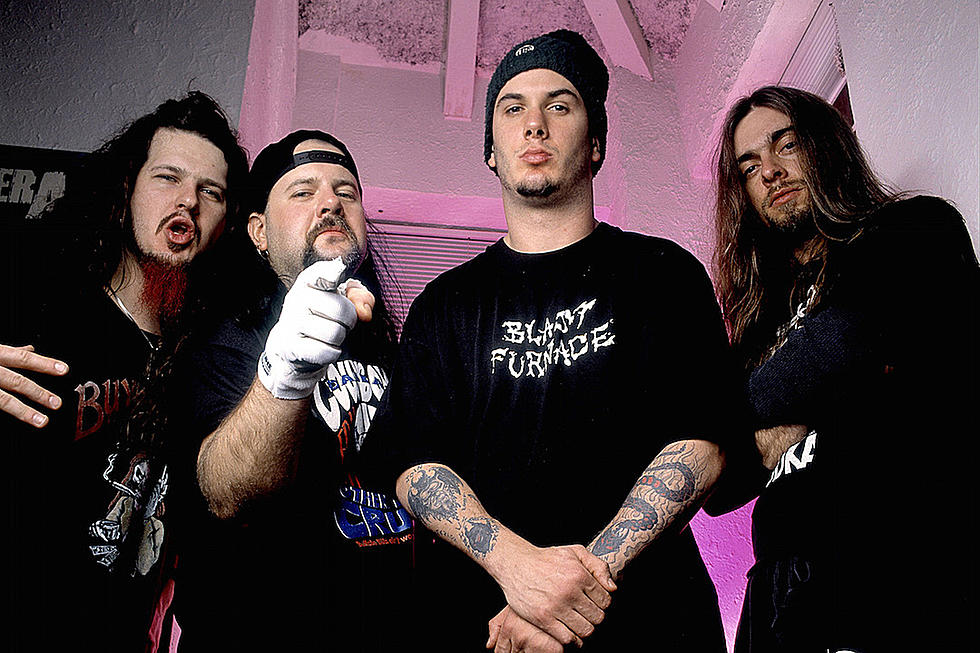 Rex Brown Pens Heartfelt Tribute to Vinnie Paul: 'He Was the Original for His Generation'
Ron Natkin, Wire Image/Getty Images
Shortly after the death of Vinnie Paul, a flood of tributes came in from throughout the music and entertainment world. Paul's longtime Pantera bandmate Rex Brown, meanwhile, held back his thoughts, explaining to the public that he needed time to process the death of his friend and promised a statement would be coming. Brown has made good on that promise, offering a lengthy statement reflecting not only on the talents of Paul, but sharing fond recollections, speaking of their relationship and giving one of the more well-rounded tributes painting the picture of the man he knew.
In his tribute, sent to Rolling Stone, Brown says he declined interview requests because this was not about him and he wanted to make sure the moment was all about Vinnie. Brown also states, "There were a lot of great metal drummers who Vinnie was influenced by, but once he got behind the kit, every single one of them had to take a look at what Vinnie Paul, the Brick Wall, was doing. He changed the game. He was the original for his generation, a generation that's still going. Everybody wanted to play like him. People always thought those were sampled tracks – they were not. Period."
Brown shares stories from their pre-Pantera youth, offers recollections of both Abbott brothers and reflects on the force that Pantera became in their heyday with a focused determination toward their music. Check out Brown's statement below.
I've been devastated, saddened, and shaken, almost beyond words, about the passing of my longtime brother in Pantera, Vincent Paul Abbott.
While I understand and appreciate the desire to hear from me, I have taken my time to collect my thoughts, to begin to process this terrible loss. I've chosen to decline the interview requests, because this is not about me. This moment belongs to Vinnie.
I'd like to send out my sincerest and heartfelt condolences to his relatives, to the Pantera family, to his newer family in Hellyeah, and to all of the fans that Vinnie Paul spent his life entertaining. My thoughts and prayers are with every one of you.
I'm especially heartbroken for Vinnie's father, Jerry Abbott, who opened his studio and showed us the ropes in the early days. No man should have to bury his sons.
All I can do is focus on the great times and the brotherhood the four of us shared.
When I was in junior high, I'd heard of these boys, the Abbotts. I knew Vinnie Abbott was an outstanding drummer. We had met at a UIL contest for lab bands when I was 15. My high school had one of the best music programs in the country. I met Vinnie in tenth grade. I was playing bass and he was playing drums in one of the country's most prestigious lab bands at the high school level. The lab band was always invited to Montreux Jazz Festival. The music directors were very cool, if you know what I mean.
Vinnie and I formed a really tight bond, as we would have to do sectionals. In these sectionals, they'd put Vinnie and I in a room, but rather than go over the stuff we were supposed to rehearse, we'd play Rush's 2112 in its entirety instead.
The brothers and I went to every major concert together that came to town. We saw The Eagles, KISS, Pat Travers, Sammy Hagar, etc.
Vinnie's little brother, Darrell, was by then learning a few chords from their father, who happened to be left-handed. When he was about 14, Darrell got in his room and studied all of the Randy Rhoads stuff on the first two Ozzy Osbourne albums. It changed his life completely. It was so surreal to watch somebody become such a protégé at such a young age. When Darrell emerged, by the age of 15, he'd won every major guitar contest in the Southwest region.
At some point they'd built a stage in their garage. Vinnie had a huge drum set. These guys had the only p.a. system in town, too, with microphones. What a blessing that was:: Around this time I was playing bass and singing in a three-piece band, Neck and the Brewheads. We'd play parties together, where we got paid in free beer and cheap acid. Dime would run sound for us and always arrived with a two-liter of Big Red soft drink and Slim Jim beef jerky, eating those things a half dozen at a time.
The brothers invited me to join their band, Pantera. We made our first album, Metal Magic, before I was 18…Playing Skating rinks to Prom's to anywhere we could get a gig!! Aww..The exuberance of Youth.
Vinnie and I often went on fishing trips together back then. Even if we were hung over, we'd get up at six in the morning to go catch some fish. We usually went out on this big lake on the Texas/Louisiana border, Toledo Bend. Sometimes we'd go so far we'd get lost, or run out of gas in our little boat and have to paddle in. We even sunk a couple of those boats in our huge city lake and would have to swim to the shore.
I'd been around golf courses all of my life. I invited Vinnie out on the links once. After that, golf became our staple. I loved watching that guy hit a golf ball. He was so unorthodox! Sometimes he could just peel the shit off of a golf ball. We brought our clubs on the road with us every tour from about 1993 onward. We loved to play.
We became really tight over the course of those first three records, often playing six nights per week, five sets per night. When the old singer ran off, we got lucky enough to get Phillip in the band. He brought something with him that was just incredible. Everything changed, from musical styles to things we hadn't heard before. Our playlists were completely different now. The four of us were always together, playing all over the state of Texas, Louisiana, and Oklahoma, at the same time selling boatloads of cassettes and vinyl out of the back of our car.
Dime and I always shared a hotel room and we were always up to no good, while Vinnie and Phillip – two completely different cats – had to listen to our antics from the room next door.
We recorded a record with Phillip called Power Metal and sold 40,000 copies out of said car. The major labels were now interested. We'd had 28 turndowns in the previous six years. Atco Records came to the rescue.
Once we got our foot in the door (meaning major label), we didn't get off stage and start partying right away like most bands did. IT WAS ALL ABOUT THE JAM. We'd sit there and go through everything about the performance, every tempo, and every cue. Everything had to be spot on, for all of us, even when we were terribly hungover. We wanted to keep bettering ourselves. The times we just let it go and let the magic happen, the music pulled us all together to make what we did so special.
There were a lot of great metal drummers who Vinnie was influenced by, but once he got behind the kit, every single one of them had to take a look at what Vinnie Paul, the Brick Wall, was doing. He changed the game. He was the original for his generation, a generation that's still going. Everybody wanted to play like him. People always thought those were sampled tracks – they were not. Period.
Vinnie was also a hell of an engineer. He knew the ins and outs of any board. He learned so young from his dad, who was an experienced engineer. He could get behind the board and do anything. He just had it.
In the '90s, there wasn't a tighter rhythm section than Vince, Darrell, and myself. Even on our worst night, we could dust you off the stage. Because the three of us had played so many clubs together, so many tunes, we always knew exactly where each other was going to go.
All of us were so uniquely different from each other, even the brothers. We all had unique personalities that all meshed together, because of our separate influences and personalities, that made the whole thing what it was. Unless you've been in a band, you can't understand that the relationship between Dime and myself was one thing, between Phillip and Vinnie was another, and on and on, in every combination.
When the four of us got in a room together, there was always a common goal.
To destroy.
I don't think there'll ever be chemistry like what the four of us shared again. I've been so blessed in so many ways by having them in my life. We were living and breathing each other's everything for 20 odd years, which just like anything in life, has its difficulties, but nothing major. But even when there was little communication, we still shared tremendous respect.
When I look back, no matter what, I can honestly say that there were far more ups than downs with Pantera. It was uncanny the way we played together. Once we got into that state, with that black look in our eyes, we were fucking dangerous, man.
Those boys grew up wanting to be great like Alex and Eddie Van Halen. And you know what? They did it. When Pantera supported KISS on their reunion tour, all four of the original members came back to our row on a long flight to sing "Happy Birthday" to Vinnie. It was about the coolest thing that could have happened to him and us.
I'm so grateful to have been around the Abbott brothers, to play some part in their legacy, to share more than half of my life on the road and in the studio with them. And I'm so thankful that Vinnie found a home for his unmistakable groove, some peace and happiness, and a new family with Hellyeah, after the unthinkable tragedy in 2004.
I never thought of myself as anything more than part of the team. That's the way we all were. It was all about that jam. How many people get to experience something like what we experienced together? Very few.
At the end of the day, all you can hope is that you gave it your all, ya' know? Vinnie did. He gave everything he possibly could, as we all did.
The best way to honor Vinnie is to celebrate his life. He approached drumming, and friendship, with his own brand of perfection. We must remember the great times we shared with him. Rest in peace, Vinnie, and give Dime a big ole' fashioned Texas style hug from all of us. You made an incredible mark on the world and you were taken from us way too soon.
Much love and respect,
Rex.
Paul died on June 22 at the age of 54. An official cause of death has yet to be confirmed by the coroner.
Vinnie Paul 1964-2018: A Look Back at Pantera's Legendary Drummer
See Where Vinnie Paul Ranks Among Our Top 66 Hard Rock + Metal Drummers