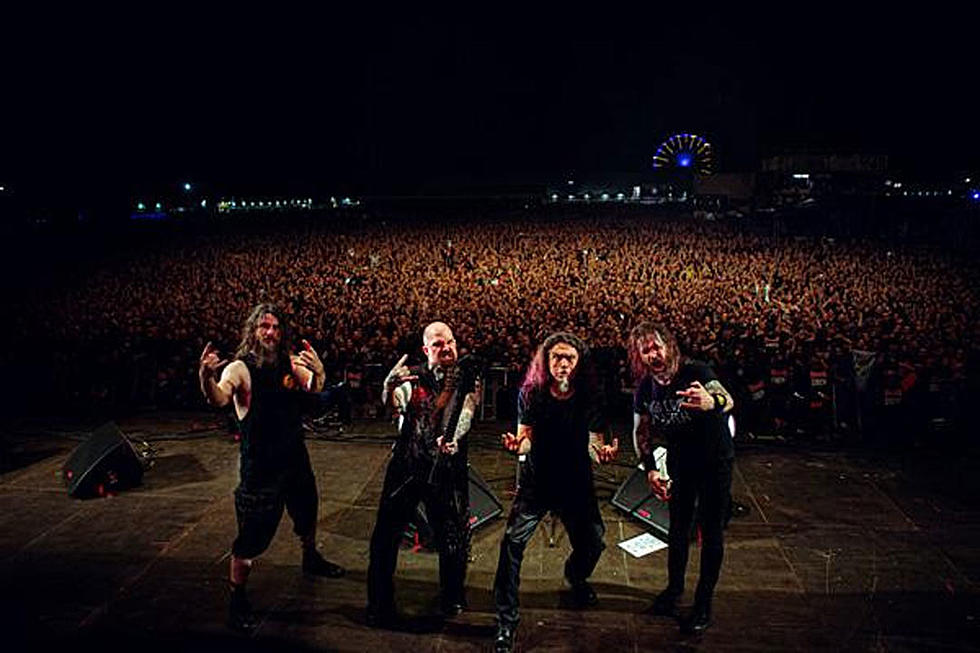 Slayer Manager: I Don't Sense a Reunion in the Future
Photo by Tim Tronckoe
Slayer's lengthy farewell tour finally comes to an end Nov. 30. The legendary thrash band will complete a career 38 years in the making, and even with acts like Motley Crue, Rage Against the Machine and My Chemical Romance announcing reunions, Slayer's manager doesn't foresee another tour on the horizon.
Slayer's decade has been an indiscriminate mix of the tragic and triumphant. The death of guitarist Jeff Hanneman left the metal world shocked and saddened, while the departure of drummer Dave Lombardo brought further instability to the band. Slayer rallied, however, recruiting Exodus guitar beast Gary Holt and '90s era drummer Paul Bostaph to help continue their powerful presence.
"They've been doing this for so long. They just said, 'OK, this is enough,'" manager Rick Sales tells the Los Angeles Times. "My analogy is Jerry Seinfeld, who had probably the biggest TV show when he went out on top. I respect the band for the decision. If you're going to do it, this is the way."
When asked if he could imagine Slayer reuniting for another tour, Sales gave the idea a hard no. "I'm not sensing that at all," Sales says. "Let's put the touring to bed. I've got a couple of ideas [for future projects], but we haven't made any decisions. Right now, they're preoccupied with the end, and I imagine it's emotional. It's emotional for me."
Slayer will perform their final show at the Forum in Los Angeles on Nov. 30. To grab the band's new live album and short film, The Repentless Killology, click here.
The 66 Best Metal Songs of the Decade: 2010 - 2019