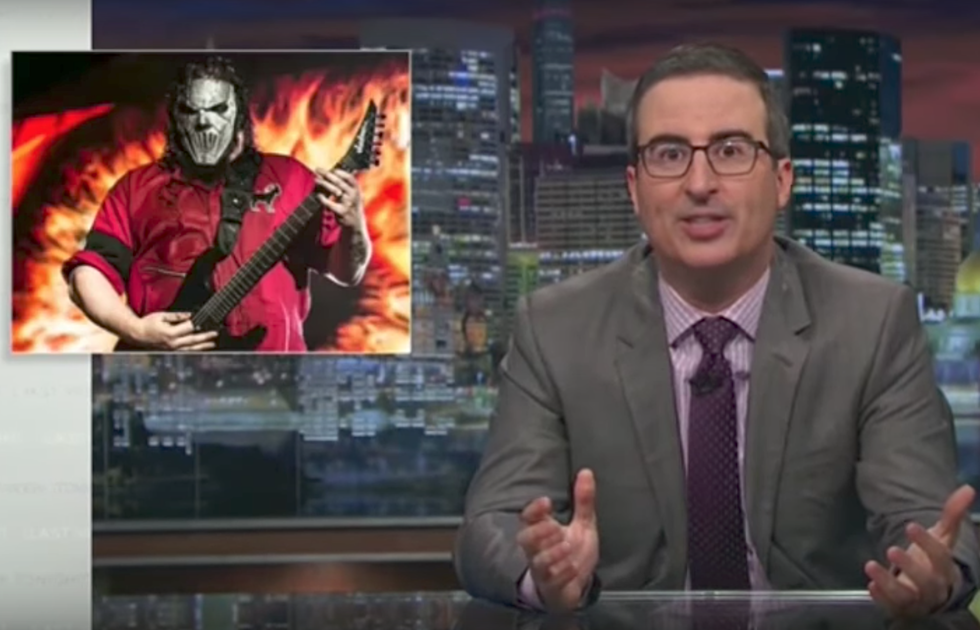 Slipknot Mentioned on 'John Oliver' as Punchline to Trump Joke
YouTube
If you checked out last night's (Oct. 8) episode of Last Week Tonight with John Oliver, you may have noticed an image of Slipknot guitarist / Michael Myers stand-in Mick Thomson assaulting your TV screen. That's because Slipknot ended up being the punchline for a joke about Donald Trump's recent "calm before the storm" quote.
President Trump recently invited a large group of military leaders to the White House. While standing together for a photo op, Trump said, "Maybe it's the calm before the storm," in front of a group of journalists. The media members quickly soiled themselves, pleading with the president to elaborate on his statement, especially since tensions between the U.S. and North Korea have been escalating. Trump refused to say anything more, possibly sending a handful of Americans to their personal underground doomsday bunkers a little earlier than planned.
Naturally, John Oliver covered the story on Last Week Tonight, tagging a Slipknot joke onto his commentary on the situation. "For a start, no moment in the preceding nine months has been even remotely 'calm,'" Oliver began. "It's like we're two hours into a Slipknot concert and they just said, 'Enough ballads, now we're gonna play one that rocks!'"
Not a bad line from John Oliver! Though a Slipknot show is generally seen as more enjoyable than the threat of nuclear warfare.
This continues a pretty solid week for metal references on television, as Slayer was recently the answer for a question about thrash's Big Four on Jeopardy.
10 Unforgettable Corey Taylor Slipknot Moments
Get Tickets to the 2017 Loudwire Music Awards