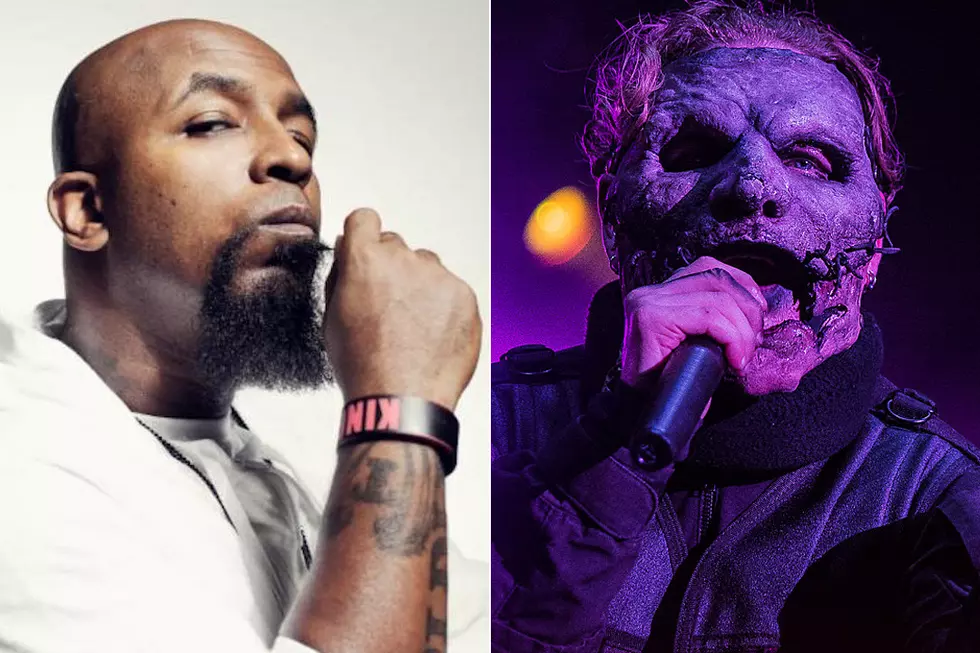 Tech N9ne Shouts Out Slipknot in New Track 'Like I Ain't'
Strange Music / Nick Durcholz
Tech N9ne's new album N9NA is out today and the prolific rapper has dropped a new video for "Like I Ain't." Tech, who has collaborated with Corey Taylor in the past, shouted out Slipknot and their fans in the song.
Back in 2015, Tech N9ne released "Wither" featuring Corey Taylor. The track addresses Tech's darkness as it was happening, and when Loudwire premiered the song, Tech compared its theme to the day Slipknot guitarist Mick Thomson was stabbed by his brother.
"I'm slowly withering away. I don't know how to stop it, and I don't know if I want to stop it, that's the scary part," Tech said. "I've got people in my phone right now trying to call me that don't deserve to have my love around them because how bad they talk to me. Being my blood, you don't talk to me like you're gonna come and kill me. I'm in Australia, and I read how Mick [Thomson's] brother stabbed him in the head, and I'm looking at this shit like, 'I can't go through this with my family, man. I've just got to stay away because your blood will kill you. What if Mick died, man? Paul [Gray] was enough. What the fuck? I've been a maggot since 1999."
Throughout "Like I Ain't," Tech raps about his passion for music never dwindling despite his success. The artist is attacking the rap game like he never achieved a thing, expressing his hunger for greatness with each bar.
In the song's second verse, Tech raps about his genre-bending and wanting to reach the pinnacle of rock music like "my homie in Slipknot," most likely referring to Corey Taylor:
Like I'm tryna be the best up in this hip-hop (Cheah)
And do a track with the king of Atlanta, T.I.P.-top
Then turn around and switch it up, do big rock
Tryna ride all the way up to my homie in Slipknot (Maggot)
Tech punctuates the line with "Maggot," shouting out Slipknot's fan base.
"Fans have been asking for an album centered around just Tech N9ne with minimal features, so I give them N9NA," Tech N9ne explains. "This is me, wholeheartedly. It's something for my die-hard fans and an introduction for all newcomers. I'm rapping like never before – like I've never sold a Gold or Platinum record."
Check out Tech's new song above and click here to grab a copy of N9NA.
Every Slipknot Song Ranked