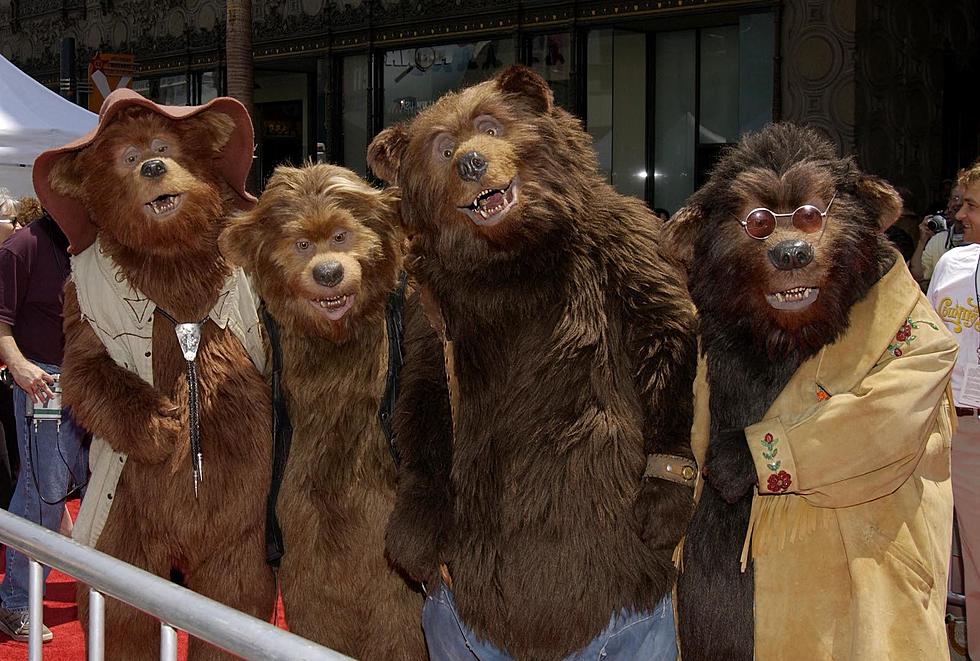 How 'The Country Bears' Became the Strangest Disney Movie Ever
WireImage
On an otherwise ordinary day in 2001, a bus full of Los Angeles tourists hoping to catch a glimpse of some celebrities got way more than they bargained for: The sight of six enormous bears dressed in human clothes.
The bears were trying to get past the gates of an immense Beverly Hills mansion. A man came to greet them at the gate, dressed in overalls, a plaid shirt, and a khaki sun hat.
That man was Elton John.
The guy supervising this surreal scene was Peter Hastings, the director of the Disney film The Country Bears. In the scene, these enormous anthropomorphized bears — the members of a former rock band who reunite for a benefit concert — are looking for their old lead singer, Ted Bedderhead. (Ted, it should be noted, is also a bear.)
The Country Bears travel to this Beverly Hills mansion because they think it belongs to Ted. It's actually Elton John's house, but because Elton is kneeling in a flower bed and dressed for landscaping work, they mistake him for a gardener. As Hastings began shooting the scene between the five-time Grammy winner and six talking bears, the tour bus rolled up.
"We're standing there on the street," Hastings remembers, "and the bears are there, the whole setup is there, Elton is standing there, and the tour bus comes by. Can you imagine? You're on the tour bus and it's like 'Oh my god, there's a bunch of mechanical bears and Elton John in the driveway!'"
Had the bus stuck around, they would have witnessed first-hand just how complicated practical effects such as the Country Bears can be. The Bears were high-tech suits designed by Jim Henson's Creature Shop, with animatronic faces that were remote-controlled by puppeteers. Each Bear was tethered to their puppeteers' control panel via a series of cables. On this particular day, the cables got crossed.
"Every bear has a rig; a rack with all the equipment," Hastings explains. "When we were with Elton John, they accidentally plugged one puppeteer's rig into the wrong bear. And they all had presets. So when they plugged it into this the wrong bear, his jaw just exposed all his teeth and his face got all crooked. And Elton John said to me 'That looks like me after I did too much coke back in the day.'"
That coke-jawed bear, freaking out on the lawn of a lavish Beverly Hills mansion sums up The Country Bears in a single image: Weird, inexplicable, slightly off-putting, and yet undeniably compelling. The Country Bears is the sort of movie that no one would describe as "great" — but it's also a movie that lingers in your memory, and inspires intense conversations among anyone who discovers it. 20 years after its release, it still occupies a unique place in the Disney library. It may be the strangest theatrical movie the company ever produced.
Its source material, the long-running Country Bear Jamboree show at Walt Disney World, also occupies a unique spot in Disney's history: It was one of the very last attractions that Walt Disney himself played a role in conceiving. In 1966, Disney announced plans to build a ski resort in California's Sequoia National Park. Part of the proposal for the Mineral King Resort included entertainment options that would keep families on property at night after they returned from a day at the slopes. Walt Disney commissioned his Imagineers to create a musical show featuring bears. (For some reason, Disney liked the idea of bears playing music. No one knows why.)
Disney died in December of 1966, and the Mineral King Ski Resort project soon became mired in lawsuits, protests, and controversies. When the company began plans for Walt Disney World, it was determined that the musical bear show would be a good addition, and so it became one of its featured attractions — and because of the Magic Kingdom's location in the South, the Imagineers decided to focus entirely on country songs. With that, the Country Bear Jamboree was born.
When it opened with the rest of the new Walt Disney World resort in October of 1971, the Jamboree was an immediate smash. It was so popular, in fact, that when Imagineers created a copy of the show for Disneyland a few years later, they built it inside a building with two side-by-side theaters in order to double the Jamboree's capacity and accommodate as many guests as humanly (or bearly) possible.
Although the Country Bear Jamboree's popularity waned through the decades, it was still one of Disney's signature theme park creations at the start of the 21st century. So when the company began to experiment with turning its most popular Disneyland brands into films, it was on the first shortlist of concepts deemed to have most potential, alongside the Pirates of the Caribbean and the Haunted Mansion.
That's where Peter Hastings enters the picture. By the early 2000s, Hastings was working at Disney after a six-year stint at Warner Bros. Animation, where he helped write and produce Tiny Toon Adventures, Animaniacs, and Pinky and the Brain. Early in his tenure at Disney, he worked on the company's One Saturday Morning animation block and consulted for the Imagineering division. Although most of his television credits were in the world of animation, Hastings' training was in music — he attended Berklee College and first moved to Los Angeles hoping to become a musician — and what he really wanted to do was direct a movie.
He revealed his ambitions in a meeting with a Disney studio executive, who immediately reached into a pile of scripts and handed him The Country Bears. In an interview last month, Hastings admitted he had very little affinity for the Country Bears Jamboree, and held a fair amount of skepticism that the concept could work as a movie. But then, he says, he spoke with a director friend, who gave him some advice: "If you get a chance to direct a movie at a major studio, you should take it."
Despite Hastings inexperience as a live-action filmmaker, he campaigned for the job and got it. (It helps, he says, that even at that early stage, few at the company took the project very seriously.) The Bears script draft Hastings received was by Mark Perez, a young writer who would go on to work on films such as Herbie Fully Loaded and Game Night. Hastings estimates The Country Bears that ultimately got released to theaters was about half material from Perez's initial draft and half material Hastings himself worked on with fellow Animaniacs alum Paul Rugg. (The final script was credited solely to Perez.)
The main thing that appealed to Hastings in Perez's screenplay were the Bears themselves; instead of a spoof of old-fashioned country music like the theme-park attraction, Perez's Country Bears were a Southern rock band in the style of the Allman Brothers Band. With a structure borrowed from The Blues Brothers, The Country Bears movie follows a young bear named Beary Barrington (voiced by Haley Joel Osment) who idolizes the Country Bears. After discovering he was adopted by his human parents, Beary decides to run away from home to Country Bear Hall, the venue where the band played many of their gigs. There, Beary discovers the Hall is in danger of being foreclosed on and destroyed by an evil banker, so he sets off on a road trip to reunite the Bears for a concert to raise the necessary funds to save the place.
Hastings says by the time he and Rugg were done with the script it was pretty funny, with jokes that poked fun at Behind the Music clichés about bands' inevitable rise, fall, and reunions. There was just one problem: No one was prepared for the complexity or difficulty of, as Hastings puts it, "getting dudes in animatronic bear suits to pull off comedy."
"It was so complicated, it was ridiculous," Hastings adds. "I'd say 'Okay you're gonna come into the room and then walk over to the table and then grab that ketchup bottle.' That would take like 20 minutes to figure out all that blocking because the guy can't see. So he's literally counting steps, and meanwhile he's working in partnership with the puppeteer who is doing the face while this other person is walking around and moving. Then I'm on the headset talking to them and the puppeteer is also doing the voice for it. It was kind of like directing sailboats."
The process was rendered even more complex by the fact that the voices of the Bears were all recorded in post-production after the scenes with the animatronic characters had already been shot. That meant the voice actors — which included veteran animation performers and comedians such as Dietrich Bader, Stephen Root, Brad Garrett, and Kevin Michael Richardson — had to match their dialogue to animatronic actors' lip movements, making it difficult to improvise new jokes or even for the voice actors to perform the lines as written in the inflection they wanted.
"There's a scene where [one of the Country Bears] reads a letter that Beary left behind," Hastings says. "And it's kind of this sentimental sort of thing. And then Brad [Garrett] heard what the puppeteer did and he goes 'Oh… I would never have done it that way. Okay, let's go.' In animation, you would have recorded them first. So you'd be animating to Brad Garrett's voice; you'd be animating to Haley Joel Osment's voice. That's what the animator would be listening to." In a sense, the entire process for bringing The Country Bears to life was backward.
There was one element of the film that worked from beginning to end: The lead performance by Christopher Walken, who plays Reed Thimple, the embittered banker who hates the Country Bears and wants to destroy Country Bear Hall. Hastings and his team offered Walken the role assuming he would say no; instead, a week later, he was the top-billed human star of The Country Bears.
As Thimple, Walken is the perfect foil for the Country Bears; he's even more cartoonish than the Bears themselves. Walken only worked for 10 days on the movie, but he steals every single scene he appears in with his off-kilter line deliveries and utter commitment to his role as a former competitive armpit farter who makes it his life's mission to crush the Country Bears.
Hastings has nothing but good things to say about working with Walken, even if the actor's instincts were sometimes as off-kilter as Reed Thimple's. "We're doing stuff and he says to me, 'Hey, you want me to do a Southern accent?' And I go 'What does that sound like?' And he goes [Hastings approximates a Christopher Walken voice without a hint of a Southern accent] 'Hey! You bears! Hey! Hi! Come on!'"
"I was like 'F—, I've got Christopher Walken and he wants to do a Southern accent.'" And then he goes 'Or I could just do me.' And I was like, 'Yeah, that sounds good. Let's do that.' We rode in a car once and he goes 'I gotta tell you, this is one of the best scripts I've ever read.' And I was like 'What?' Yeah, that's right, right there by The Deer Hunter.'"
Without realizing it, Hastings and his Country Bears script had stumbled onto one of Walken's personal fascinations. According to Dana Carvey in an interview on Late Night With Conan O'Brien, the first time Walken hosted Saturday Night Live, he sat stone-faced during the Monday pitch meeting while the entire writing staff threw out sketch ideas.
Walken liked none of their pitches. After an hour, Lorne Michaels asked him if he wanted to add anything. According to Carvey, Walken replied "Bear suits are funny ... and bears as well." No wonder he was so invested in The Country Bears or was convincing playing a man who is so consumed with hatred for the Bears that he keeps an oversized crusher in his office, which he uses to smoosh models of Country Bear Hall while he yells "OH NO!"
That was Bob Dylan's "Everything Is Broken" playing on the soundtrack underneath Walken's subtle line readings. While it sounds absurd that Bob Dylan's music might appear in a film called The Country Bears, the entire movie is filled with great country and rock music; both classic tracks and memorable new tunes by singer-songwriter John Hiatt and legendary record producer Glyn Johns — who used his connections to bring in talented musicians to work on the soundtrack, including Brian Setzer and several members of the Heartbreakers and Elvis Costello's band.
Even more respected musicians make cameos in the film, including Willie Nelson, Wyclef Jean, Queen Latifah, and the aforementioned Elton John. (The only musicians Hastings recalls turning the movie down are the Dixie Chicks and Aerosmith, who were going to do a song for the movie until decided they "didn't want to be associated with '70s rock" anymore.)
The Country Bears' overarching joke is that all these great artists appear in the opening and closing credits in a Behind the Music-style TV clips, professing their admiration for the Bears' music and influence. It's a clever gag; it was later reused even more effectively by the Lonely Island in a similar sequence in Popstar: Never Stop Never Stopping. But The Country Bears adds an extra layer of surreality to the whole thing, because the Bears' music is not only catchy, it's performed by these giant, fumbling, animatronic forrest dwellers.
So you might cut from Christopher Walken howling that he wants to "DESTROY DAH BEARS!" to a melancholic John Hiatt love ballad. Sometimes the two halves of the movie exist simultaneously in one scene, as in this very bizarre yet undeniably beautiful duet between Trixie St. Claire and Tennessee O'Neal, whose voices are provided by Bonnie Raitt and Don Henley of the Eagles.
The red carpet premiere for The Country Bears took place at the El Capitan Theatre in Hollywood on July 21, 2002. Images of the event show an affair filled with smiling stars and even a couple Country Bears, who posed for photos with the cast and crew.
Hastings says expectations for the movie were initially high. "We did a test screening that was after 9/11, and the audience loved it." he adds. "They were just like, 'Oh my God, this is what America needs! It's a wholesome, fun movie. It's so nice. What a relief!' And they loved it. So it felt like we were gonna succeed."
They did not. Early reviews were mostly brutal. The New York Times' A.O. Scott called it a mix of The Blues Brothers and Almost Famous with "an excruciating dollop of Disney sentimentality mixed in for good measure." (Scott didn't know how right he was; the Country Bears' tour bus in the film is the exact same bus used by the fictional band Stillwater in Almost Famous.) When the box office totals came in, The Country Bears, which cost a reported $35 million, made just $5.3 million in its opening weekend, ranking fifth behind Road to Perdition, Stuart Little 2, Men in Black II, K-19: The Widowmaker, and the also-debuting Austin Powers in Goldmember, which outgrossed it by about $68 million. Forget positive word of mouth; there weren't enough people seeing the movie to generate any word of mouth at all. The film was dead on arrival.
"Fundamentally," Hastings says, "the problem was that people just didn't even like the idea. If your movie is not doing well the matinee of the day it opens it's because people aren't interested in that idea." (In what should have been seen as an ominous sign, audiences tired of the Country Bear Jamboree attraction to the point that Disney closed the Disneyland version to make way for a new Winnie the Pooh attraction while The Country Bears movie was in production.)
After The Country Bears bombed, Hastings returned to work in animation; in the years since, he's worked as a producer on series such as Lilo & Stitch, Teenage Mutant Ninja Turtles, Kung Fu Panda: Legends of Awesomeness, and The Epic Tales of Captain Underpants. He's currently at work directing his first feature since The Country Bears, an animated adaptation of Dav Pilkey's Dog Man books. He told me the Bears experience taught him lessons he's carried with him through the rest of his career.
"When you get in any creative thing and you're not very experienced, it's harder to stick to your guns about stuff," he explains, "because you're don't necessarily know what you're talking about. I've always said about myself that I had the skills to make a good movie, but I didn't really have the experience to fix stuff that wasn't working, or the sort of mentorship you might want to have in a situation like that — which I didn't have — to say, like, 'Hey, you need to watch out for this and you gotta fix that.'"
Hastings says if he could make The Country Bears over again today, he would avoid trying "to do a little bit of everything. That's just, creatively, a bad idea. For me, a first-time director, you just want to do everything. You want to put everything in. You want it to be touching and you want to be funny, and you want it to be cool. It's a classic rookie mistake, wanting it to be everything." That's how you wind up with a Country Bears movie that includes gorgeous country rock songs and Christopher Walken musically armpit farting to the tune of the "1812 Overture."
While the tonal shifts might have doomed the film in its initial release, they're precisely what makes The Country Bears fascinating now. Disney — or any major Hollywood studio — doesn't make movies like this; then, now, or ever. The Country Bears is goofy and sweet and peculiar and it has an incredible soundtrack that I've been listening to almost every day while putting this piece together.
I initially watched the movie to consider it for a list I was putting together of the worst movies on Disney+. While The Country Bears wouldn't make my list of the best movies on Disney+, the film is way too singular, idiosyncratic, and occasionally too funny to include in that kind of piece. It seems primed for discovery by an audience that, as Hastings notes, dismissed it in 2002 sight unseen.
So with The Country Bears now 20 years old, is it due for a reappraisal? When you Google the phrase "The Country Bears," the second question under the "People Also Ask" section is "Is there a Country Bears 2?" The fourth question is "Is Country Bears on Disney Plus?" That's not exactly scientific research, but it does suggest the movie has some fans out there.
I asked Hastings whether he thought there was a chance for a modern Country Bearsassaince. He said he wasn't sure, but thinks it's possible. "There's this thing that happens," he added, "where something is current, then it becomes dated, then it becomes nostalgic. It happens with all kinds of things. I don't know if that would happen with this movie, exactly, but it would make sense."
(By the way, the top "People Also Ask" question on Google for The Country Bears is "Are the Country Bears real?" Let that sink in for a minute.)
The Country Bears is currently streaming on Disney+. If you don't have an account, you can sign up for the service here.
10 Disney Movies That Deserve Their Own Rides
Here are 10 Disney movies that we think would make particularly great theme park rides, whether it be a dark ride, flume ride, or rollercoaster.