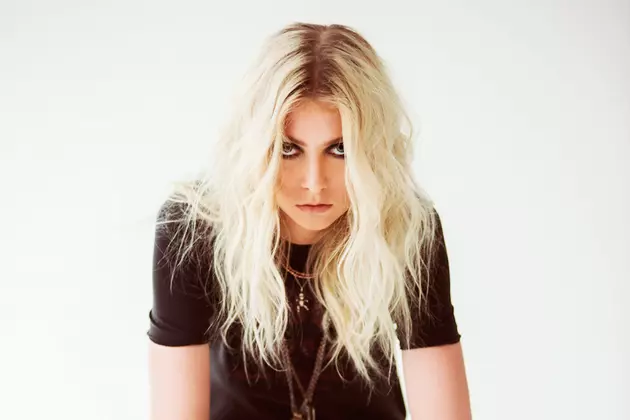 The Pretty Reckless' Taylor Momsen Talks 'Who You Selling For' Album, Touring + Inspirations
Razor & Tie
The Pretty Reckless just released their third studio album, 'Who You Selling For,' which has already generated the hit single "Take Me Down." Loudwire Nights' host Toni Gonzalez recently had a chance to speak with frontwoman Taylor Momsen about the disc and also got her thoughts on returning to the stage and where her inspirations come from. Check out the chat below.
You often hear songwriters such as yourself say things like the lyrics just seem to come through me. Of all the songs on the new album, Who You Selling For, which one kind of wrote itself with little to no effort?
They all kind of did and then they all kind of didn't in the same way. I think "Oh My God" kind of wrote itself quickly but it's also something I worked on for about two years, but the core of it really came fast so I'll say, "Oh My God." Wait, I have a better one. It was written and recorded all in three days, "Mad Love," and that was written right after [David] Bowie died and I was kind of really devastated by that and that was kind of my homage to him that was all written and recorded within three days.
The Pretty Reckless recently scored their fourth No. 1 rock hit with "Take Me Down." What's it like to see your band up there on the charts alongside rock and metal legends such as Metallica and Green Day?
It's very strange and exciting and I'm not really sure how to feel about it.
The band is supporting the album with a fall tour. How has the stage show changed, grown or matured from the last touring cycle?
I think we've just grown as a band, you know, I'm older. I think that we've just honed in as a unit, not that we weren't a unit before, but I just think the longer you do it, the longer you play together as a band, the tighter you get, the less mistakes become important and they just become a part of what happens when you tour. I think everyone's a little bit more relaxed personally like as a group but the shows, it's still driving and in your face.
You were a young teen when you put out your debut album. What advantage do you think youth has over experience?
I think you have a blind "go for it" thing when you're young and you're not afraid of anything so you just kind of close your eyes and go ... and as you get older things become a little more clear, but I think you can't beat experience. Experience is everything.
You went to a Catholic elementary school and a high school for the performing arts in Manhattan. Two very different experiences. I know you were pulled out of school often for work, but which of those two would you say shaped you the most into the woman you are today?
Neither [laughs]. I always joke that I didn't even go to school. I spent like so much time out of school. I mean I still did the classes but I didn't really go to school. So, neither I guess. I was always kind of a loner.
What's the last thing you saw or read that really left you creatively inspired?
I'm always inspired by anything Stephen King related, just because he's just so amazing, like Salem's Lot is one of my favorite books of all time. There's is a poem by Chidiock Tichborne from the 1500s called "On the Eve of His Execution" that I love, but I don't know what the last thing is ... Inspirations are weird because you never know where it's going to come from. It might be something on the television show. It could come from sitting on a street corner, and it could come from a dream. You never know where inspiration is going to come from or when it strikes. When you're working and writing, your main goal is to really just remain as open as possible and see where that takes you. It doesn't always take you to the most pleasant of mental states but it takes you somewhere so I think that kind of the key is to be open.
When you want to disconnect from the theme, image and the pressure, what's your go-to activity?
Well, I don't really go out much. I'm kind of a homebody since I've been living my life on the road, so when I'm home I like to stay home. I love comedy. I watch a lot of late-night. Larry David is like my go to. He's The Beatles of Comedy. Louis CK is great. Katt Williams, Marc Maron. I watch television and comedians. I paint, I sculpt and play music. Playing music isn't a job. Touring is a job but playing music is a pleasure and a privilege.
I recently saw that you retweeted an image of a fan tattoo. How does it feel to have a stranger or a fan tattoo your face on their bodies?
It's wild. I mean that is a commitment! It's appreciated. I guess it's just, it's very strange but it's cool.
I'm going to ask you one last question: Who you selling for?
Today, I'm selling for Loudwire!
Our thanks to The Pretty Reckless' Taylor Momsen for the interview. You can pick up the band's 'Who You Selling For' album at Amazon and iTunes. Look for the band on tour at these stops. Find out where you can hear Loudwire Night at this location.
The Pretty Reckless' Taylor Momsen Plays 'Wikipedia: Fact or Fiction?'
Top 50 Hard Rock + Metal Frontwomen