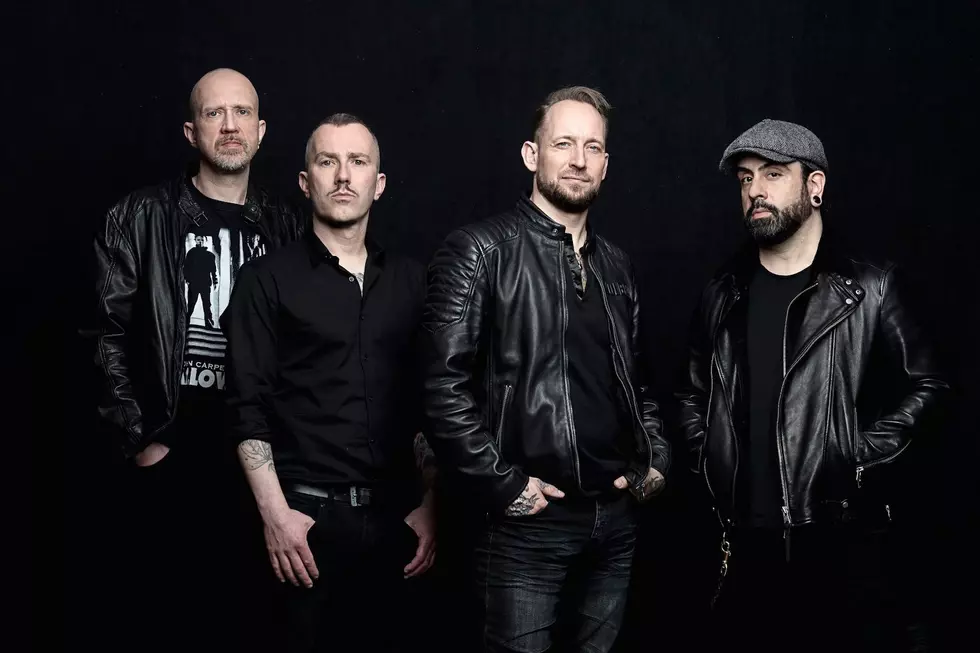 Volbeat Shine Light on 'Last Day Under the Sun' Video
Ross Halfin
Volbeat are back and shining a spotlight on the healing powers of a second chance. Watch their video for "Last Day Under the Sun" in the player at the bottom of this post.
For this latest video, the band reunited with director Jakob Printzlau, who helmed the clips "The Devil's Bleeding Crown," "Lonesome Rider," "16 Dollars" and "Cape of Our Heroes" for the band. The video centers on a group of people who have suffered tragedy in their lives suddenly being drawn to a light in the woods and the transformative power of their experience.
Singer Michael Poulsen says of the track that it was the late icon Johnny Cash who inspired the song. "When I read his book, he went through tough times with alcohol and drugs," says the singer. "He walked into a cave to lay down to die. But he wakes up and feels like he has been given a second chance."
The track will be featured on the band's upcoming release, Rewind, Replay, Rebound, which is due Aug. 2 via Republic Records. "The whole point for us going into the studio, is because you still have something to prove — not just for the fans, but mostly for yourself," says Poulsen. "We would not be able to do this record if it wasn't for the work we have done in the past. No matter how old the band gets or how many records we do, there is always going to be that signature sound."
"Last Day Under the Sun" follows the recent releases - "Leviathan" and "Parasite." You can pre-order Rewind, Replay, Rebound at this location and look for Volbeat returning to the road in support of the album. They'll start back up June 28 in Oslo, Norway. Dates can be found here.
Volbeat, "Last Day Under the Sun"
2019's Most Anticipated Hard Rock + Metal Albums