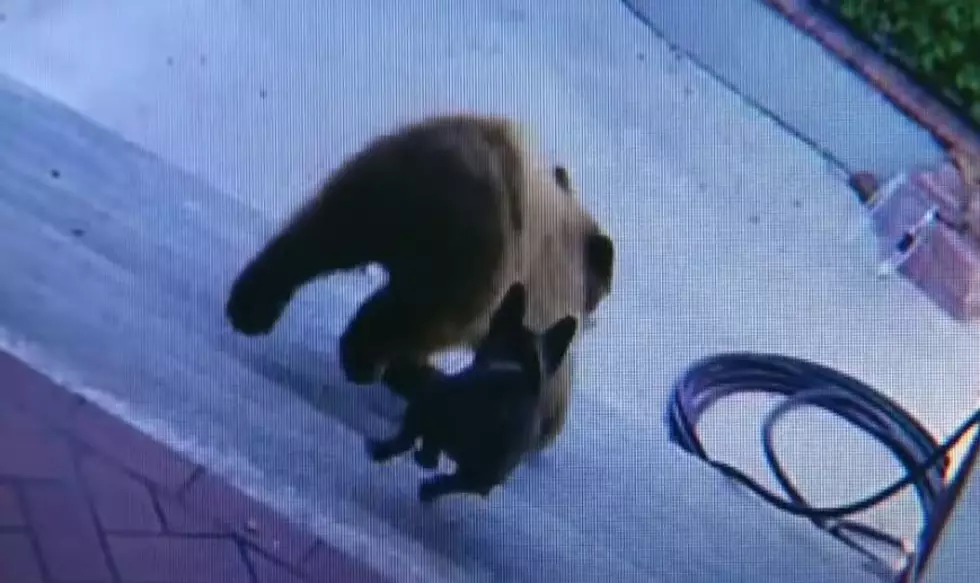 Watch as Little French Bulldog Defends Home from Multiple Bears
CBS Mornings/YouTube
Spring has arrived and that means bear sightings will be increasing. We are no strangers to bears here in Montana. Every spring we can almost guarantee a bear sighting within city limits. Whether it be a report of a bear rummaging through trash, or emptying every last speck of seed from a bird feeder, black bears are hungry and looking for any kind of food, even going as far as knocking on doors. It looks like these two wandering bears got more than they bargained for when they approached one California home.
"It's not the size of the dog in the fight, it's the fight in the dog."
Recently, home security footage at a home in California captured what appears to be two young bears approaching a family's porch. The bears were soon greeted by a feisty little french bulldog. The Frenchie managed to scare off the bears with its aggressive stance in defending its home from intruders.
According to CBS Mornings
Jules, a 20-pound French bulldog, showed no fear when bears wandered into her California front yard. One of the bears was estimated to weigh more than 100 pounds, but they all ended up turning tail.

 
Always keep in mind that we live in bear country, and it is smart to be "bear aware" when you leave the house. Also, lower your odds of an encounter near your house by eliminating things like bird feeders in your yard. Spring is prime time for bear sightings as they are hungry and will do just about anything for a snack.
10 Businesses That Should Open a Location in Missoula
We asked, and you answered, and then we brainstormed a little bit too. Here are 10 businesses that we think should open a location in Missoula, Montana.
NOSTALGIA: See Photos of 1930s Missoula, Montana
See if you can recognize these iconic locations in downtown Missoula, Montana.