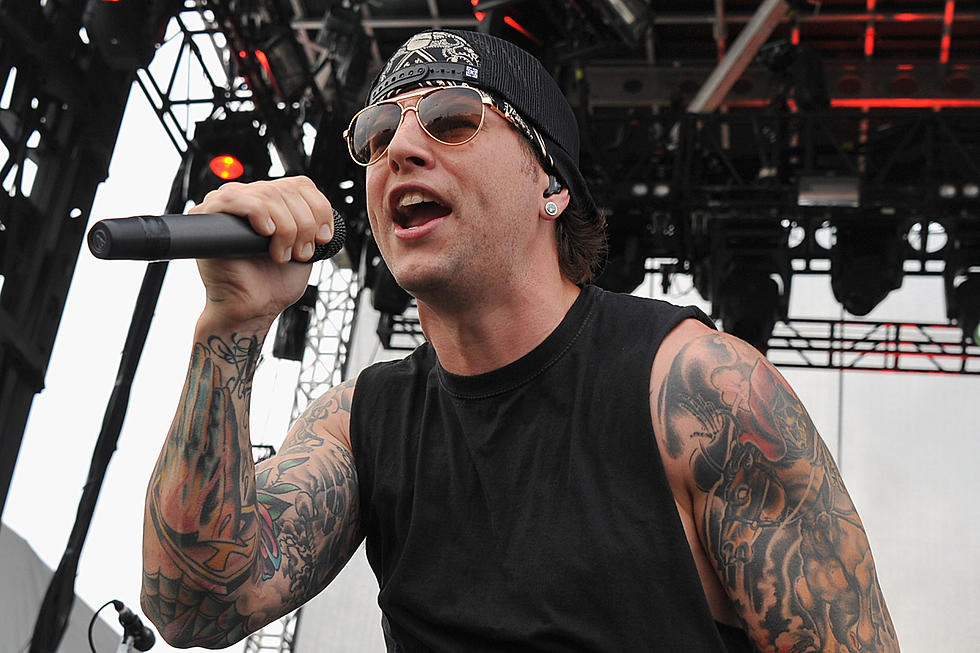 Avenged Sevenfold's M. Shadows: Unifying 'Wish You Were Here' Cover Perfectly Timed for World at 'Complete Breaking Point'
Theo Wargo, Getty Images
"Running over the same old ground / And how we found / The same old fears / Wish you were here." The lyrics from Pink Floyd's "Wish You Were Here" have resonated for many over the years and Avenged Sevenfold are the latest act to cover the classic track, releasing it as part of their continually evolving album The Stage. During a recent chat with Loudwire Nights host Toni Gonzalez, Avenged vocalist M. Shadows spoke about the coincidental but perfect timing of the song's release during a period of crisis in the world.
Shadows broke down a bit of the history of the song, with it initially being penned about the band's Syd Barrett, but being adopted over time as a theme for those returning from Vietnam in the '70s. And now, with the band's release, he's hoping it can bring some comfort with the state of the world today.
"Our world is at a complete breaking point in my opinion, right now," said Shadows. "Not only with the hurricanes, but possible nuclear war and what's going on … we have a president that tweets all day to another dictator across the world who has nuclear weapons. It's insane. And then you've got so many things happening in the news daily."
He continues, "This song was going to come out regardless, but it just turns out the timing in my mind is perfect because people really need to start coming together and stop being so divisive over opinions or over things we say. We've got to be together in some way and hopefully we can do that. It's a sad time and a tough time and hopefully this song can bring those feelings home and hopefully change people's perspective."
As stated, "Wish You Were Here" is part of the "evolving album" of The Stage, with the band serving up a string of fresh tracks from their sessions for the disc that have rolled out in recent months. However, even though the extra tracks were available for streaming, the band is making sure they're available to collectors who want to have all the music in one place by issuing a deluxe edition of The Stage on Dec. 15.
"We were really giving songs out for free on streaming services and not really promoting them, just kind of putting them out there, but I think some of the fans were upset that they couldn't buy them, which was surprising to us. They're free, so why not just take it," Shadows reasoned. "So now, I think after everything is said and done, putting out a deluxe record will bring this thing full circle, so that the fans who want to buy it can buy it. But I think the evolving record thing was a cool idea."
In addition to the seven live songs, there will also be some previously unreleased live tracks populating the deluxe release as well, with the latter live cuts serving the dual purpose of paying respect to a departed member of their extended Avenged family.
"On the live front, we did a U.K. / European tour with Disturbed and Chevelle and In Flames just before the Metallica run. And in that small amount of time, our sound guy passed away. He'd recorded all of our shows on that tour, so we have two nights at the London O2 that were pretty cool shows and in memory of him we kind of kept the idea that we should use some of his recordings and put them on this deluxe to kind of put the cherry on top and do a tribute to him, since it was the last thing that we could play with him," revealed the singer.
Look for Avenged Sevenfold's The Stage deluxe edition coming Dec. 15 and catch the band performing at the 2017 Loudwire Music Awards Oct. 24. The group is also nominated in three categories at this year's ceremony. You can find out in person if they win and see their thrilling set by picking up tickets here.
Avenged Sevenfold, "Wish You Were Here"
10 Unforgettable Avenged Sevenfold Moments
Loudwire Music Awards Tickets Available Now!