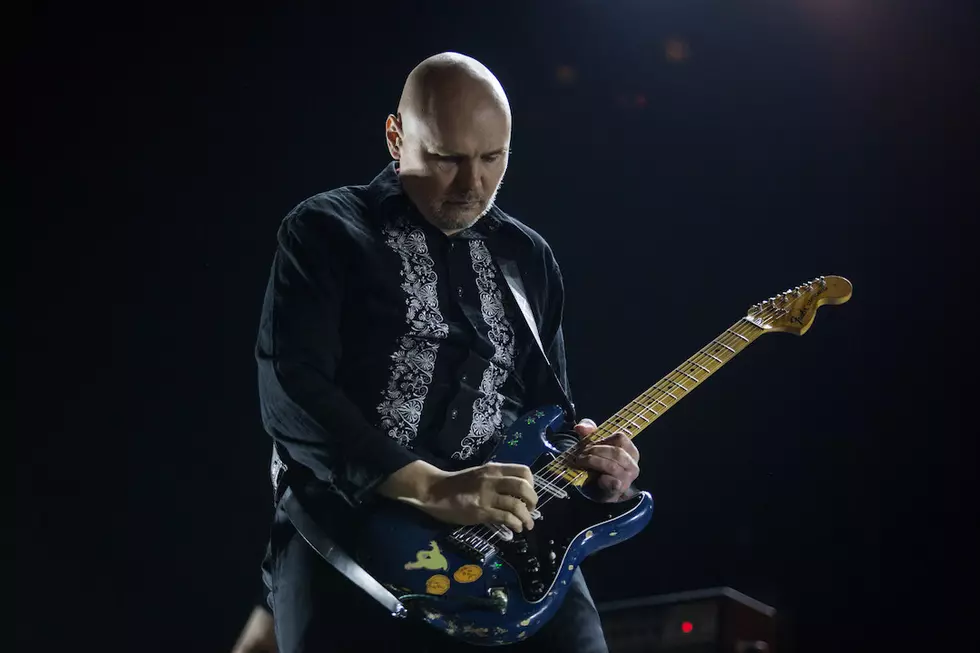 Billy Corgan Books 'Last Call With Carson Daly' Appearance, Led Zeppelin Announces 50th Anniversary Book + More
Victor Moriyama, Getty Images
In addition to the big stories we covered today, Wire-to-Wire provides you with some of the other key rock and metal news items from Dec. 21, 2017:
- Billy Corgan will be invading your television screens once again. He's booked for an appearance tonight (Dec. 21) on NBC's Last Call With Carson Daly. The Smashing Pumpkins legend has made the late night rounds this year as he continues to support his recently released solo album, Ogilala.
- Led Zeppelin will be celebrating their 50th anniversary in 2018 and to commemorate it all. "Led Zeppelin are pleased to announce that Jimmy Page, Robert Plant and John Paul Jones are collaborating with ReelArtPress to publish the official illustrated book celebrating 50 years since the formation of the group," reads a statement made in a Facebook post.
- Between the Buried and Me bassist Dan Briggs is doing his part to keep the holidays festive. His solo project, Nightmare Scenario, just launched "The Grinch Suite," an oddball prog rock track paying homage to the Dr. Seuss classic. Take a listen on Bandcamp.
- Dimmu Borgir last released a studio album in 2010 and while the wait is still on, they'll tide fans over with a new EP set for release on Feb. 23 through Nuclear Blast. The two-song set will yield one new track, "Interdimensional Summit" alongside a live version of "Puritania." Pre-order it here.
- Life of Agony drummer Sal Abruscato has made the decision to split from the band. "Sometimes you just have to let go and say goodbye to old friends, the past and its ghosts. Move forward, grow up, grab that life preserver and jump off the ship. I have three beautiful daughters and a beautiful wife that love me and that's what is important," he said in a statement (via The PRP). In the meantime, he has reactivated A Pale Horse Named Death.
Neil deGrasse Tyson Destroys Tom DeLonge's UFO Video