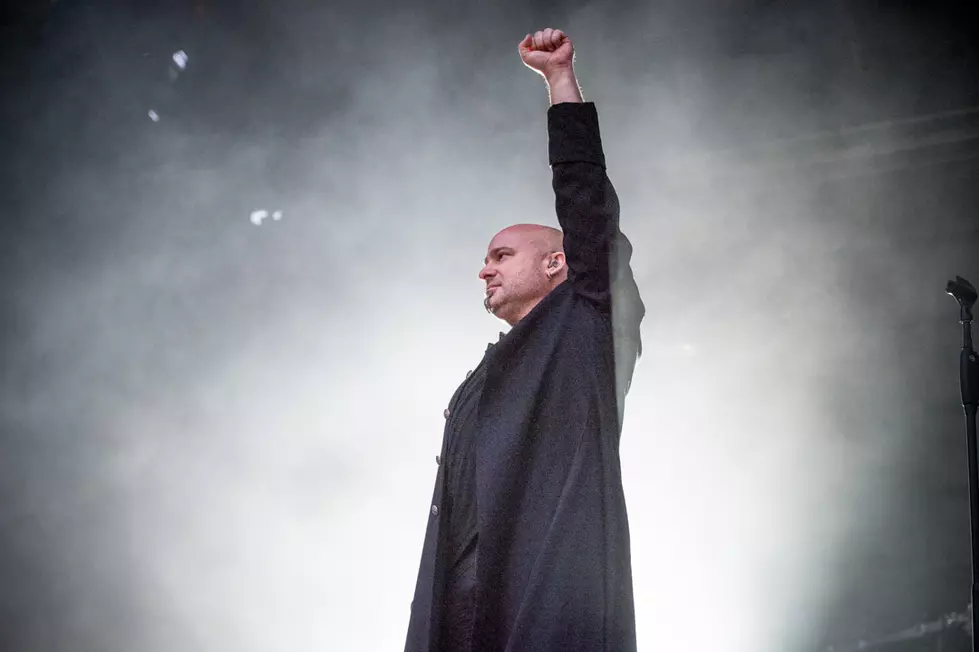 Disturbed Targeting Late 2017 or Early 2018 Return to Studio
Amy Harris, TheFirst3Songs.com
Disturbed have been on a remarkable run since returning from hiatus with Immortalized in 2015. The record topped the charts upon its release and has been certified Gold in the U.S. with a significant boost off their revered Simon & Garfunkel cover, "The Sound of Silence." But when will fans see the next album from the hard rock vets?
While being interviewed on a tour bus in Berlin, Germany (video below from DISTURBEDpedia), guitarist Dan Donegan started planting the seeds for the successor to Immortalized. Outlining their plans for the immediate future, the axeman said "Once we're done [touring], I think everybody is gonna unwind a bit. We're all gonna get home and spend some time with our families. And we'll just let it come naturally."
Regarding new music, Donegan explained he has some ideas recorded on his phone, but isn't getting too far ahead of himself in the writing department. "I'll just save some riff ideas and readdress them later at another time, once we're all in the right headspace for it. But anytime we've written, it always has to just come naturally, when we all feel that we're ready. There's never any pressure of saying, 'We have to start writing right now.' We don't like to put any kind of time frame on things," he said.
Easing fan apprehensions that Disturbed would return to the shadows for a couple years, Donegan affirmed, "I definitely don't anticipate us taking a long break. But there might be a little bit of time — it won't be nothing like a four-year hiatus. I think hopefully by at least, if not this year, by early next year, hopefully, we'll be in the studio again."
Disturbed were nominated for a Grammy for Best Rock Performance for "The Sound of Silence" taken from their appearance on Conan, but lost to David Bowie's "Blackstar."
Dan Donegan Talks Disturbed's Future Plans
Where Do Disturbed Rank Among the Top 50 Metal Bands Who Released Their First Album in the 21st Century?
10 Unforgettable David Draiman Moments