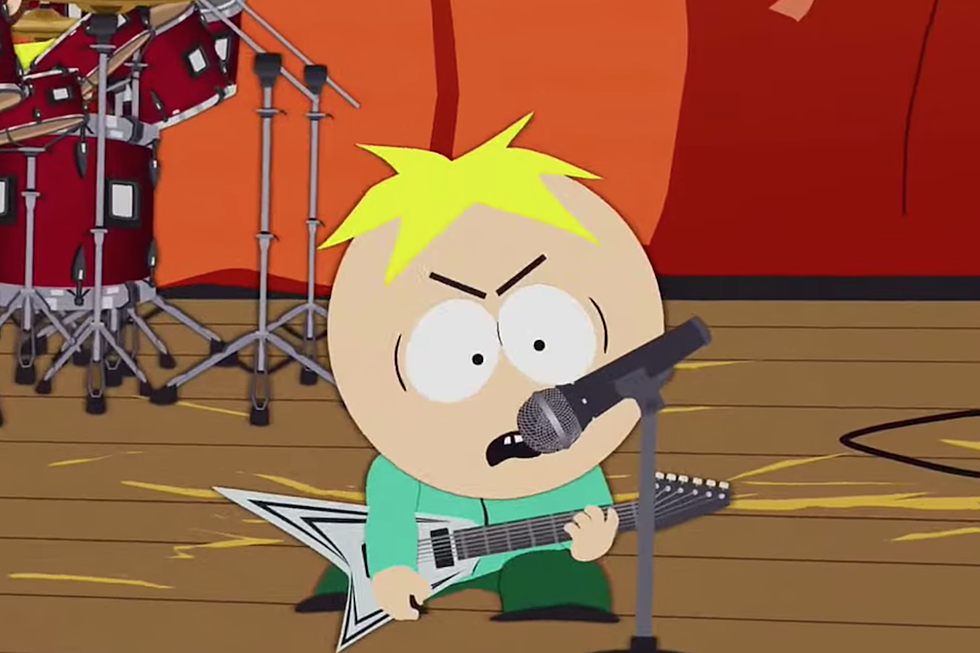 Dying Fetus Song Featured In New Episode of 'South Park'
YouTube: Hubert Cumberdale
The 23rd season of South Park is underway and in the second episode, "Band in China," a song from Dying Fetus' 2012 album, Reign Supreme, was featured and played by the metal band formed by Stan Marsh and his friends.
Joining Stan in the Crimson Dawn lineup was Butters (guitar, backing vocals), Kenny (bass) and Jimmy (drums). The episode's overview took aim at Hollywood screenwriters catering their content to comply with Chinese censorship as Randy Marsh opts to take his marijuana business to international levels, namely China.
As is typical with South Park, the sub-plot focused on Crimson Dawn and in one scene, the song "Useless Sacrifice" by France's Death Decline was used to represent the band's original music, while "Second Skin" from Dying Fetus figures into the narrative a bit later during rehearsal.
As one YouTube commenter pointed out, Matt Stone and Trey Parker, the show's creators, missed a golden opportunity. Instead of "Second Skin," they instead could have opted for "Die With Integrity" from 2017's Wrong One to Fuck With, as the name of Randy Marsh's weed business is Tegridy Farms, a humorous abbreviation of "integrity."
South Park are no strangers to slipping some metal into their programming. Remember that one episode where Eric Cartman played Slayer as he tried to kill a bunch of hippies who were taking over the town? See that and some other memorable moments in the Loud List below the "Band In China" clip.
Dying Fetus Song Featured in New South Park Episode
Top 10 South Park Music Moments
See Dying Fetus in the Best Death Metal Album of Each Year Since 1985