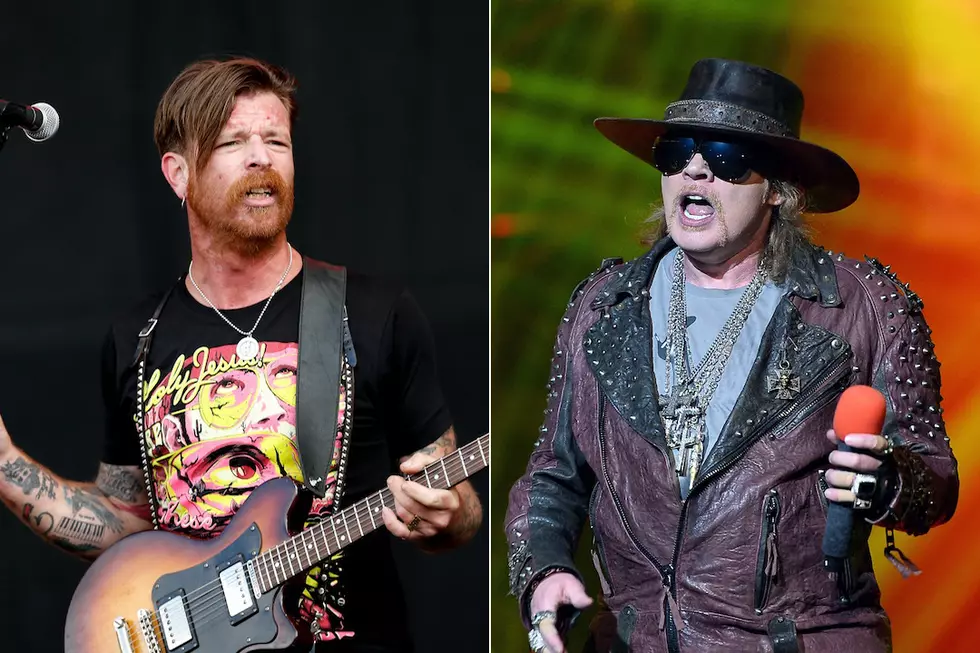 Eagles of Death Metal Singer: With Just Axl It's GN'R, The 'Uns' + 'Oses' Became Velvet Revolver
Simone Joyner, Getty Images / Ethan Miller, Getty Images
On the surface, it seems the relationship between Eagles of Death Metal frontman Jesse Hughes and Axl Rose is strained, namely due to the Eagles of Death Metal being booted from the 2006 tour opening for Guns N' Roses by Axl personally. Despite this, Hughes apparently contacts Axl every Christmas letting him know there are no hard feelings and that he would like to record a couple Christmas song with the legendary frontman. However, this didn't stop the frontman from serving up an honest opinion on Guns N' Roses.
In an interview with Bravewords, Eagles of Death Metal frontman Jesse Hughes offers up his thoughts on the current state of Guns N' Roses and the buzz about a reunion with the classic GN'R lineup. The question leads in asking if Hughes thinks he would be a suitable replacement for the recently departed DJ Ashba and and Ron 'Bumblefoot' Thal.
Of the current state of Guns N' Roses, Hughes says:
"Axl Rose unfairly - and incorrectly - is identified as 'Guns N' Roses.' And I take umbrage to that. To me, Guns N' Roses is Duff McKagan, Izzy f---in' Stradlin, Slash, and Steve Adler, and then Axl. When Axl was alone in the band, it was just 'GN'R.' The 'uns' and the 'oses' became Velvet Revolver. And we just played a show in England, and Duff was there. It was f---in' awesome. I think if Guns N' Roses really wants to play again, then Axl should grow the f--- up, and let THE Guns N' Roses play. And that ain't gonna happen unless it's the actual members. Unless you want to turn Guns N' Roses into a band like Menudo, or if it's trying to turn it into Ringling Bros. and Barnum & Bailey Circus. I mean, the Ringling brothers are dead, but you can still go to their circus, I guess."
While these words may seem a bit venomous, Hughes also mentioned how he has tried to forgive and forget, attempting to make amends with Axl:
"You know what man, every year, since Axl Rose fired us from the tour [in 2006], I have sent him a very sincere request - around Christmas time - inviting him to come in the studio and record two Christmas songs, and be released as 'The Pigeons of S--t Metal.' And I always close it with a very judgmental, 'Because I want you to know Axl, I'm willing to forgive you, and I feel like the rest of the world is, too.'"
There is currently a lot of buzz surrounding both Guns N' Roses and the Eagles of Death Metal. Rumors began circulating about a classic GN'R reunion following the departure of Ashba and Bumblefoot, but nothing has solidified yet. Meanwhile, the Eagles of Death Metal just released their fourth studio album, Zipper Down, and will be hitting the road to support the album over the next couple of months.
Check Out 12 Unforgettable Axl Rose Moments
Check Out Rock and Metal Stars in the '80s, Then and Now