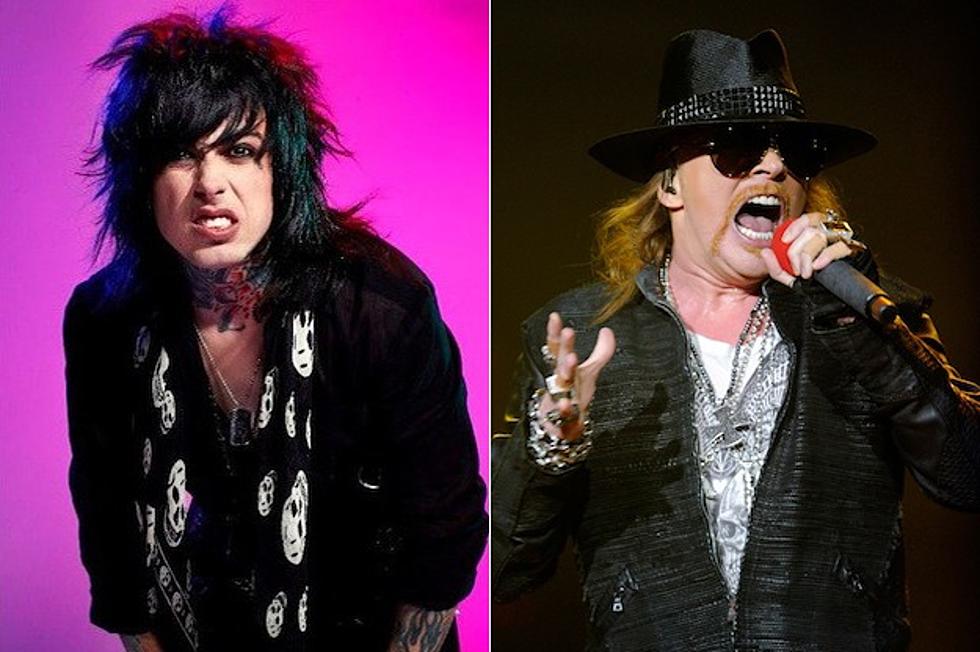 Falling in Reverse Singer Ronnie Radke 'Ecstatic' to Open for Guns N' Roses
Falling in Reverse have just announced that they'll be opening for Guns N' Roses tonight (March 9) at the Hollywood Palladium, and FIR vocalist Ronnie Radke admits he is both excited and nervous about the sold out show.
Falling in Reverse have built a strong following in the brief time they have been a band. And tonight they will be introduced to a whole new wave of potential fans when they open for Guns N' Roses. "I'm losing my mind. I don't know. I'm so nervous right now. I'm like shaking," vocalist Ronnie Radke admits to KROQ. "I've played a lot of shows in front of a lot of people, but this is probably the most awesome thing that's ever happened to me, pretty much, when it comes to playing shows."
Radke's mixed emotions aren't just based on the fact that he'll essentially be playing to another band's huge audience — it's also a big deal for him on a personal level. "My dad played 'Appetite for Destruction' on loop when I was a kid. That's all I heard. "They were the kings of '80s rock 'n' roll and Sunset Strip bands. Classics," exclaims Radke. "It's Axl. It's Axl Rose. It's Axl Rose, man. I'm ecstatic. That's all I can say. I'm very happy right now."
Despite his excitement, Radke is also aware that sometimes opening for a band with a large following can backfire. "I played a radio show with a band called Chevelle and the crowd hated us … Maybe some of our fans are there? I'm going into this blind. I have no idea. I'm just completely baffled right now."
Radke and FIR guitarist Jacky Vincent recently stopped by Loudwire's offices. Check back soon for our full interview, as well as an exclusive performance by Vincent.