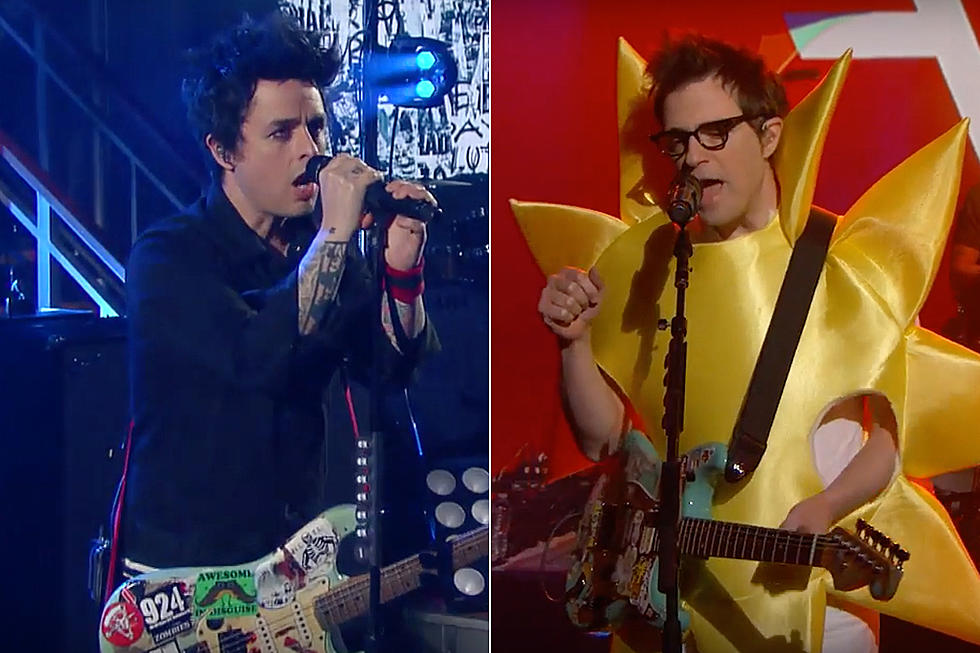 Green Day Get God-Approved, Weezer Show Sunny Disposition on Late Night Performances
YouTube: The Late Show With Stephen Colbert / YouTube: Jimmy Kimmel Live
If you, like us, enjoy your rock, then you had some options while watching late night television on Tuesday (March 21). Over on CBS, The Late Show With Stephen Colbert welcomed Green Day to the stage, with the band making their first appearance on the show. Meanwhile, over at ABC, Weezer hit the Jimmy Kimmel Live stage to perform a brand new song. And neither appearance was what you might come to expect from a TV performance.
During their appearance on The Late Show With Stephen Colbert, Green Day got a big stamp of approval from a huge fan. As Colbert was preparing to introduce the band, a booming voice interrupted him. As he and the band looked skyward, God appeared from up above. "I'm a huge fan," stated the lord. "Here performing 'Still Breathing' off their new album Revolution Radio, please welcome five-time Grammy winners and God's favorite band, Green Day." Watch the performance and special intro in the player above.
Meanwhile, Weezer also decided to keep their performance light and breezy on Jimmy Kimmel Live. During their appearance, singer Rivers Cuomo mirrored the theme of their new single "Feels Like Summer" by wearing a sun costume throughout the performance. And, as has become tradition with most Jimmy Kimmel Live performances, the band stuck around for another performance for those in attendance that eventually surfaced online. Making good use of the costume, Weezer performed one of the sunniest songs in their catalog, "Island in the Sun." You can see both the "Feels Like Summer" and "Island in the Sun" performances below.
As stated, Green Day are promoting their 2016 studio album Revolution Radio. The group is touring in support of the effort and can be found playing at these locations. Meanwhile, Weezer are working toward their 11th studio album. The still untitled disc is expected this summer. Look out for Weezer playing at these locations.
Weezer Perform "Feels Like Summer" on Jimmy Kimmel Live
Weezer Perform "Island in the Sun" on Jimmy Kimmel Live
Weezer Fans Play 'Mad Libs Karaoke' at 2015 Loudwire Music Festival
See Where Green Day's Revolution Radio Ranks Among the 20 Best Rock Albums of 2016