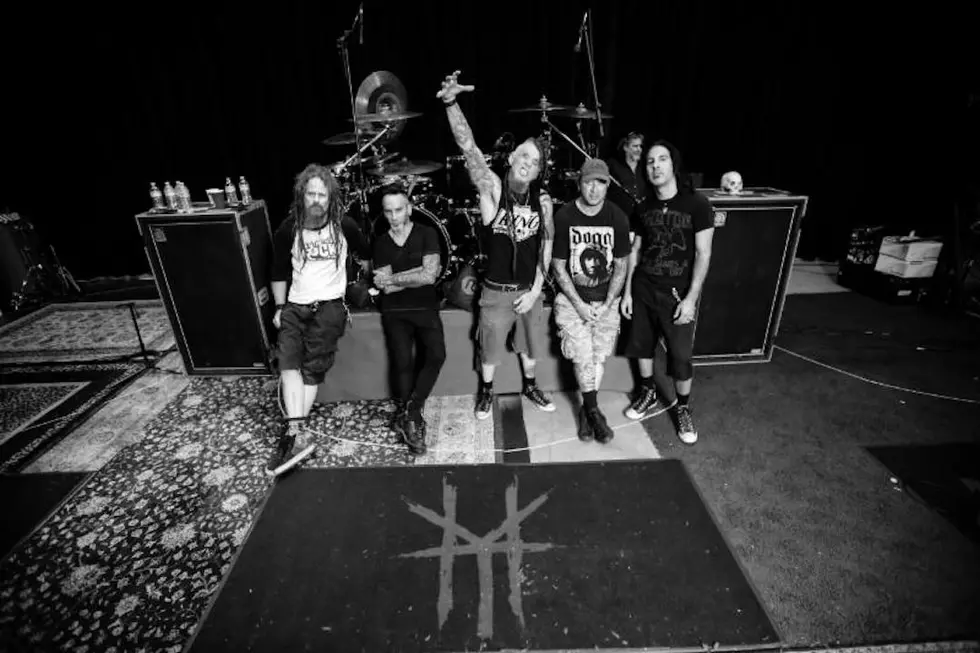 Hellyeah Announce New Album 'Welcome Home' + 2019 Tour With Stone Sour Drummer
Photo credit: William Felch
Hellyeah have just announced their first new album and tour since the death of legendary drummer Vinnie Paul. Welcome Home will see a Sept. 27 release date and a video for the album's title track will be available May 17.
The death of Vinnie Paul brought even the hardest metalheads to tears and ended the reign of Pantera's iconic Abbott brothers. Following this past weekend's celebration of Vinnie's life, Hellyeah announced Welcome Home and that Stone Sour drummer Roy Mayorga will continue performing with the band on the road.
"While Vinnie Paul is obviously irreplaceable, one thing we can't not do is tour. As easy as it would be to say we're not going on the road, we have to," says bassist Kyle Sanders. "Vinnie would be extremely disappointed in us if we didn't promote this record properly. He'd be pissed off at all of us for putting all this work into finishing the record and then just letting it sit there on the shelf while we put a couple of songs to radio and whatever…and we know that."
Onstage at the tribute event, Las Vegas Review-Journal columnist John Kats presented Hellyeah with an official proclamation from the city, declaring May 11, 2019, as Vinnie Paul Day. A portion of the show's proceeds were donated to The American Heart Association.
Tickets and VIP packages for Hellyeah's summer tour will become available for fan club members May 14 at 10 a.m. local time. Tickets will be sold to the general public starting May 17 at 10 a.m. local time. $1 from each ticket sold will benefit The American Heart Association.
Check out the list of U.S. shows below and stay tuned for more dates to be announced.
July 23, 2019 – Atlanta, GA – Buckhead Theatre
July 24, 2019 – Myrtle Beach, SC – House of Blues
July 26, 2019 – Silver Springs, MD – The Fillmore
July 27, 2019 – Inwood, WV – Shiley Acres
July 28, 2019 – Boston, MA – House of Blues
July 30, 2019 – Stroudsburg, PA – Sherman Theater
July 31, 2019 – Cleveland, OH – House of Blues
August 1, 2019 – Green Bay, WI – The Green Bay Distillery
August 3, 2019 – Denver, CO – Summit
August 4, 2019 – Sturgis, SD – Iron Horse Saloon
August 7, 2019 – Minneapolis, MN – Varsity Theater
August 8, 2019 – Chicago, IL – House of Blues
August 10, 2019 – Detroit, MI – The Fillmore
August 11, 2019 – Grand Rapids, MI – 20 Monroe Live
August 13, 2019 – Wichita, KS – The Cotillion
August 14, 2019 – Oklahoma City, OK – Diamond Ballroom
August 16, 2019 – Houston, TX – House of Blues
August 17, 2019 – Dallas, TX – House of Blues