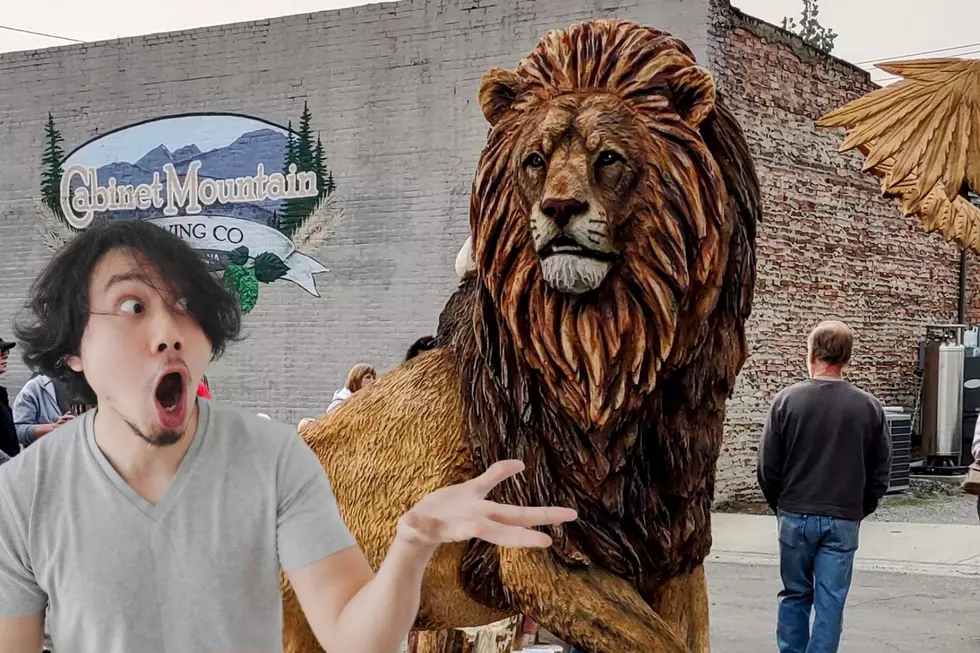 Incredible Chainsaw Art Competition Held in Montana. Take a Look
Photo by Kirsten Brown, used with permission
"Clash of the Carvers" Libby, Montana
If you've spent any time at all driving the two-lane highways around the Treasure State, I'm sure you're familiar with chainsaw art. The shops of these talented artists crisscross Montana and other western states that have historic ties to the timber industry.
Perhaps you've got a bear or trout or a bald eagle carved out of a log sitting on your porch or cabin right now. But do you have a lion or a full-sized princess, rustically created from tree trunks?
Impressive!
Kirsten Brown was at the chainsaw carving competition, held last week (Sept 8 - 11) in Libby, and allowed us to share these spectacular sculptures with you. Dubbed the Kootenai Country Montana International Chainsaw Carving Championship, the event draws competitors from around the world.
Big money prizes for the best chainsaw art.
The 6th annual event selects 20 of the best chainsaw artists each year from across the nation and globe. Competitors then have four days to carve their entry for the show, with spectators watching them work. $15,000 worth of cash/prizes were awarded.
More than bears.
Bears are a popular subject in Montana and were well represented at the competition this year. Some of the more original ideas were pretty awesome. Check out Old Man Forest, a mountain lion, and the lady-with-rose carving, below. Wow!
The best in the world.
The 20 carvers came from Mongolia, Lithuania, Zimbabwe, Romania, Scotland, Denmark, Argentina, Canada, and the US.
Bears at the bench.
Anytime I get a chance to watch these talented artists do their thing, I do. I can barely cut a tree limb with a chainsaw, let alone make a trunk into a detailed creature.
Thor with the Queen?
One contestant caught our attention, "Thor From Earth" on this year's roster. His bio reads,
Bruce "Thor" Thorthinstein of Tacoma, Washington, is a self-described wanderer and gypsy chainsaw artist. He says his favorite competition was in England at the Queen's summer home in 2004.
I wish I could have met Thor.
Bears on the boat.
Chainsaws are great. Art made with chainsaws is even better. I'll have to get this event on my calendar for next year and head to Libby.
States with the most registered hunters
Stacker
analyzed data from the U.S. Fish and Wildlife Service to determine which states have the most registered hunters. Read on to see how your state ranks on Stacker's list.