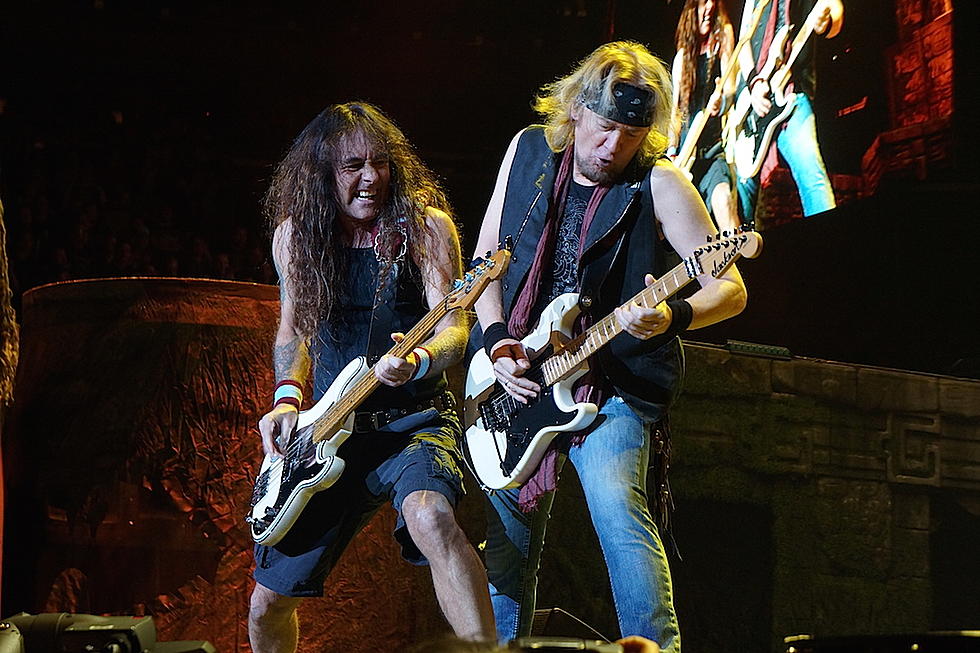 Iron Maiden Unveil 'Legacy of the Beast' 2018 European Tour Dates
Spencer Kaufman, Loudwire
Jump in the cock pit and start up the engines / Remove all the wheel blocks there's no time to waste! Iron Maiden completed their tour in support of 2015's The Book of Souls over the summer and are set to make their return less than one year later as they've just announced the dates behind the "Legacy of the Beast" 2018 European tour with special guests Killswitch Engage.
The run kicks off on May 26 on Tallinn, Estonia and will wrap up over two months later on Aug. 10 in London, making 34 stops in total. The tour's concept is based off Maiden's Legacy of the Beast mobile game and comic and will feature a stage design to cater to these themes, complete with "interlocking worlds." As for the set, old school fans will be delighted to know that most of it will be centered around the band's classic '80s material.
For those who don't live in Europe, don't worry because this tour will be spilling into 2019, so there's certainly more dates to come.
"As our fans know, we've been following a particular touring cycle ever since Bruce [Dickinson] and Adrian [Smith] rejoined Maiden at the start of the millennium, alternating new album tours with 'History / Hits' tours. We enjoy working this way for many reasons, not least because it gives the band a chance to play both new material and the older favorites which we know fans like to hear. It keeps things fresh, not just for the fans but for the band too," commented Maiden's longtime manager Rod Smallwood.
He continued, "For this History / Hits tour we decided to base the theme around the 'Legacy of the Beast' name, which suits our purposes perfectly by giving us scope to get creative and have some fun, especially with Eddie! I don't want to give too much away at the moment but we're working on a number of different stage sets, all in keeping with the Maiden tradition and we hope to give our fans a fantastic experience when they come to see this very special show."
A list of all stops can be seen directly below. Please note that Killswitch Engage will be featured on headline European shows from May 26 to July 1 inclusive and in the U.K. from July 31 to Aug. 10 inclusive. Additional guests will be revealed sometime soon. Fan Club members will again have first access to tickets starting on Nov. 20 with most of the standard on sale dates beginning Nov. 24. Check Iron Maiden's website for more details.
Iron Maiden 2018 Tour Dates
May 26 - Tallinn, Estonia @ Saku Arena
May 28 - Helsinki, Finland @ Hartwall Arena
June 01 - Stockholm, Sweden @ Tele2 Arena
June 03 - Trondheim Rocks, Norway @ Dahls Arena
June 05 - Copenhagen, Denmark @ Royal Arena
June 07 - Solvesborg, Sweden @ Sweden Rock Festival
June 09 - Munich, Germany @ Rockavaria, Königsplatz
June 10 - Hannover, Germany @ Expo Plaza
June 13 - Berlin, Germany @ Waldbuhne
June 16 - Florence, Italy @ Firenze Rocks
June 17 - Nickelsdorf, Austria @ Novarock Festival
June 20 - Prague, Czech Republic @ Letnany Airport
June 22 - Dessel, Belgium @ Graspop
June 24 - Clisson, France @ Hellfest
June 26 - Geneva, Switzerland @ Geneva Arena
June 28 - Sopron, Hungary @ Volt Festival
June 30 - Freiburg, Germany @ Messegelaende
July 01 - Arnhem, Holland @ Gelredome
July 05 - Paris, France @ AccorsHotel Arena
July 09 - Milan, Italy @ San Siro Ippodromo
July 10 - Zurich, Switzerland @ Hallenstadion
July 13 - Lisbon, Portugal @ Altice Arena
July 14 - Madrid, Spain @ Wanda Metropolitano Stadium
July 17 - Trieste, Italy @ Piazza Dellà Unita D'Italia
July 20 - Athens, Greece @ Rockwave Festival
July 22 - Plovdiv, Bulgaria @ Hills Of Rock
July 24 - Zagreb, Croatia @ Zagreb Arena
July 27 - Krakow, Poland @ Tauron Arena
July 31 - Newcastle, England @ Metro Radio Arena
Aug. 2 - Belfast, Ireland @ SSE Arena
Aug. 4 - Aberdeen, Scotland @ Exhibition & Conference Centre
Aug. 6 - Manchester, England @ Manchester Arena
Aug. 7 - Birmingham, England @ Genting Arena
Aug. 10 - London, England @ O2 Arena
Iron Maiden Albums Ranked
Bruce Dickinson Talks Childhood Life Lesson + Corporal Punishment