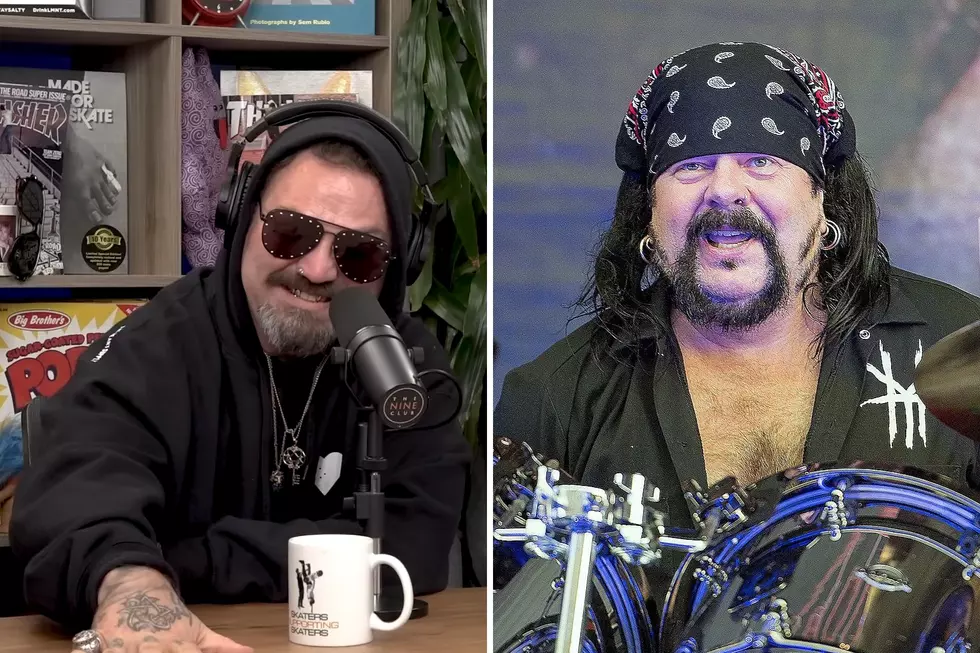 Bam Margera + Family Share Funny Stories about Pantera's Vinnie Paul
YouTube: The Nine Club / Mike Pont, Getty Images
Bam Margera has been through a lot lately, so it's always great to see him laugh, joke and tell endearing stories about famous rockers and traveling mishaps. That's precisely what he – as well as Jess, April and Phil Margera – did on a recent episode of The Nine Club with Chris Roberts, where they recounted several amusing occurrences involving late Pantera drummer Vinnie Paul.
The fun begins about 26 minutes into the episode, when Bam's older brother, CKY's Jess Margera, asks: "Remember when you slapped the owner of that hotel in Australia cause [of] Vinnie Paul?"
Cheerfully, Bam replies: "There was a drum set at the lobby of this fancy hotel in Australia. He hops on the drums and starts playing and the manager—"
"Well, no, you made him. You're like, 'Yo, Vinnie! Get up there, man. Play some Led Zeppein 'Moby Dick' or something," Jess clarifies.
"And speaking of Vinnie," Bam continues, "we were on a first-class flight from L.A. to get there? It was a 20-hour flight and he's so wasted [that] he wakes up and is like, 'How much longer is the flight?' I'm like – no, he asked, 'When are we taking off?' I'm like, 'We took off 20 hours ago. We've landed. We're here now.' He's like, 'Huh?' Like, just so out of it."
Afterward, Jess recalls: "He asked me for a room service menu. He thought we were at the hotel still. I'm like, 'Yo, we're on the plane, man.'"
"So, he gets on the drums and the manager of this nice hotel comes up and he's like, 'You need to stop playing that right now! This is in the lobby!' I'm like, 'How dare you?! Do you know who he is? He's Pantera's Vinnie Paul! He's one of the best drummers on the planet,'" Bam reflects.
Then, he laughs as he recalls slapping the manager on the face, declaring, "You should be ashamed of yourself!"
From there, Jess explains that the man "just took it" because he "had no idea it was the Pantera guy." Naturally, Paul kept playing as the manager walked away.
What a great moment between the two legends, right? Fortunately, it's one of several worthwhile stories the Margera family recounted during the episode, so you should definitely check out the whole thing below.
Of course, Pantera are still on tour, too. You can grab tickets here.
Bam and Jess Margera Remember Vinnie Paul on 'The Nine Club with Chris Roberts'
A Photo Timeline of Pantera's Famed Career
A look back on Pantera's career, in photos.