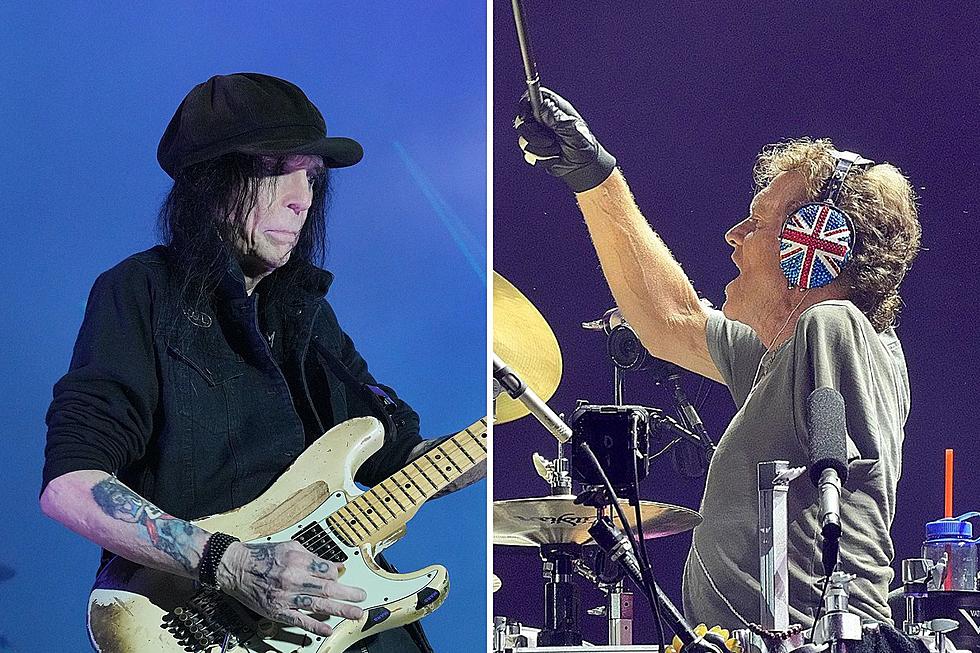 Def Leppard Drummer Rick Allen Opens Up About Mick Mars' Motley Crue Retirement
Kevin Mazur, Getty Images (2)
In late October of last year, Motley Crue guitarist Mick Mars announced his retirement from touring with the band (John 5 was later announced as his replacement). Now, tourmate Rick Allen (Def Leppard's drummer) has opened up about the situation, insisting the move was truly Mars' own decision.
Prior to Allen's comments, ex-Crue singer John Corabi said he is "not totally sure" he believes Mars' statement was authentic, positing that it was "put together by Motley and their people," while also praising how "brilliant" of a guitarist John 5 is. "I don't totally believe Mick's reasons for leaving Motley. And I don't even know if he left Motley. I believe he was shown the door," Corabi later added.
In an interview on the Appetite for Distortion podcast (in a video that is now set to private on YouTube, but was transcribed in part by Blabbermouth beforehand), Allen talks about the personal relationship he developed with Mars over the years and reflects on the personnel change within Motley Crue.
"It was Mick's decision to really move on and just get to the next part of his life. And we all know that Mick has suffered terribly, terribly with pain; you see it on his face all the time," affirmed Allen, "And I think the only time I ever saw him truly in his element [was] when he was up on stage playing with the band. It was more his decision."
Understanding that a decision like this must come after intense deliberation, the drummer continues, "That must have been a super hard decision. I mean, it would have been different if the guy was being thrown out of the band, but it wasn't like that at all. It was a personal choice that he made. And you can't say that that's wrong. It was right for him at the time."
Speaking about his friendship with Mars, Allen adds, "Over the months — well, actually years — that I've known him, I really started to talk to him."
"So unassuming. Such a soft, gentle soul," he says of the Crue legend's character, "And when I first met him years ago, I was actually quite afraid, you know. [Laughs] But he's the exact opposite of that — just a really sweet, generous person. So it must have been a very difficult decision for everybody to have to go through that."
With Mars out of the live lineup, Motley Crue and Def Leppard's world tour will continue through at least 2024 and the two groups just played their first show of the year on Feb. 10. See photos, fan-filmed videos and setlists from the night here and head to this location to get tickets for an upcoming date.
14 Rock Bands + Artists Who Pioneered Hair Metal
Top 30 Hair Metal Albums