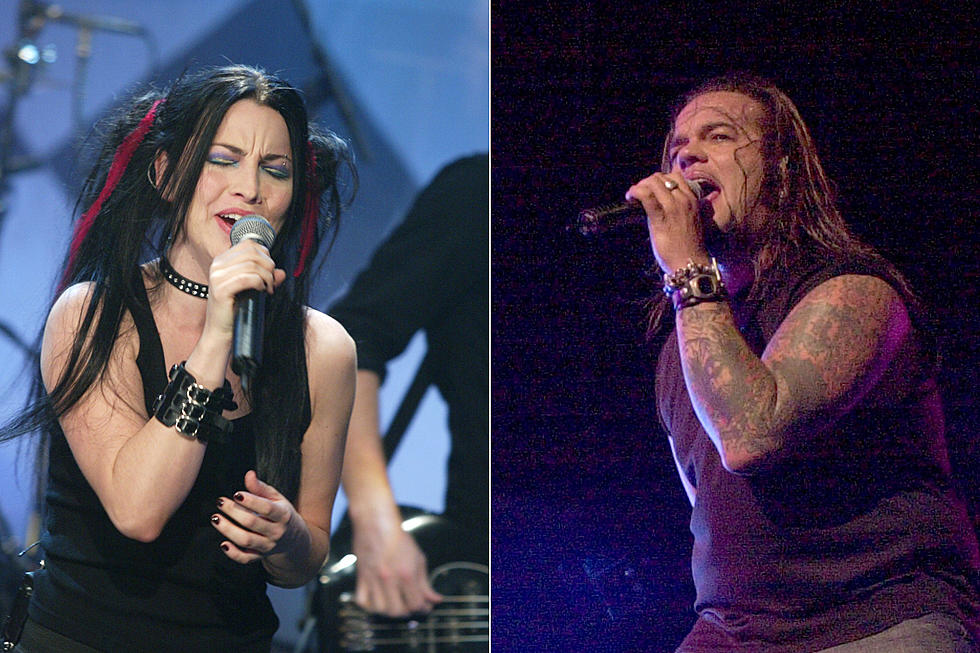 Evanescence's 'Bring Me to Life' Almost Had Saliva's Josey Scott on Rap Vocal
Kevin Winter / Erik S. Lesser, Getty Images
It's amazing how after a period of time, it's hard to image certain iconic songs ever taking on another form. But according to onetime Saliva singer Josey Scott, he was initially contacted about singing on Evanescence's breakout 2003 hit, "Bring Me to Life."
The singer revealed his near participation while appearing on The Metal Summit (as heard below), explaining, "I was asked to do the 'Bring Me To Life' song, and our schedules were mixed up or something, and I didn't get to do it. So the kid from 12 Stones did it."
The "kid from 12 Stones" was Paul McCoy, who not only sang on the song but also made a guest cameo in the video as well. At the time of McCoy's guest turn, 12 Stones had already issued their 2002 self-titled debut album, which was released by Wind-Up Records who also had Evanescence on their roster.
READ MORE: Evanescence's "Bring Me to Life" Video Surpasses 1 Billion YouTube Views
When one of the Metal Summit hosts took note that the rap section sounded "very Josey," the singer responded, "I definitely have a chill go up my spine every time I hear that song."
How the Rap in "Bring Me to Life" Came to Be
At one point before the band's debut album, the band fought with Wind-Up over having a male vocalist in the group as well. The group initially balked at the idea, with a compromise being struck that a male co-vocalist would be on the single that introduced the band only.
In our Wikipedia: Fact or Fiction episode with Amy Lee, she told us, "I had to fight that fight hard. We had to leave that place in California, say, 'Never mind, I guess we're dropped and not doing anything,' and drive all the way back to Arkansas with tears in our eyes that it was not going to work out because we refused to hold auditions and hire a rapper."
"It did work out, I can't be mad about it now," said Lee.
That said, Evanescence eventually phased out the rap part from live performances. In 2017, Lee told News.com.au, "God bless the rap, it's part of what got us on the radio, I guess. At least according to all the rules of radio that I don't agree with or understand. The rap wasn't part of our original idea or sound, it was a compromise in many ways. So to be able to go back to the original vision for the song was great."
She went on to add while speaking of a rap-less version the band made for their Synthesis album, "The recording of a song that ends being the one you hear the most through history is usually when the song was just freshly written. You're still learning it yourself and getting used to what the notes are and how the parts go. That's true for 'Bring Me to Life,' for sure. After doing it live for so long, there's different vocal choices I've made and different things we got to use in this version."
She added that she often "forgets" that there's rap in the original version, saying, "At the time it was a big issue, it was our first single. I wanted people to understand who we were. That's a struggle you always fight as an artist. If we only had the one hit, if no one ever heard from us again, then nobody would understand who we were. We've made it past that point, so the rap doesn't make me angry anymore. I'm so glad to put a new version out there without the rap, though."
"Bring Me to Life" Was a Massive Breakthrough
"Bring Me to Life" turned out to be a major hit. It shot to No. 1 on the Alternative Airplay chart, peaked at No. 11 on the Mainstream Rock Chart and crossed over to hit No. 5 on the Billboard Hot 100.
It was the No. 8 Alternative Airplay song for the year and No. 26 for the entire decade. It's been certified as a triple-platinum single for over 3 million units sold.
Josey Scott Guests on The Metal Summit
Evanescence's "Bring Me to Life" Featuring 12 Stones' Paul McCoy
The 66 Best Rock Songs of the 2000s: 2000-2009
The 21st century started off rocking.