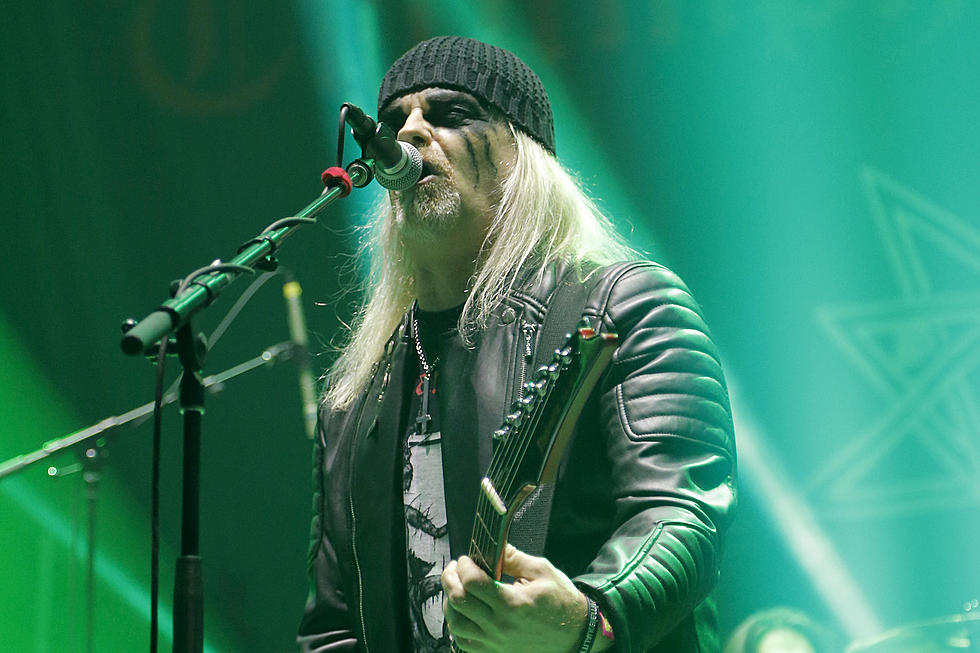 Why Tom G. Warrior (Celtic Frost, Triptykon) Thinks Listening to Critics Is Important
Gabe Ginsberg, Getty Images
Celtic Frost/Triptykon/Hellhammer legend Tom G. Warrior was the latest guest on Full Metal Jackie's weekend radio program, chatting about the new Celtic Frost box set Danse Macabre, an upcoming tribute set by Triptykon and why it can be important for artists to listen to what their critics are saying.
The box set, which was released late last year, features the band's complete recordings from 1984 through 1987. This material is among the most influential in heavy metal, permanently altering the genre's underground trajectory through seminal releases such as To Mega Therion, the Emperor's Return and Morbid Tales EPs and Into the Pandemonium.
In the interview, the visionary reflects on this sentiment, still in a bit of disbelief that his band's music remains so significant today.
Always thought-provoking in his responses, Warrior remains humble and candid and even teased that a new Triptykon album — the band's first since 2014's Melana Chasmata — is in the works.
Read the full interview below.
This box set focuses on Celtic Frost as pioneers. What surprises you most about the influence of that material?

Pretty much everything. I'm also surprised this box set even exists. You have to understand, we started as an underground band in a very small manner and none of us would have ever thought that 40 years later, there will still be talk of our little band, that there will be box sets and people will quote us as an influence. That's far far beyond anything we ever expected. We basically just played the music that was inside of us and we couldn't have ever predicted any of that. All of us that were involved are grateful for all of this.
Celtic Frost, Danse Macabre Box Set Unboxing
Musically, Celtic Frost took chances mainly because you didn't know any better. How did becoming a more knowledgeable musician ultimately alter your creativity?

It changed everything. We didn't really know any better, at least for the first two Celtic Frost albums. This changed when we did the third album Into the Pandemonium and we encountered a label, Noise Records, who were hell bent on [shelving] this and wanted us to do the conservative, routine album. We had these huge artistic ambitions and we had to really fight for this. Eventually, the fight also went to the legal realm and that's when we really realized that we were doing something that was apparently not the normal.
Criticism, although debilitating when you're young, can be considerable motivation. How it Celtic Frost had been different without that adversity?

Criticism and more diversity... there's two effects. One of the effects is it radically makes you more determined if you're anything like Martin [Eric Ain] and I were. On the other hand, of course critics can also be right. The people involved in Celtic Frost, including me, were a times hugely flawed, and I probably still am.
A lot of the criticism aimed at me, I have to admit, does have a point, sometimes a substantial point and it doesn't hurt to listen to it occasionally. So, it's really a mixture of fighting for your viewpoint and also, sometimes maybe taking a step back and growing a little bit by listening to your critics.
Your upbringing was turbulent. Why was an unstable social and parental environment actually a perfect blueprint for music?

It forced me to look at life slightly differently than if I had a perfect family and would've grown up like all the well-to-do families in my school. I perceived this as a huge disadvantage at the time and there was also violence involved and so on. But later on, Martin, having lived through something similar... we realized that this basically shaped us in a very different manner and it was actually an advantage for our music.
Let's talk about Triptykon, who will be playing a Celtic Frost set at the Hell's Heroes Festival in Houston. What's different about how you feel performing those songs now compared to when you were younger?

The idea for this tribute set came from the festival. I felt surprised, but at the same time honored that they will propose something like that.
We decided this is all our heritage and Triptykon guitar player (V. Santura) was also a member of Celtic Frost [live].
Playing this music is usually emotional for me and I'm not just saying that for commercial reasons. I cannot possibly play Celtic Frost or Hellhammer music nowadays without thinking of Martin or Reed St. Mark who were with me at the time and who were crucially important for my path in life.
So, going onstage playing this music is basically like having a condensed movie of my last 41 years as a musician. It's quite something. I'm looking forward to it to experiencing it, but it's also intimidating in a way.
What else can you tell us about you know what your plans are? It always seems like you're doing a bunch of different things. What can we expect besides this Triptykon performance of Celtic Frost's music and this box set? What else is happening for 2023?

The elephant in the room is the new Triptykon studio album, which we were hoping to complete during the pandemic. But we found ourselves completely uninspired by being confined in our rooms and not being able to communicate in person and not playing for our audience. So, we basically postponed that and we are actually working on it now.
Besides that, we also doing some live recordings of Triumph of Death concerts, playing Hellhammer's music. For the very first time, we have talked about maybe also recording a full concert by Triptykon without any definite plan, but so we have live material in archives.
I was able to see Triptykon at my first ever Wacken festival a few years back and it was surreal. It was an unbelievable performance and setting. My point is I'm obviously seeing shows here in the U.S., but nothing like going to Wacken. I hope to get a chance to see Triptykon again.
Wacken is special for everybody from the audience to the bands. It's the biggest metal festival in the world as I understand it and, of course, you get a huge platform to also bring fantastic production. The atmosphere between the bands and the audiences is amazing — very magical. It's "easy" to play a special concert there but I remember that concert very well — the sunset... everything came together that night.
Triptykon, Live at Wacken (2016)
My favorite Celtic Frost show, which I had a chance to present here in the U.S., was the tour with Type O Negative. I bust out that picture from time to time for Throwback Thursday because it is a fond memory, and it was such a great show.
Unfortunately, nobody knew it was going to be the last Celtic Frost tour, which makes it even more special. First, we toured like 45 countries as a headliner and then Type O Negative came and asked us to do 20-25 concerts with them. Since we were friends, we said yes. We came back to the U.S. and this was really the last appearance of Celtic Frost on U.S. soil. The pairing of Type O Negative and Celtic Frost was absolutely perfect. All the musicians involved felt the same way.
Thanks to Tom G. Warrior for the interview. Get your copy of the Celtic Frost 'Danse Macabre' box set here and follow Triptykon on Instagram, Facebook and Twitter. Find out where you can hear Full Metal Jackie's weekend radio show here.

10 of the Biggest Reasons Rock + Metal Bands Broke Up