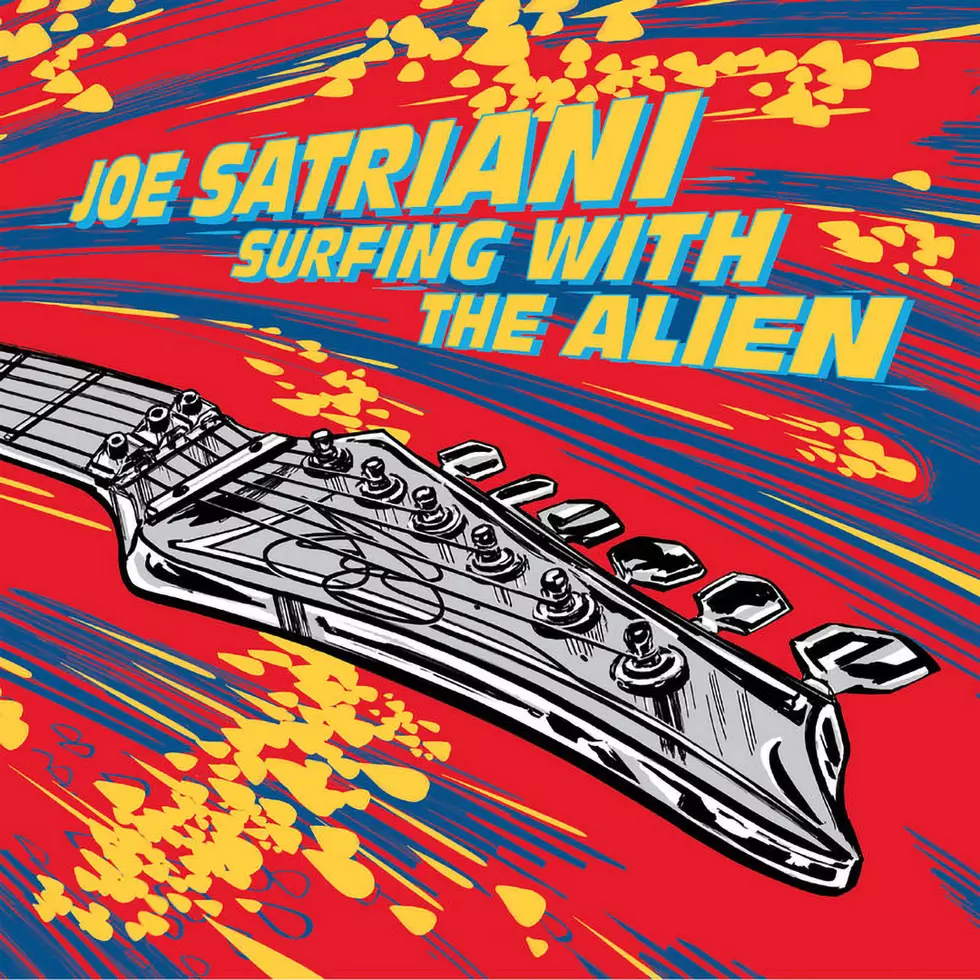 Joe Satriani to Re-Release 'Surfing With the Alien' Without Solos
Legacy
The double LP, limited to 3,500 copies, features the remastered original album on one disc, with "Stripped – the Backing Track" versions of each song on the other. It's set for release on Record Store Day's Black Friday, Nov. 29, with the aim of demonstrating the quality of the songs behind Satriani's signature lead work.
"From its original release in 1987, Surfing With the Alien established Joe Satriani as one of the definitive guitarists of his generation, thanks to unforgettable songs like 'Satch Boogie' and 'Always With Me, Always With You'," a statement on the Record Store Day website said.
"More than 30 years after Surfing With the Alien went platinum, earned two Grammy Award nominations and camped out on the Billboard 200 for over a year, the remastered original album is paired on vinyl with a unique presentation of the album without its signature guitar leads – a chance for seasoned fans and aspiring shredders to appreciate what makes this album a must hear for guitar players the world over."
You can see the track listing below.
In 2017, Satriani recalled how the album came together, telling MusicRadar that it was "made with a complete un-self-conscious love of the things that I wanted to celebrate on guitar, and it was also made under enormous duress and the feeling that no one would ever really listen to it and I would be run out of town as soon as I delivered the album. It was under such a climate that it didn't seem that anyone was going to accept such an album. So it was such a wonderful surprise when it was embraced, because it wasn't a calculated record and much was sacrificed to get it done."
Joe Satriani, 'Surfing With the Alien' 2019 Black Friday Edition
Side A
1. "Surfing With The Alien"
2. "Ice" 9
3. "Crushing Day"
4. "Always With Me, Always With You"
5. "Satch Boogie"
Side B
6. "Hill Of The Skull"
7. "Circles"
8. "Lords Of Karma"
9. "Midnight"
10. "Echo"
Side C
1. "Surfing With The Alien (Stripped-The Backing Track)"
2. "Ice 9 (Stripped-The Backing Track)"
3. "Crushing Day (Stripped-The Backing Track)"
4. "Always With Me, Always With You (Stripped-The Backing Track)"
5. "Satch Boogie (Stripped-The Backing Track)"
Side D
6. "Hill Of The Skull (Stripped-The Backing Track)"
7. "Circles (Stripped-The Backing Track)"
8. "Lords Of Karma (Stripped-The Backing Track)"
9. "Midnight (Stripped-The Backing Track)"
10. "Echo (Stripped-The Backing Track)"
Masterpieces: The Very Best Albums From More Than 100 Classic Rock Acts