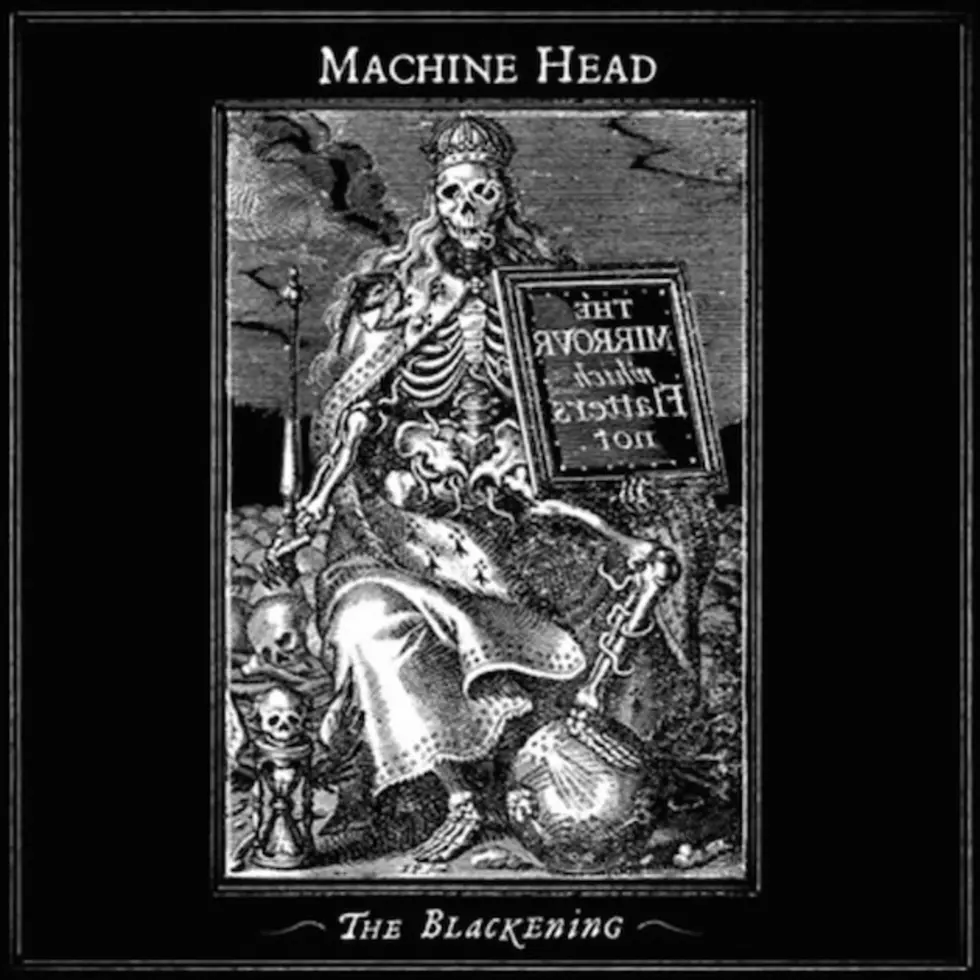 10 Years Ago: Machine Head Got Dark and Epic With 'The Blackening' Album
Roadrunner Records
When Machine Head released the raging, combustive album Through the Ashes of Empires in 2003, they regained ground (and fans) they lost when they downplayed their thrash roots and went in more of a groove-metal direction for 1999's The Burning Red and 2001's Supercharger.
But it was The Blackening, which came out March 27, 2007, that put the band back on the path of heavy metal dominance. The album combined taut, catchy riffs, complex rhythms and exceptional musicianship and stood out as one of the best metal albums of the year.
"We pushed ourselves to the limit," frontman Robb Flynn told me a few months before the album was released. "We wanted to take the biggest risks and not pay attention to any conventional ideas of how long a song's supposed to be or what it's supposed to sound like."
It was a successful move. Half of tracks on the album were over nine minutes long and the music was filled with complex, but melodic rhythm and tempo changes. Moreover, it wasn't a self-indulgent showcase, it was a carefully crafted album modeled after some of Flynn's favorite conceptual hard rock and metal records.
"We were geeking out on old Rush hella-hard when we were writing the album," Flynn said. "Stuff like Rush's Hemispheres and 2112 are super-long but they're still filled with great songs and melodies."
As its title suggests, The Blackening was born out of dark times. In September 2005, just as Flynn started to write for the album, he was stricken with horrible nightmares. In one dream he repeatedly stabbed himself in the stomach. The next night, he was mowed down in a blaze of gunfire. Over the next couple weeks he dreamed he jumped to his death from tall buildings, slit his wrists and hung himself.
"I started to freak out," he said. "I was scared to go to sleep but I was exhausted. I was fine during the day, then every night the dreams returned, and I began to question my sanity."
To sort his head out, Flynn looked back into the past to a time when he was 17 and nearly did commit suicide. He scribbled down what he could remember and the words were molded into the song "Beautiful Mourning," one of the highlights of The Blackening.
"I had been kicked out of my parents' house, and I was living at my friend's houses, doing drugs and getting in trouble," Flynn recalls. "That night, a friend and I had taken hits of four-way window pane acid and decided to watch The Omen, and I ended up in the bathroom staring at a mirror with a razor at my wrist. And I just started to cut. But before I got to the point where I caused too much damage, I stopped. Writing about that seemed to make the night terrors stop and gave me a starting point for the rest of the album."
The Blackening is filled with aggressive, multi-textured songs drawn from years of frustration and confrontation. "Clenching the Fists of Dissent," was inspired by the ongoing war in Iraq; "Halo" took on organized religion; and "Now I Lay Thee Down" was about a murder/suicide. But the most personal song for Flynn was "Aesthetics of Hate," a brutal track about an article by conservative writer William Grim, which criticized late Pantera guitarist Dimebag Darrell for being a degenerate and a scumbag who was better off dead. The article ran in the conservative website The Iconoclast the day after Dime was killed and it infuriated Flynn.
"This article ended up getting picked up by CNN and Fox. It got a lot of national coverage," Flynn told NPR's Tom Ashbrook. "I read it and I was furious. It was disgusting to read this kind of stuff about someone who was a friend of ours and someone who was not anything at all like what this person was trying to paint him as. That song was a direct response – pretty much a Neanderthal burst of anger directed at that person who wrote it."
Machine Head wrote most of the songs for The Blackening in 2006 and fine-tuned them at a practice space they rented in Berkeley, Calif. They entered Sharkbite Studios Oakland, Calif., on Aug. 21 with skeletons for 26 songs, which they narrowed down to eight. Drummer Dave McClain tracked all of his parts in just two days, Aug. 25 and 26, as multifaceted as they were. Then the rest of the band (Flynn, guitarist Phil Demmel and bassist Adam Duce) put the axe to the grindstone.
After experimenting with various guitar and bass tones, Machine Head recorded the songs, layering acoustic and electric guitars and playing all the parts in the tricky, lengthy numbers over and over until they nailed them. Then Flynn laid down all of the final vocals. On Nov. 16, less than four months after they started tracking, Machine Head had finished the epic album. Colin Richardson mixed The Blackening at Strongroom Studios and Metropolis Studios in London.
The Blackening entered the Billboard album charts at No. 54 and sold 16,000 its first week out. "Aesthetics of Hate" was nominated for Grammy for Best Metal Performance at the 50th Grammy Awards in 2008, but lost out to Slayer's "Final Six." Many have regarded The Blackening as Machine Head's best album, but some of the band members have commented that the lengths of the songs detracted from its commercial accessibility. They remedied this with their next album Unto the Locust, which contained shorter songs that still featured complex arrangements and explosive musicianship.
Machine Head Albums Ranked
See Where Machine Head's The Blackening Landed on the Top 100 Hard Rock + Metal Albums of the 21st Century