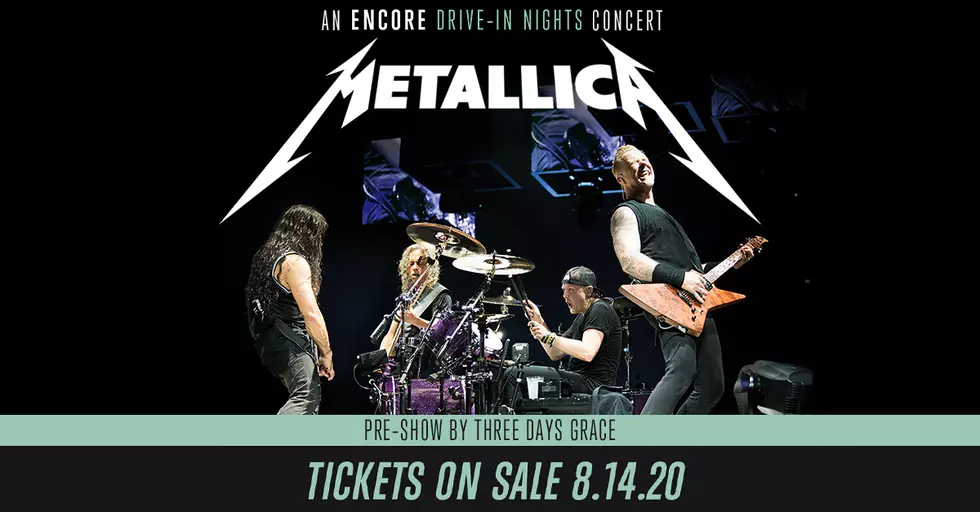 Metallica Drive In Concert Info & Win Tickets
Q Prime
There's a meme going around this summer that says "could really go for an overpriced beer at a concert right now," and ain't it the truth. What we wouldn't give for just one concert before the end of summer. Of course that's not possible with the pandemic still in full swing. Next best thing are these drive in concerts that are sweeping the nation, you may have friends who saw the Garth Brooks show in Corvallis at the end of June. We're absolutely psyched to bring you the news that the next big drive in concert is METALLICA!
Metallica return to the stage for the first time since September with an ALL NEW, exclusive concert on Saturday, August 29th, for one night only at the Pharaohplex in Corvallis. Every ticket purchased is valid for one carload for up to 6 people of any age, and will include 4 digital downloads of Metallica's 'S&M2.' Pre-sale tickets, available exclusively to Metallica's Fifth Member fan club, will go on sale on August 12th HERE.
General on sale tickets are available this Friday, August 14th HERE. Metallica is the first rock band to be featured in the Encore Drive-In Nights series of concerts filmed exclusively for drive in theaters. The band promises a full set of classics, plus some "surprises." This is sure to go down as one of the most unique and memorable Metallica experiences of all time! The opener will be Three Days Grace.
Want a free ticket valid for entry for 6 people? Of course you do. Simply text us the word METALLICA with your free 96.3 The Blaze mobile app. You only need to text once, more texts doesn't mean more entries, and if you already texted, we have to in the drawings!
Drive-in theaters hosting the concert will adhere to Centers for Disease Control and Prevention (CDC) recommended guidelines as well as all state and local health mandates. Staff will wear personal protective equipment and enforce at least six feet of space between cars. The series will also use contactless payment and ticketing systems and limit capacity in restrooms. Guidelines around concessions will be enforced to abide by individual state regulations. For a full list of procedures that the Encore Drive-In Nights is employing to keep fans and staff safe, visit encorenights.com.
80s Missoula Concert Ticket Stubs