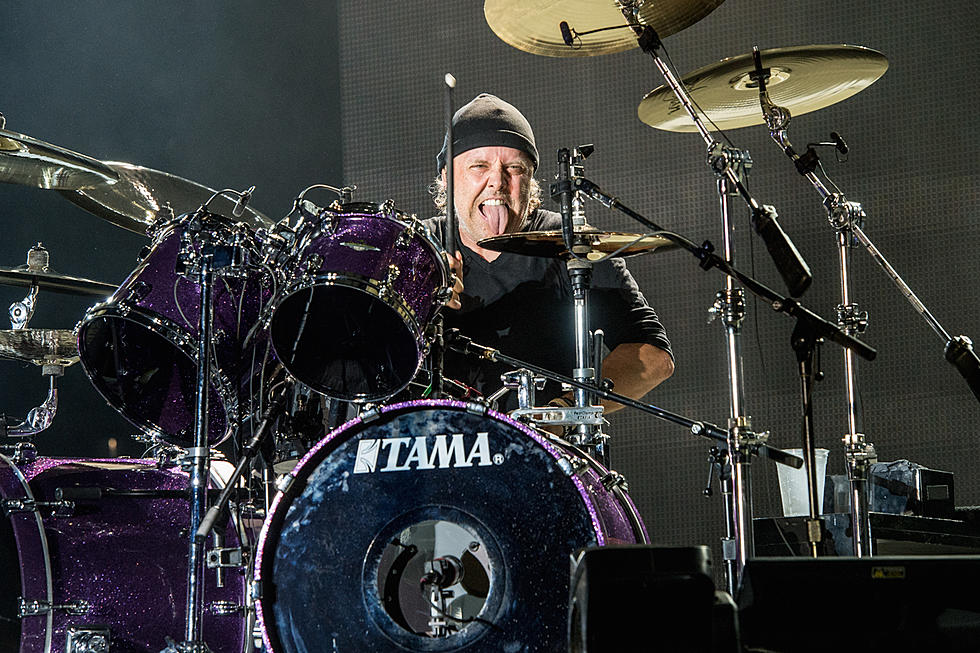 Metallica's Lars Ulrich Names His Top 15 Hard Rock + Metal Albums
Amy Harris for Loudwire
Here at Loudwire, we love lists of all kinds of lists. Regardless of whether or not you agree with the picks, it's a fun conversation starter as age old debates of which album or band is better resurface, igniting passionate responses from fans. Naturally, when Metallica's Lars Ulrich spoke with Rolling Stone about his 15 favorite hard rock and metal albums, it caught our attention.
Over the course of more than three decades, Metallica have navigated drastic twists and turns in their sound, constantly trying to remain ahead of the musical curve and on the cusp of innovation. As the drummer named his favorite records of all time, it magnified his influences, helping to further highlight how it impacted Metallica's early sounds, as well as shone some light on bands who later helped keep their eyes on the horizon as trends in heavy music changed.
Among his favorites were the more obvious ones as Metallica have never been shy about touting their influences. AC/DC's Let There Be Rock, Deep Purple's phenomenal live record Made in Japan, Motorhead's Overkill, Iron Maiden's The Number of the Beast and Mercyful Fate's Melissa all made the cut, offering a look at what he was into throughout the '70s and early '80s.
Metallica also popularized Diamond Head's "Am I Evil," covering it with great success. The cut comes off the Lightning to the Nations album and Ulrich explained, "If you're gonna say, 'Name one record that's the blueprint for Metallica's sound,' this is it. I've said that a thousand times; I've said it 10,000 times."
As for the latter day favorites, the skinsman named Alice in Chains' sophomoric masterpiece Dirt, Rage Against the Machine's The Battle of Los Angeles, as well as System of a Down's meteoric Toxicity. These albums were all released around the span that included Load, Reload and St. Anger, giving clarity to Ulrich's musical headspace at the time. Speaking about Toxicity, he said, "It was very inspirational on what we did and I loved the whole thing about how the songs were so short and to the point and that was something we never had a lot of luck with and it's just one of the all-time great records."
See the full list, in alphabetical order, below, and for Ulrich's explanation behind each pick, head to Rolling Stone.
Metallica have completed roughly half of their 2017 North American stadium tour with support coming from Avenged Sevenfold, Volbeat and Gojira on select dates. Click here to see the remaining stops and for further information.
Lars Ulrich's Top 15 Hard Rock + Metal Albums*
AC/DC, Let There Be Rock (1977)
Alice in Chains, Dirt (1992)
Black Sabbath, Sabotage (1975)
Blue Oyster Cult, On Your Feet or on Your Knees (1975)
Deep Purple, Made in Japan (1972)
Diamond Head, Lightning to the Nations (1980)
Guns N' Roses, Appetite for Destruction (1987)
Iron Maiden, The Number of the Beast (1982)
Judas Priest, Unleashed in the East (1979)
Mercyful Fate, Melissa (1983)
Motorhead, Overkill (1979)
Rage Against the Machine, The Battle of Los Angeles (1999)
System of a Down, Toxicity (2001)
UFO, Strangers in the Night (1979)
Warrior Soul, The Space Age Playboys (1994)
*presented in alphabetical order
Best Thrash Album of Each Year Since 1983
10 Unforgettable Lars Ulrich Moments