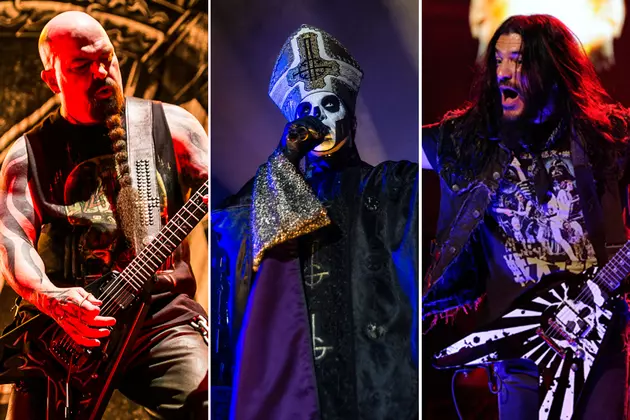 Slayer, Ghost + Machine Head Lead 'The Devil's Candy' Soundtrack
Kathy Flynn, WickedGoddessPhotography.com / Johnny Perilla, Loudwire / Frazer Harrison, Getty Images
Nothing sets a mood like metal, and there's plenty of it on the soundtrack for the new horror film The Devil's Candy. You'll find tracks from Slayer, Ghost, Machine Head and Sunn O))) populating the disc.
Experimental metal outfit Sunn O))) actually bookend the soundtrack with "Belurol Pusztit" opening the disc while "Decay 2 (Nihils' Maw)" wraps up the effort. Plus, you'll find Ghost's recent hit "From the Pinnacle to the Pit," Slayer's brutal "You Against You" and Machine Head's "Sail Into the Black."
Director Sean Byrne says, "The Devil's Candy soundtrack takes the listener on a gradual descent from foot-stomping joy to the deepest darkness. Please play it LOUD." Other acts on the soundtrack include The Wanton Bishops, Spiderbait, PJ Harvey, Goya and Aurora Surgit. See the full track listing below.
The movie, which stars Ethan Embry, Shiri Appleby and Pruitt Taylor Vince among others, centers on a painter who is haunted by a satanic force after his family moves into their dream house in Texas. The film received a 90 percent rating on Rotten Tomatoes and is expected on March 17. See a trailer for The Devil's Candy below the track listing.
The Devil's Candy Soundtrack
01. Sunn O))) - "Belürol Pusztít"
02. The Wanton Bishops - "Shake"
03. Spiderbait - "Conjunctivitis"
04. PJ Harvey - "The Devil"
05. Ghost - "From The Pinnacle To The Pit"
06. Goya - "Blackfire"
07. Slayer - "You Against You"
08. Machine Head - "Sail Into The Black"
09. Aurora Surgit - "Dies Irae (Sequentia)"
10. Sunn O))) - "Decay 2 (Nihils' Maw)"
The Devil's Candy Trailer
Slayer's Kerry King Plays 'Wikipedia: Fact or Fiction?' Pt. 1 + 2