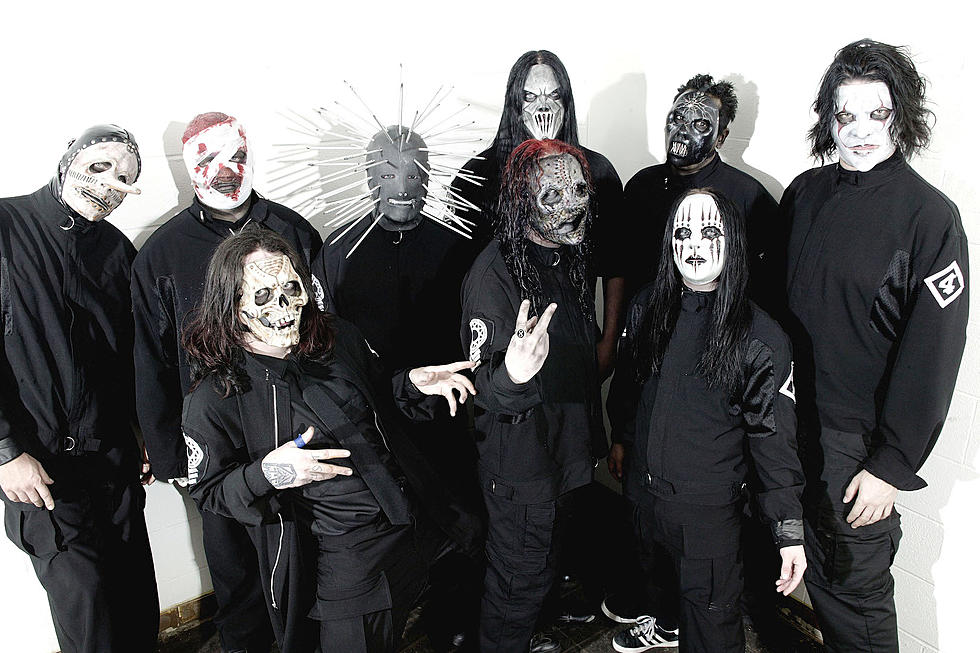 Slipknot Release Statement on Death of Joey Jordison, Share Tribute Video
Mick Hutson, Getty Images
Slipknot are mourning the loss of one of the band's founding members, former drummer Joey Jordison. Jordison's family released a statement earlier this week (July 27) sharing that the musician had died in his sleep at the age of 46.
The band have now issued a statement and released a tribute video to the fallen icon.
"Our hearts go out to Joey's family and loved ones at this time of tremendous loss," Slipknot said on Friday (July 30). "Joey Jordison's art, talent, and spirit could not be contained or be held back. Joey's impact on Slipknot, on our lives, and on the music that he loved, is incalculable. Without him there would be no us. We mourn his loss with the entire Slipknot family. We love you, Joey."
Watch the video down toward the bottom of this post.
Slipknot initially paid tribute to Jordison by blacking out their social media following the announcement from Jordison's family.
The tribute was done in one sweeping move across Facebook, Twitter and Instagram, where Slipknot's band accounts as well as those of individual band members — singer Corey Taylor, percussionist Shawn 'Clown' Crahan, guitarist Jim Root, DJ Sid Wilson, drummer Jay Weinberg and bassist Alessandro 'V-Man' Venturella — were flipped to feature a black circle as the icon/avatar alongside an all-black square that was shared with no caption.
Jordison was a member of Slipknot from its inception in 1995 until 2013. The drummer, who was known as Number 1 in the band, appeared on all of Slipknot's studio albums except for their two most recent — .5: The Gray Chapter and We Are Not Your Kind.
He and the band parted ways in 2013 without giving a reason, however; it was later said in interviews that he was fired.
"We accomplished a lot in life," Jordison said of his former Slipknot bandmates at the 2016 Metal Hammer Golden Gods Awards. "Every one of them, and I wish them nothing but luck and the best of praises. What we created, in the basements of Des Moines, Iowa, will never be matched. It's one thing that's fucking absolutely fucking unbeatable. I love those guys very much."
Toward the end of his time in Slipknot, Jordison was diagnosed with a neurological condition called transverse myelitis that inhibited his ability to walk and play the drums. However, in 2018, he announced his comeback during an interview with Metal Wani.
Aside from his tenure in Slipknot, Jordison founded Scar the Martyr, which released one self-titled album in 2013 through Roadrunner Records. He also formed a group called Vimic, played with Murderdolls, Sinsaenum and Rob Zombie and temporarily joined Ministry in 2018.
Slipknot Joey Jordison Tribute Video - July 30, 2021
Rockers We've Lost in 2021
R.I.P. to the rockers who died in 2021.