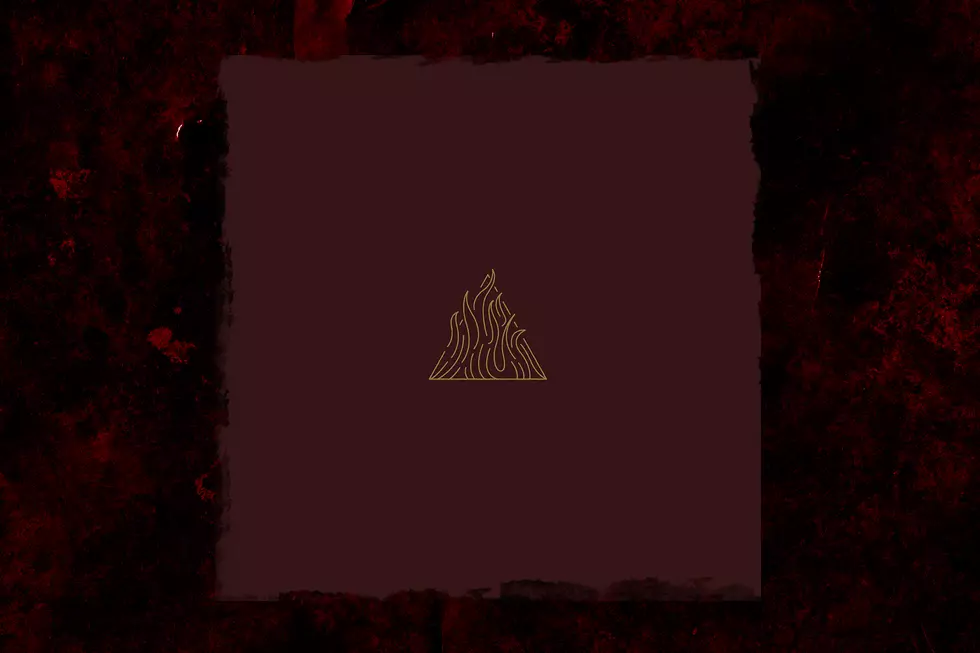 Trivium, 'The Sin and the Sentence' – Album Review
Roadrunner
Trivium's career has followed an interesting trajectory. Their early albums received a fair amount of attention, even though they weren't huge commercial successes. After that, their releases consistently landed on the Billboard 200 chart, anywhere from 13 to 23. That's an impressive feat, but even with the chart success they still seemed to be overshadowed by some of their contemporaries. One reason may have been the lack of hit singles, but they've also been seeing better returns in that area.
That started to change with 2013's Vengeance Falls, and Trivium really made their mark with 2015's Silence in the Snow, which spawned their first top 10 single "Until the World Goes Cold" along with "Dead and Gone." The band's profile and fan base are at a high point, making their latest album The Sin and the Sentence an anticipated one.
Silence in the Snow was the first Trivium album to feature exclusively melodic singing, and some may have assumed they would permanently abandon harsh vocals in the pursuit of commercial success. That would be an incorrect assumption, which is made clear right off the bat. The opening title track features unclean vocals from Matt Heafy along with melodic singing.
Trivium have had a revolving door of drummers, with Alex Bent (Brain Drill, Arkaik) handling the duties this time around. His presence is immediately felt, adding some impressive fills in the aforementioned title track, and delivering a powerful performance throughout. For the first time in several albums blast beats are used.
"Beyond Oblivion" is one of those songs they are featured on, expertly balancing intense moments and infectious melodies. That's Trivium's sweet spot, where they can deliver punishing metal that's contrasted by ridiculously catchy choruses. "Betrayer" is another song in that vein.
Along with plenty of aggressive songs, there are accessible tracks as well. "The Heart From Your Hate" has been released as a single, which makes sense. It features all melodic singing and ample hooks. "Endless Night" also has single written all over it. The other side of the coin is represented by "The Wretchedness Inside," featuring a large dose of Heafy's harsh vocals along with memorable guitar work from Corey Beaulieu and Heafy.
The album's most ambitious track is the seven-minute "The Revanchist." There are numerous tempo and texture changes, and an extended instrumental section in the middle that shows some progressive influences. The album ends on an aggressive note, with the groovy "Thrown Into the Fire" that features crushing riffs along with mostly unclean vocals and a shredding guitar solo.
After mixing Silence in the Snow, Josh Wilbur (Lamb of God) handled production and mixing duties on The Sin and the Sentence. He has a lot of experience working with dynamic bands like Trivium, and crafts the sound to have plenty of punch and bottom end while letting the melodies soar.
I'm not sure if a band with their level of success can be considered underrated, but Trivium are certainly under appreciated and overlooked by some. Their songwriting and musicianship are as strong as they have ever been, with The Sin and the Sentence delivering a quality listen from beginning to end.
Trivium's Matt Heafy Plays 'Wikipedia: Fact or Fiction?'