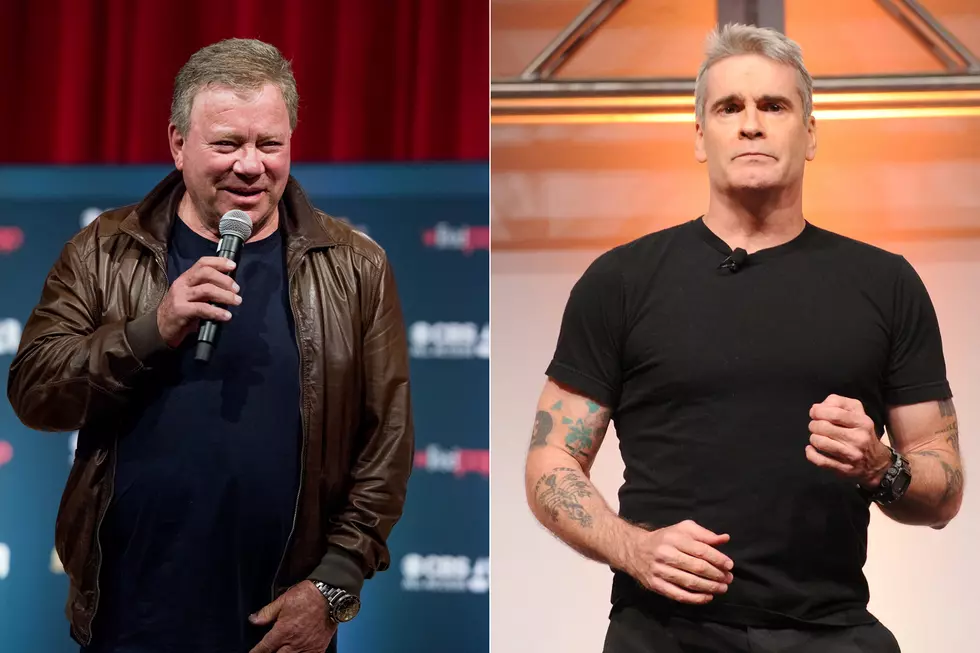 William Shatner Gets in the Christmas Spirit With Henry Rollins + More for 'Shatner Claus'
Roy Rochlin / Bryan Bedder, Getty Images
Move aside, pumpkin spice, we're starting to talk about Christmas albums already. Star Trek and T.J. Hooker actor William Shatner has a holiday album on the way.
Shatner won't be alone either. Much like his 2004 album Has Been and his 2013 disc Ponder the Mystery, Shatner will be joined on tracks by some well known musicians. For the holiday-themed effort, dubbed Shatner Claus - The Christmas Album, you'll find Brad Paisley, Jethro Tull's Ian Anderson, ZZ Top's Billy Gibbons and Yes' Rick Wakeman joining him. For those wanting something with a little more attitude, Henry Rollins steps in to join Shatner on "Jingle Bells," as well as a punk rock version of the song that closes out the disc. Speaking of punk, you'll also find Iggy Pop turning up on Shatner's cover of "Silent Night."
Other guests on the album include Joe Louis Walker, Todd Rundgren, Lynyrd Skynyrd's Artemis Pyle, King Crimson's Mel Collins, The Cars' Elliott Easton, folk singer Judy Collins and Dani Bender. Take a listen to Shatner with Henry Rollins on "Jingle Bells" in the player below.
Other songs on the album include "Little Drummer Boy," "Run Rudolph Run," "Silver Bells," "White Christmas" and "Feliz Navidad." See the full track listing below and look for Shatner Claus arriving on Oct. 26 through Cleopatra Records. You can pre-order the album on CD or vinyl through Amazon.
William Shatner, Shatner Claus – The Christmas Album Track List and Artwork
01. Jingle Bells (feat. Henry Rollins)
02. Blue Christmas (feat. Brad Paisley)
03. Little Drummer Boy (feat. Joe Louis Walker)
04. Winter Wonderland (feat. Todd Rundgren & Artimus Pyle of Lynyrd Skynyrd)
05. Twas The Night Before Christmas (feat. Mel Collins of King Crimson)
06. Run Rudolph Run feat. (Elliot Easton of The Cars)
07. O Come, O Come Emmanuel feat. (Rick Wakeman of Yes)
08. Silver Bells (feat. Ian Anderson of Jethro Tull)
09. One for You, One For Me
10. Rudolph The Red-Nosed Reindeer (feat. Billy Gibbons of ZZ Top)
11. Silent Night (feat. Iggy Pop)
12. White Christmas (feat. Judy Collins)
13. Feliz Navidad (feat. Dani Bender)
14. Jingle Bells (feat. Henry Rollins) (Punk Rock Version)
Hear William Shatner + Henry Rollins Covering "Jingle Bells"
Top 25 Punk Albums of All Time
15 'Henry Rollins vs. Everyone' Moments