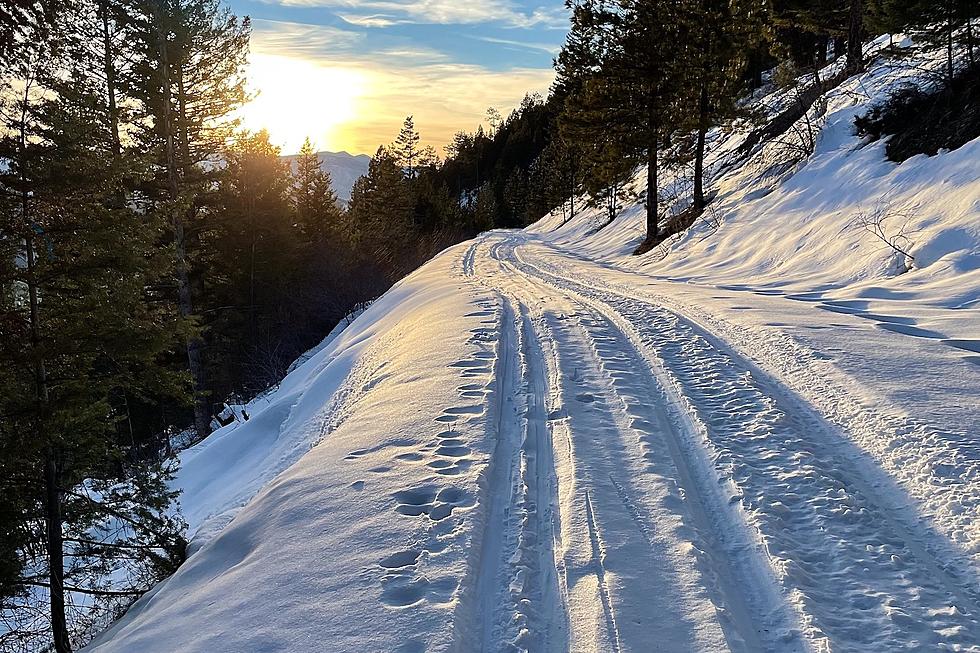 The Best Cross Country Skiing Trails in and Around Missoula
Credit: Eric Warren
Cross-country skiing in Missoula is characterized by consistent snow, mellow glades surrounded by wild peaks, and an army of volunteers grooming trails into perfect ribbons through undulating old-growth ponderosa and larch forests. Whether you're looking for high-speed/thigh-burning skate-skiing laps with friends or an all-day ski-touring adventure in total solitude, it can all be had within an hour of the city. 
 UM Golf Course
The easiest and closest place to score a little Missoula Nordic skiing is at the University of Montana Golf Course, just outside Downtown Missoula. Groomed for both classic and skate skiing, the golf course is divided into two loops that make use of every inch of available space eking out 5k of relatively flat trails. The East Loop is dog friendly while dogs are prohibited on the West Loop. These trails are consistently groomed, and heavily used, but they're also most susceptible to the valley's variable snow conditions. 
To get there: Take Higgins south from downtown. Turn left onto South and right onto Castle Ct. Make sure to park only on the street along the garden or in the first two parking lots. There's additional parking by Dornblaser Field. 
The Rattlesnake National Recreation Area
Less than five miles north of Downtown Missoula, the Rattlesnake offers about 8k of groomed trail, running from the main trailhead along the creek to Franklin Bridge. Numerous ungroomed trails split from the main trail, making their way into the surrounding mountains for the more adventurous ski tourers. The Rattlesnake gets a ton of use, and the groomed sections are open to skiers, snowshoers, fat bikers, and regular foot traffic taking advantage of the packed surface. 
To get there: Head northeast under the interstate on Van Buren. Follow Van Buren 4.5 miles as it turns into Rattlesnake Dr. Take a left on Sawmill Gulch Road and a right into the main trailhead parking lot.
Pattee Canyon Recreation Area
Pattee Canyon Recreation Area lies about six miles southeast of Missoula at the top of a winding mountain road. The added elevation means that the snow is reliably better than skiing in the valley. Pattee Canyon has 10k of groomed classic and skate-skiing loops that wander through groves of towering ponderosa. The trails are divided into several loops that cater to all levels from beginner to advanced. Gated Forest Service roads tend to be well-used by skate and classic skiers seeking further solitude, creating semi-groomed tracks that climb out of the valley to huge views of the Sapphire and Bitterroot Ranges. 
To get there: Turn left off of Southwest Higgins onto Pattee Canyon Road. Follow the road 3.5 miles to Crazy Canyon , the first of two trailheads. Stop here or continue to Pattee Canyon Trailhead just under a mile further. 
Lolo Pass
Lolo Pass sits high in the Bitterroot Range straddling the border between Montana and Idaho. This high-mountain glade has some of the best snow and most consistent conditions in the area. Lolo maintains 13k of ski-only trails groomed for classic and skate in two loops that wind through forests and through open meadows with great views of the surrounding peaks. The Pass also has a dedicated snowshoe trail, sledding hill, and many miles of groomed multi-use trails. No matter how often you go, the chances of getting bored are slim. Be sure to leave a little time to enjoy the hot tea and coffee on the couch in front of the fire in the Clearwater National Forest visitor center at the trailhead.
A $5 parking pass is required, available at the visitor center. Do not park in the snowplow turn-around adjacent to the visitor center. You will get ticketed, even if the roads are dry. You've been warned.
To get there: From Missoula, head south on US 93. Take a right onto US 12 in Lolo and head just over 33 miles to the top of Lolo Pass. Turn left into the visitor center parking lot. It fills up quickly on the weekends, so head out early.
Seeley Lake/Creek
If you're up for a little bit of a drive, Seeley Creek Nordic Ski Trails won't disappoint. Situated 55 miles northeast of Missoula, Seeley Creek offers over 20k of expertly built classic and skate trails looping through open forest and alpine glades. The variety and quality of trails here make the hour drive worth it. In the early 1990s, the Forest Service brought Olympian Jon Elliott in to help redesign the trails, rerouting some of the sketchier sections and widening the track to 12 feet. If the variety of trails doesn't satisfy your thirst for snow, the local snowmobile club grooms 365 miles of surrounding Forest Service roads and trails for multi-use. Don't forget to drop by the warming yurt while you're there. 
To get there: Head east out of Missoula on Hwy 200. Take a left at the giant cow statue onto Hwy 83 toward Seeley Lake. Just after passing through Seeley Lake, take a right onto Morell Creek Rd and drive about a mile to the trailhead. 
Lubrecht Experimental Forest
If you're not looking to drive quite that far but are still looking for all-abilities cross-country skiing with big views of the Swan Mountain Range, check out Lubrecht Experimental Forest 30 miles east of Missoula on Highway 200. In addition to just under 30k of rolling-terrain trails groomed for both classic and skate, there are over 30 miles of groomed multi-use trails heading to Garnet Ghost Town (open after January 1st). Lubrecht forest, which is owned by the University of Montana, has a lodge and heated cabins, so you can make a weekend of it. While there are beginner trails, be aware that most of the trails are intermediate or advanced. 
To get there: Head east out of Missoula on Hwy 200. Turn right onto Garnet Range Road.
Skalkaho Pass
For a 40+ mile adventure, check out Skalkaho Pass about an hour south of Missoula. Skalkaho Highway is one of only two roads that cross the Sapphire Mountains, and once it closes for the winter, the highway (12 miles) and Skalkaho/Rye Road (28+ miles) are groomed for multi-use snow sports. These primitive roads cling to mountainsides following streams and passing frozen waterfalls. Even with the occasional snowmobile passing, the route feels remote. The local snowmobile club pays for grooming, so wave (in the nice way) when they pass.
To get there: Take US 93 south out of Missoula. Just south of Hamilton, take a left on Hwy 38. Drive to the gate.
New to Skiing in Montana? Here's 10 Important Things to Remember
Just getting into skiing in Montana? Congratulations, you're in one of the best places for skiing in the entire country, but there are a few things you need to know before you go.
MTV House For Sale in Lolo
Check out photos of the house in Lolo, Montana that MTV used for the show 'Floribama Shore.'