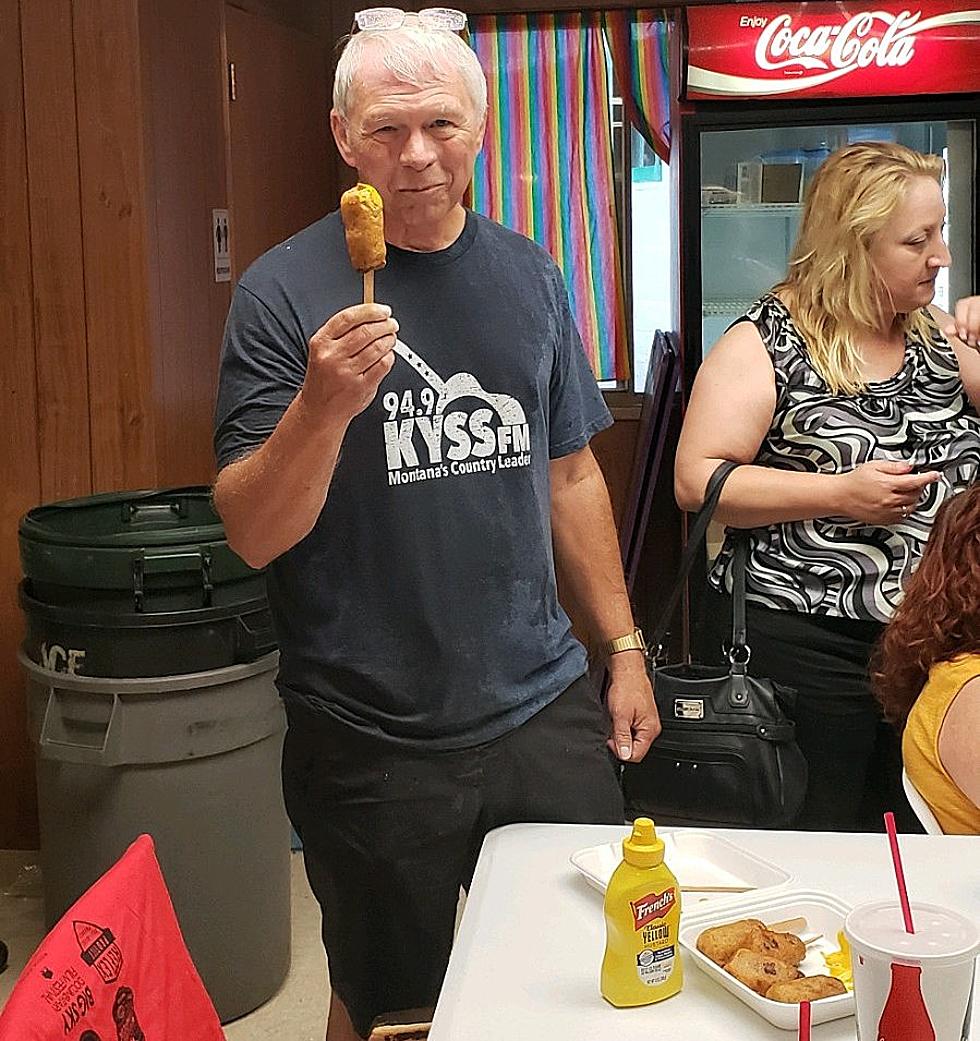 FAIR FOOD: How to Make Your Own Montana Fair Vikings at Home
What is the one item you crave every year at the fair? Is it the popular "TATER PIG?" Or how about the FFA Tacos? Maybe you are just a funnel cake person? But, let's be honest.....It's the VIKINGS that we cannot seem to get enough of. After a simple search online, I unearthed a copycat recipe for Montana Fair Vikings.
Here is what you will need:
1LB Lean Ground Beef
1/2LB Ground Pork
2 Eggs
1/2 cup of Oatmeal
1 medium Onion minced
1/2 cup evaporated milk
1 1/2 tsp salt
1/4 teaspoon pepper
1/4 teaspoon Allspice
1/4 teaspoon Ginger
1 tablespoon Butter
Krusteaz Pancake Mix
popsicle sticks
WHAT YOU NEED TO DO:
Saute onion in butter until transparent and soft. Mix oatmeal, eggs, and canned milk. Mix beef and pork together and add oatmeal mixture, onions, and spices. Beat with a hand mixer until fluffy. Use 1/3 cup or 1/2 cup mixture and form a ball. Place meatballs on a baking sheet or pan. Cook in a 400-degree oven for 15 minutes until done. Remove and cool. When meatballs are cool enough to handle stick wooden popsicle stick in each one. Make Krusteaz pancake batter with water. Use less water than what the box calls for, so the mixture will stick to a meatball. Hold the meatball by the stick, dip it in batter, then into the 375-degree hot oil. Cook til golden brown. Remove from oil and drain on a plate with paper towels.
Voila! The fair food everyone craves. From the comfort of your home.
DONT FORGET TO DIP IN KETCHUP (or mustard)
LOOK: Here are copycat recipes from 20 of the most popular fast food restaurants in America
LOOK: 15 Discontinued McDonald's Menu Items