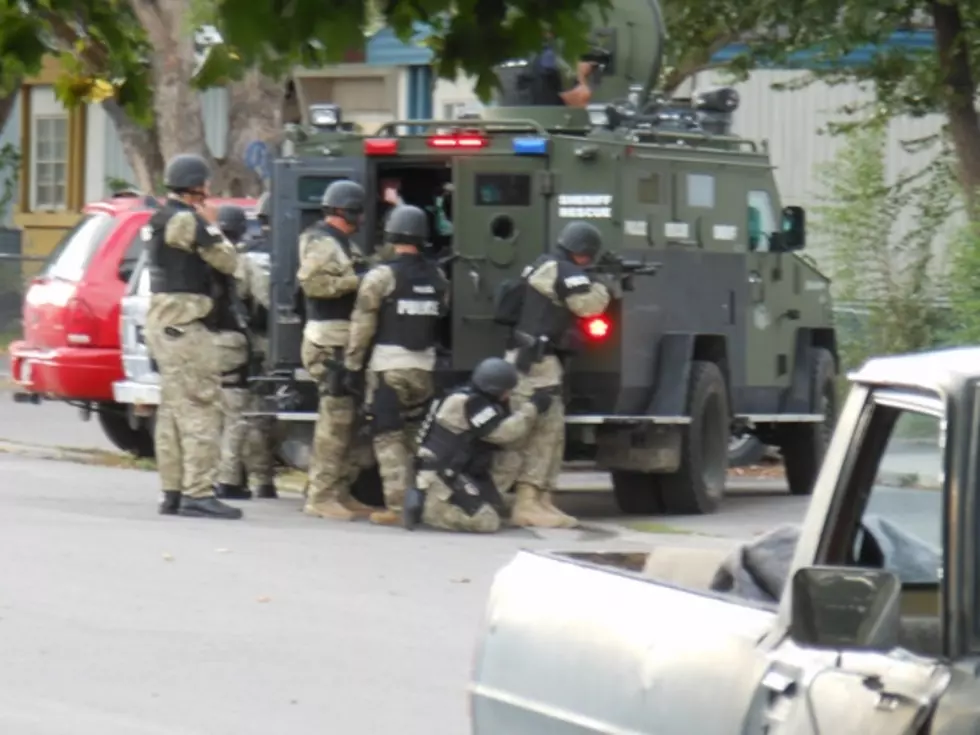 Is Missoula Law Enforcement Becoming 'Militarized'? Police and Sheriff's Office Say 'No' [AUDIO]
photo by Peter Christian
After the riots in Ferguson, Missouri, national media outlets from the ACLU to the Heritage Foundation, are questioning the 'militarization' of local law enforcement agencies.
In Missoula, KGVO News spoke with representatives of both the Missoula Police Department and the Missoula County Sheriff's Office on the subject of 'militarization'. Both agencies denied seeking any special military-style armament or vehicles.
Sheriff's Captain Brad Giffin said his agency utilizes an armored vehicle, but it's not a military style unit.
"The only special vehicle we have is an armored vehicle, and it's pretty much the same as an armored car that delivers money to and from banks," Giffin said. "It's designed by Lenco, and it's specifically for law enforcement. But it's not only for law enforcement. For instance, in the standoff we had last year, residents that are close by can be evacuated safely from the area. The vehicle allows us to do a greater variety of things and do them much more safely than we ever have before."
Giffin said the vehicle was obtained by the county through a federal grant.
"Part of it has to do with our explosive ordinance disposal team, so the purpose of the vehicle has everything to do with safety," he said.
During the standoff in 2013, the armored vehicle, as well as a small robotic unit were reportedly struck several times by gunfire from the suspect, Jason Kirchner, while officers remained safely out of range of the shooter.
The police department's SWAT team, standing for "Special Weapons and Tactics", and the sheriff's department's Special Response Team are called out when an incident arises in which the public and law enforcement agencies face a potentially life-threatening situation.
Public Information Officer with the Missoula Police Department, Detective Sergeant Travis Welsh, describes how the city's swat team is equipped.
"The first time someone experiences a SWAT team member, it may seem as though they're geared a little more excessively than a regular patrol officer, and in fact they are," Welsh said. "However, our SWAT team is outfitted with standard equipment for civilian special weapons and tactics teams. We don't utilize surplus military gear."
However, Welsh said a SWAT team member does have specialized gear while in the field.
"It wouldn't be uncommon for you to see them wearing helmets, and also special load-bearing vests that are ballistic in nature, maybe a little more heavy-duty than the standard officer might wear," Welsh said. "They might utilize weapons that are not standard, but may be necessary to deal with the types of weapons and situations that they might encounter. They might also be equipped with long guns as well as their sidearms, loaded with standard issue ammunition."
Public Information Officer Travis Welsh
Giffin outlined the basic doctrines under which the SWAT or Special Response Teams might be utilized.
"Well, it would be the priorities of life," Giffin said. "The priorities of life would be innocent civilians first, that's the highest priority. Then you have the priority of life for ourselves and the suspects."
During the Cooley Street standoff in September of 2013, law enforcement agencies utilized all their SWAT and Special Response Teams, the armored vehicle and a specially equipped robot, and yet they determined to end the situation peacefully, with the suspect, Jason Kirchner, surrendering to authorities without being injured. Kirchner was sentenced to five years in the Montana State Prison. In the end, no one was injured in the standoff that lasted nearly 24 hours.
As Captain Giffin noted, "I mean, it's all about saving lives, not taking lives."
Sheriff's Office Captain Brad Giffin