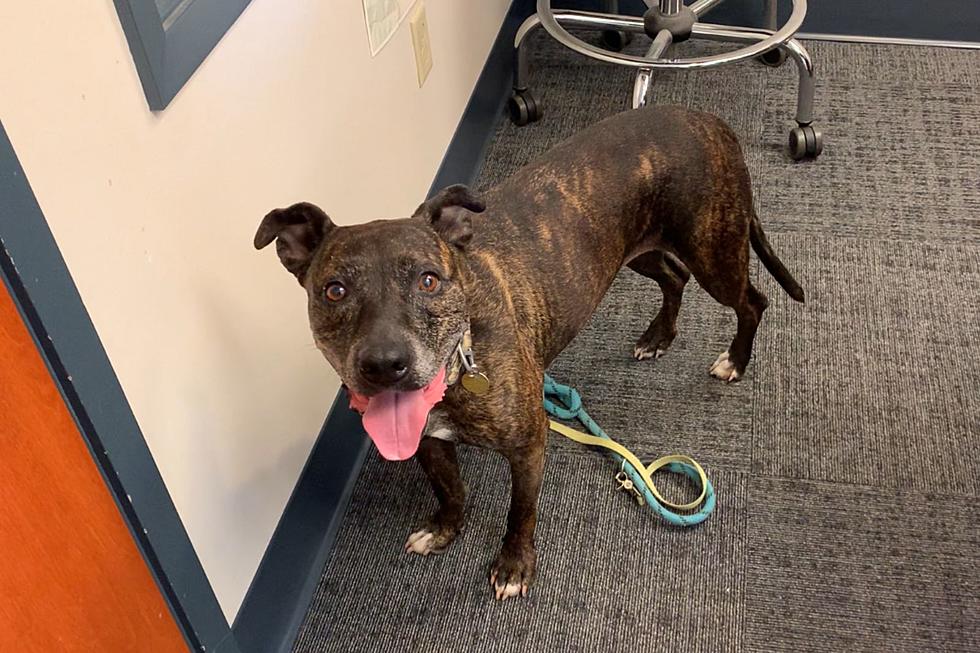 Missoula Humane Society's Beautiful Bonita Brings Bliss to TMHT
Image courtesy of Humane Society of Western Montana
In Spanish, Bonita means "pretty" or "cute." And a pretty cute, mature, lovable dog is now waiting for her forever home.
It was another Take Me Home Tuesday on the radio with the Humane Society of Western Montana, presented by Paul's Pancake Parlor, Tremper's Shopping Center in Missoula. We get these special visits two Tuesdays each month.
Our latest guest, Bonita, is a strong, energetic girl of a Pit Bull mix, featuring that beautiful brindle coloring. She is a little gray in the face, rocking her approximate age of 7. Bonita loves people, walks, hikes and rides in the car. She is tolerant of cats and most dogs, but if you have other pets, there could be an adjustment period.
ADOPTION FEES WAIVED!
Bonita has a local sponsor, Spectrum Window Cleaning of Missoula. They are huge supporters of the Humane Society, and since they are Bonita's sponsor, it also means that adoption fees are waived. As part of their sponsorship package, Spectrum receives plenty of logo promotion at the shelter and mentions on their social media pages.
Maybe your business was not aware of that sponsorship program. If it's an organization you'd like to support, give them a shout.
OFF-SITE ADOPTION EVENTS
Several times a year, the Humane Society does Adoption Events at various businesses, where they bring numerous shelter pets with them to the venues. The next Adoption Event is scheduled Saturday, November 11, starting at 11:00 a.m., at Residence Inn by Marriott Missoula Downtown, a pet-friendly hotel.
The Humane Society of Western Montana is open Wednesdays - Sundays, 1:00-6:00 p.m. They are located at 5930 US Highway 93 South, Missoula. You can meet more of the wonderful animals and learn more about the adoption process by visiting their website.
Thanks to Bonita for stopping by, and here's to her finding her forever home soon.
LOOK: Stunning animal photos from around the world
From grazing Tibetan antelope to migrating monarch butterflies, these 50 photos of wildlife around the world capture the staggering grace of the animal kingdom. The forthcoming gallery runs sequentially from air to land to water, and focuses on birds, land mammals, aquatic life, and insects as they work in pairs or groups, or sometimes all on their own.
10 of Missoula's Most Infuriating Intersections
Ever found yourself at one of these intersections and wanted to scream? We feel you.