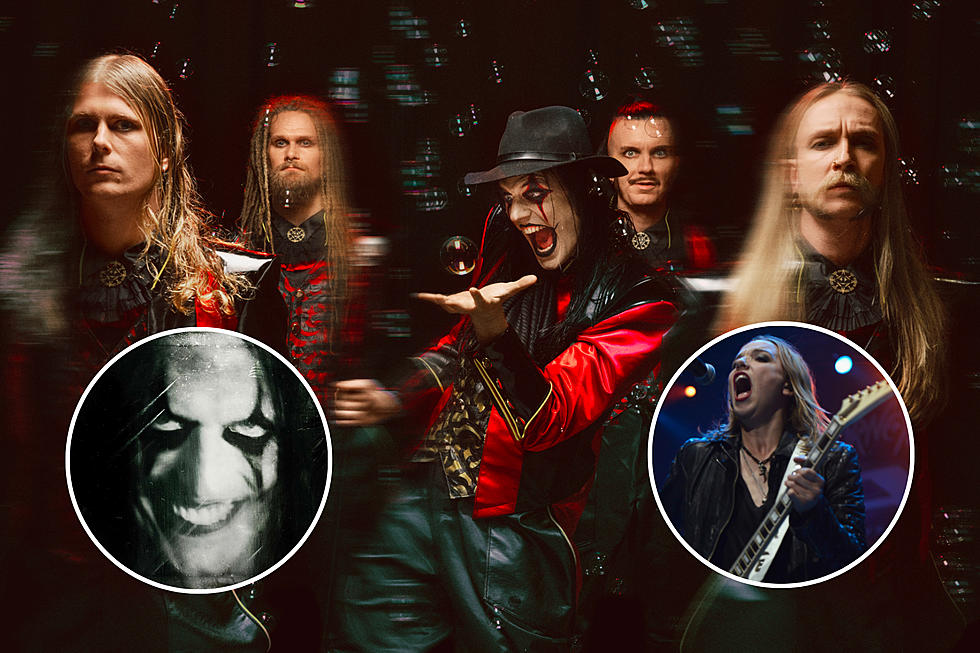 Avatar's Johannes Eckerström Calls Lzzy Hale 'One of the Greatest Voices of Our Time'
Johan Carlén / Black Waltz Records / Duane Prokop, Getty Images
Avatar released their ninth studio album, Dance Devil Dance, on Feb. 17, and in about two weeks, it climbed to the No. 1 spot on Billboard's Current Hard Music album chart.
For frontman Johannes Eckerström, that kind of accolade isn't a big deal.
"[When I found out,] I went online and checked out the Recording Industry Association of America, the one that certifies [albums] Platinum and Gold and I went to look at their Top 10," Eckerström told Chuck Armstrong on Thursday night's edition of Loudwire Nights (April 13). "The Eagles. Mariah Carey. Michael Jackson. I was like, 'Okay, we have a long way to go. Get over yourself and get on with it.'"
As he laughed about that, he did admit that he is appreciative of the success.
"It's a sign that there's something even more important happening," he explained. "We're connecting with people."
On Dance Devil Dance, there's no question that Avatar are connecting with more people than ever before. As Eckerström shared, the band broke attendance records throughout their recent European tour, playing to thousands of fans each night—a significant step from their first show in America at a New York City club that held a few hundred people.
"It feels good, but we are here doing this every day," Eckerström said. "I've been in the band every day since [that show in New York City]. That felt like such a big deal at the time; you measure the success—or whatever you want to call it, it's very relative to where you are at any given moment. Crossing the pond and doing that for the first time, it felt like a huge deal. Tonight, here in Munich, it's a sold-out show for over 1,000 people. It feels exactly the same as playing for a few people in that New York basement. That was a big deal at the time. As long as you feel like you're going somewhere, it feels good."
Avatar Prepare to Tour the U.S.
Eckerström and his bandmates—guitarists Jonas Jarlsby and Tim Öhrström, drummer John Alfredsson and bassist Henrik Sandelin—are gearing up for a run of shows across the states, beginning in Omaha on April 28, and wrapping up in Pittsburgh on May 28.
The live experience with Avatar is second-to-none and the frontman credits that to a few different things.
"Well, we try to be onstage on time and get off before they kick us off," he laughingly told Chuck. "The fair description that we have been given many times is theatrical. I think it's good to use the adjective theatrical rather than the noun theater. It's not theater. Theater is something with a very clear specific goal of putting something together that you're supposed to enjoy by sitting down and shutting up. I've been to the theater. I like it. But a rock and roll show is something else. It's something that relates."
As he thought about what he just said, he compared a rock show to what a standup comedian or professional wrestler does.
"[I can relate with] anything where it's a transaction between audience and performer that changes from night to night, from room to room," he said. "It's something you bring on the road—that's the rock and roll aspect to it. It's something that's alive and moving."
Eckerström did say, though, that fans should expect some cool things from Avatar when they hit the stage, too.
"We have little bells and whistles that we bring with us that elevate [the experience] and heighten it," he described. "There are a bunch of things like that that happen throughout the show. It's a big combo of an intense metal show with a rock and roll twist that makes you snap your fingers and move your feet and maybe there's a nosebleed involved. And I wear different coats. It's a potpourri of all the good stuff."
Collaborating With One of the Greatest Voices Today
A couple of weeks before Dance Devil Dance was released, Avatar shared a powerful track from the album featuring Halestorm's Lzzy Hale. "Violence No Matter What" is an intense song that is, as Eckerström described when it first came out, "about one thing and one thing only. It's okay to debate and fight and to think differently. But there is a limit and the line must be drawn at authority held with violence, a worldview that cannot survive without enemies, a promised return to a fabricated former glory."
Hale's contribution to the track only made it that much more memorable and powerful.
"Tim [Öhrström] wrote some amazing riffs and once there were enough riffs for me to try and do vocals and some lyrics," Eckerström told Chuck, "[we realized] this would be cool with two voices. The song evolved into a duet before there were any talks about who would be good to bring in."
Avatar haven't invited many outsiders into the studio before, so this was a new experience for the band.
"We've been having the time of our lives since it was just the five of us in a room where we would unscrew the lightbulbs," he recalled. "We would play in the dark so no one would get to look at their instruments because that would lead to you being better at head banging while playing. It was just us sweating in the dark in our underwear because there was no oxygen and it was steaming hot in there."
READ MORE: One-in-Five Music Industry Workers Experience Sexual Abuse
That kind of experience bonded the bandmates, creating a brotherhood of sorts that might have been awkward for someone on the outside to infiltrate.
Fortunately, Hale wasn't exactly an outsider to the band.
"Lzzy is one of the greatest voices of our time, I truly feel that," Eckerström stated. "We have toured a little bit together so there was a bit of a relationship. With that whole band, we respect them tremendously, not just for their musicianship and stuff, but we have come to learn how rare it is for bands to be the way you want bands to be when you're a fan. Meaning, friends. Close to each other. A sense of family. Halestorm, they are very much like that, as are we. So we can relate to that."
Eckerström had the chance to watch Halestorm perform live several times over the years and always enjoyed when Hale would "go hard" onstage.
"We knew she had it in her to do something more along the lines of what we were doing," he said. "She jumped at the opportunity and we're very, very grateful for that and that she gladly stood behind the message."
Watch Avatar's Lyric Video For "Violence No Matter What"
Johannes Eckerström joined Chuck Armstrong for Loudwire Nights on Thursday, April 13; the show replays online here, and you can tune in live every weeknight at 7PM ET or on the Loudwire app. Stream Avatar's Dance Devil Dance at this location and then check out their full tour schedule.
Most Anticipated Rock + Metal Albums of 2023
2023 is looking good for rock and metal albums already.