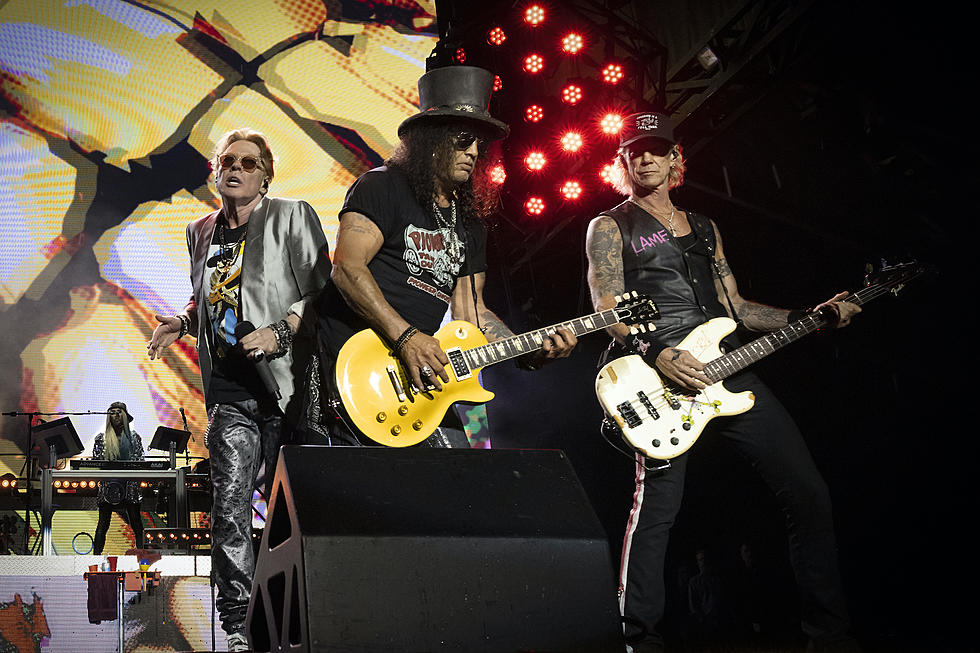 Guns N' Roses Officially Cancel St. Louis Show, Axl Rose Gives Comment
Guns N' Roses
Guns N' Roses have officially canceled their recently-postponed show in St. Louis. The band sent out an email to ticket holders for the concert, and Axl Rose provided a comment on behalf of the cancelation.
The show was originally scheduled for Sept. 9 at St. Louis' Busch Stadium with The Pretenders. However, the day prior, Guns shared a post on their social media that read, "Gunners, the concert scheduled for St. Louis on September 9 has been postponed due to illness. Hang on to your tickets – fans who are unable to make the rescheduled date will be eligible for a refund."
As fans waited to hear about a new date, rumors began circulating online, especially on Reddit, that Rose called the show off because of low ticket sales. However, other fans stated that the singer told the crowd in Lexington, Ky. a few days before that he wasn't feeling well.
"Axl told the crowd in Lexington on Wednesday that he was getting sick. He put forth a heck of an effort but you could tell his voice was fading," the person wrote.
Slash's girlfriend Meegan Hodges even took to her social media a few days later to shut down the "conspiracy" theories that had been making the rounds.
"The truth is someone is sick and unable to perform. There's no conspiracy... The show will be rescheduled in November. It's a total bummer for everyone. These guys put on a 3 plus hour show. They are like superheroes. Give 'em a break they can't help when someone is too sick to perform. Wish them well."
Now, ticket holders for the St. Louis show have received notice from the band that they were unable to schedule a new date and have canceled the performance.
"Event organizers have been working diligently to reschedule the show to take place on the current tour but unfortunately they were unable to find a new date that worked. We apologize for the inconvenience and appreciate your patience as we attempted to find an alternate date," the email read, which someone posted a screenshot of on a new Reddit thread.
"I am, as is the band, really bummed we're forced to cancel our show in St. Louis," Rose commented. "The history, the memories, the return and to share that bond with our fans. It sucks!"
READ MORE: Young Guns N' Roses Fan Given Experience of a Lifetime for His Birthday
Though many people have mentioned the band's not-so-great history with St. Louis, in reference to the 1991 Riverport Riot, Guns N' Roses played a concert in the city in the summer of 2017 a year after their Not in This Lifetime Tour launched.
Guns' next show is set for Sept. 23 in Kansas City, Missouri. They recently added four new North American dates that'll take place in mid-October, which you can see on their website.
Rock Music Myths + Urban Legends That Were Debunked
What's your favorite rock music myth or urban legend that you picked up by word of mouth? Did you believe it when you first heard it? And when did you learn it wasn't true? Here are some of the most pervasive rock music legends and myths all rounded up for you in a nice little list. Check it out.