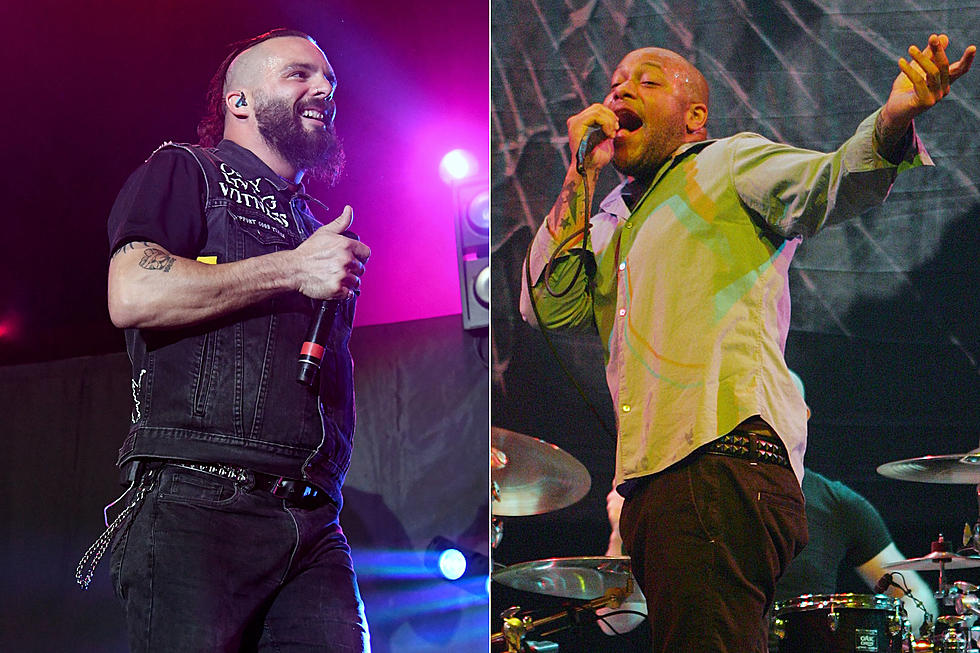 Jesse Leach on New Killswitch Engage Song With Howard Jones: 'It's a Real Heavy S–t-Kicker'
Ethan Miller (2), Getty Images
All appears right in the Killswitch Engage universe: the band are on good terms with former vocalist Howard Jones; current singer Jesse Leach has even started a friendship with Jones. Earlier this year it was revealed that Jones spent time in the studio with Leach and Killswitch guitarist/producer Adam Dutkiewicz on a new track for the band's upcoming album, and Leach spoke in more detail about it on Australia's Wall of Sound: Up Against the Wall podcast.
Speaking about connecting with Jones, Leach says, "The cool thing about is Howard sort of made the first move; he wanted to come out to a show we played in Canada. The guys had their own differences to sort out, but between him and I, we've never really been friends. We know each other, we've been part of the same scene, but it was such a different thing this time around, and the fact that I was able to sit with him, one on one, backstage and on the bus, without anyone else around, and just kind of figure out who he is and talk to him ... we totally hit it off within 10, 15 minutes and realized how much we had in common."
"Thankfully, since then, we text each other once every couple of weeks here and there, we're really good friends, and he sings on the new record and we had him come out and sing with us in London," says Leach. "So we were able to move on from that awkward thing that happens when bands lose a member; we just decided we weren't gonna be that band."
He also adds, "For me, it was, number one, good to see the band bury the hatchet, move on, and just let time heal the wounds. Why would I hold on to anything if those guys weren't? And the nice surprise out of it is I gained a new friend — somebody that I really enjoy talking to and hanging out with and having in my life. So it's a win-win situation."
When asked about the song, Leach divulged, "His new band being called Light the Torch, the analogy of the song is lighting a signal fire — like a distress call — and I wrote it about coming together and finding unity. It's kind of about our friendship now — it happened so strangely. That's kind of all I'm gonna say about it. It's a song about unity. And he does a verse, I do a verse, we sing the chorus together, and it's a real heavy shit-kicker."
Leach says during the chat that he has "a handful of songs left to do" for the new Killswitch album and they've yet to choose which ones will make the final cut. The record is expected to arrive in 2019 via Metal Blade Records.
Killswitch Engage Albums Ranked
Jesse Leach Plays 'Wikipedia: Fact or Fiction?'