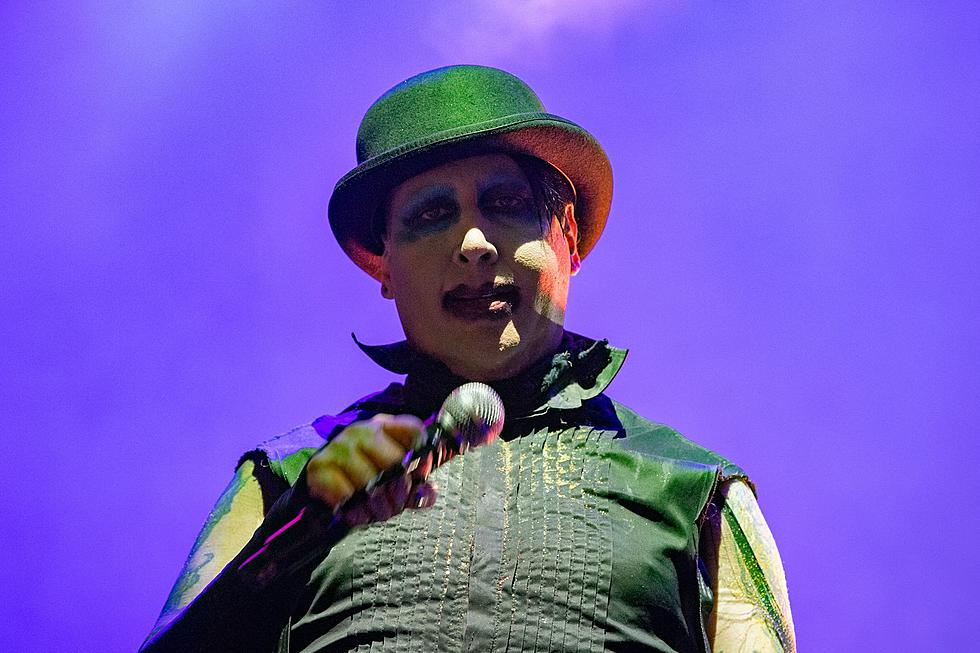 Petition Launched to Remove Marilyn Manson's 'Heart-Shaped Glasses' Video From YouTube
Suzanne Cordeiro, Getty Images
A petition demanding YouTube's removal of Marilyn Manson's music video for his 2007 Eat Me, Drink Me single "Heart-Shaped Glasses" has appeared on petition website Change.org, as the Daily Mail reported.
In January, actress Evan Rachel Wood, a former fiancée of the rock singer, claimed she was "essentially raped on camera" in a simulated sex scene with him in the clip. Manson denied the claim, much as he denied additional accusations since 2021 that he sexually abused and tortured Wood and more women in the past. Earlier this month, Manson, whose real name is Brian Warner, sued Wood for defamation and opened the case file. Wood responded on TV's The View.
Subsequently, she shared the YouTube petition, per NME. Currently, it has nearly 7,500 signatures. "Heart-Shaped Glasses" remains online.
A YouTube spokesperson responded, "We're monitoring the situation closely and will take appropriate action if we determine there is a breach of our creator responsibility guidelines."
Content warning: The following contains descriptions of alleged sexual assault.
Wood's accusation that she was assaulted by Manson while making the video first emerged in her new documentary, Phoenix Rising, which premiered at this year's Sundance Film Festival and aired on HBO.
"We had discussed a simulated sex scene," she says in the film. "But once the cameras were rolling, he started penetrating me for real. I had never agreed to that. I'm a professional actress, I have been doing this my whole life. I'd never been on a set that unprofessional in my life up until this day. … I did not feel safe."
Wood and Manson went public with their relationship in January 2007, the year Wood turned 20 and Manson turned 38. They got engaged in 2010 but split by 2011.
In January, an attorney for Manson, Howard King, replied in a statement that Manson "did not have sex with Evan on that set, and she knows that is the truth. Of all the false claims that Evan Rachel Wood has made about Brian Warner, her imaginative retelling of the making of the 'Heart-Shaped Glasses' music video 15 years ago is the most brazen and easiest to disprove because there were multiple witnesses."
Manson has been largely absent from the public eye since the initial allegations against him surfaced, apart from working with hip-hop artist Kanye West (Ye) on his Donda albums and appearing alongside him at surrounding events. Manson performed with Ye at his Donda 2 listening party in Miami last month.
If you or someone you know has been sexually assaulted, resources are available to help. Please visit RAINN (Rape, Abuse and Incest National Network) online or dial 800-656-HOPE (800-656-4673).
Timeline of Abuse Allegations Against Marilyn Manson
After actress Evan Rachel Wood first publicly accused rock singer Marilyn Manson of sexual abuse in February 2021, similar allegations by others against the musician also surfaced. Below is a timeline of those accusations, beginning with Wood's 2018 testimony that disclosed her alleged abuse but had yet to name an abuser. Manson denied the allegations. He subsequently sued Wood for fraud and conspiracy in March 2022.