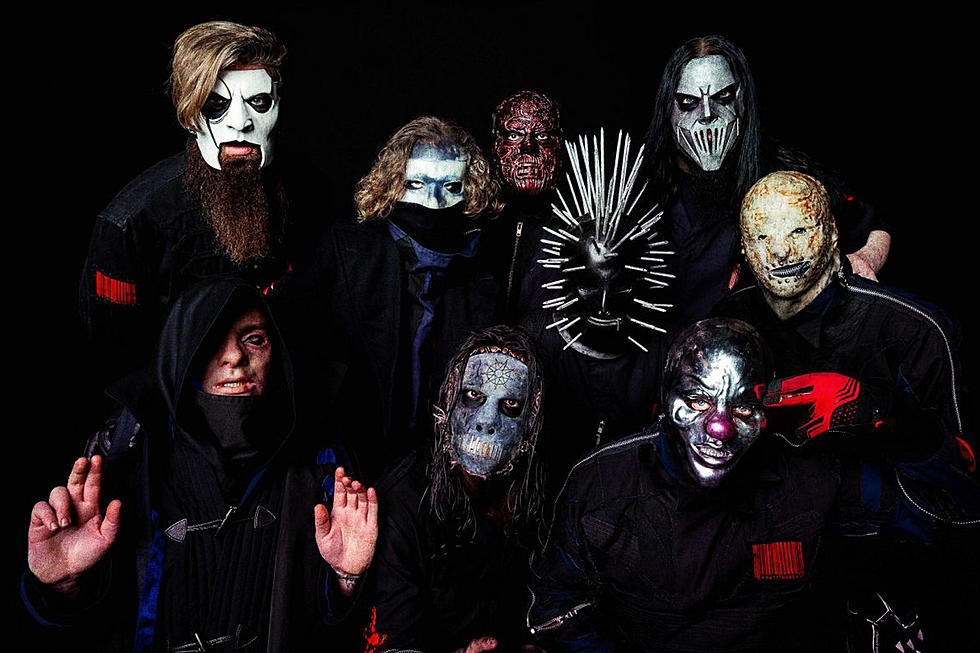 Slipknot: Set List + Video From First Full 2019 Show
Roadrunner Records
Slipknot kicked off their European tour at Rockfest in Finland yesterday (June 7) and the set list from the show has surfaced along with fan-shot video of some of the song performances.
The 18-track set (seen below), featured Slipknot's two newest songs, "All Out Life" and "Unsainted" alongside a healthy spread from the rest of their catalog with five cuts from their self-titled album, three from .5: The Gray Chapter, three off Iowa, three taken from Vol. 3: The Subliminal Verses and two from All Hope Is Gone.
Three songs, "Get This," "Prosthetics" and "Sulfur," were all played for the first time since 2015.
Jay Weinberg was feeling the festival energy as he tweeted his gratitude while sharing a video clip shot from behind his drum kit. He said the crowd set the bar "ridiculously high for the rest of the world."
Watch fan-shot footage of the first We Are Not Your Kind single "Unsainted" below.
You can see Slipknot's performance of "All Out Life," which was released in October of last year, beneath the set list as well as our ranking of every Slipknot song.
Slipknot's new album arrives on Aug. 9 on Roadrunner Records. Pre-order your copy here. Look for the band on tour in North America on the Knotfest Roadshow this summer.
Slipknot Set List - June 7, 2019 at Rockfest in Finland
01. "People = Shit"
02. "(sic)"
03. "Get This" (First time live since 2015)
04. "Unsainted"
05. "Disasterpiece"
06. "Before I Forget"
07. "The Heretic Anthem"
08. "Psychosocial"
09. "The Devil in I"
10. "Prosthetics" (First time live since 2015)
11. "Vermilion"
12. "Custer"
13. "Sulfur" (First time live since 2015)
14. "The Negative One"
15. "All Out Life"
16. "Duality"
Encore:
17. "Spit It Out"
18. "Surfacing"
Every Slipknot Song Ranked