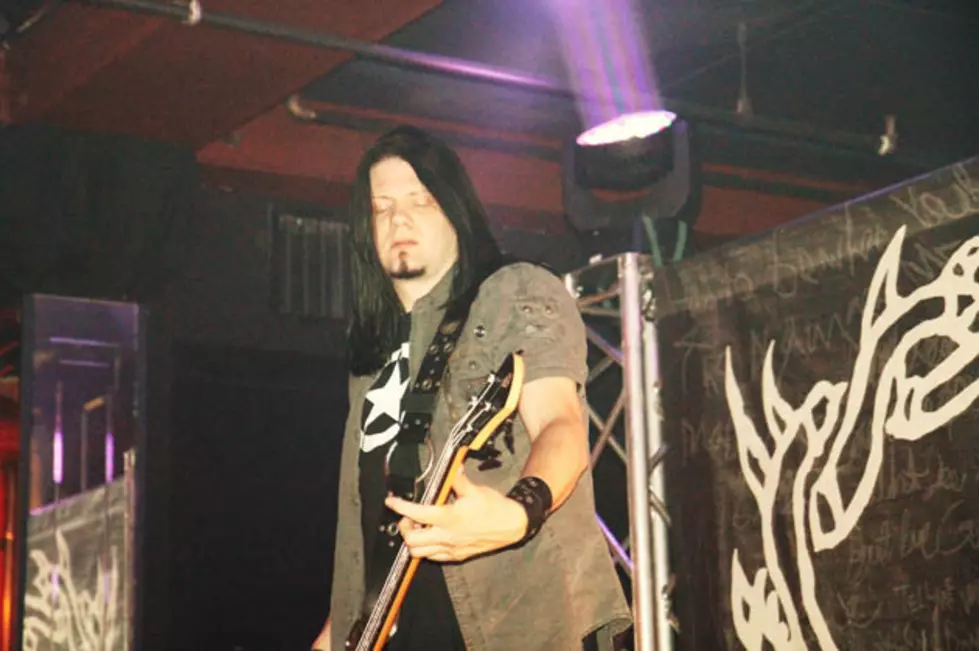 Soil Bassist Tim King Talks New Album 'Whole,' Return of Singer Ryan McCombs + More
Liz Ramanand, Loudwire
Chicago rock band Soil have had one hell of a ride, with over 15 years of making music and six studio albums to their name, they march on with their latest release, aptly titled 'Whole.' The band recently wrapped up their North American tour with Dope, but they have another run of U.S. dates set to kick off in late November, followed by an early 2014 tour of Europe with Skindred. For a full list of forthcoming dates, go here.
During the band's most recent stop in New York City, Loudwire spoke with bassist Tim King about the band's struggles and triumphs, the new disc 'Whole' and the having frontman Ryan McCombs back in the group. Most importantly he also reveals tips for how he gets his hair so silky and straight while on the road. Check out our interview with Tim King below.
Talk about the new album 'Whole' and what this title means to you?
The title has a bit of a play on words with it. The cover has a bullet hole in the front dripping blood but the album title is "Whole." Ryan [McCombs] came up with that concept signifying that the band is whole again. The three core, original members are back together. We were always the three that got along the best.
This is the band's first independent release. How was this process of releasing the album independently?
It's independent in the way that we made the record the way we wanted to make it. We didn't have a record label fund the record. We had the record funded by ourselves and through Kickstarter. It was a relief because we didn't have anybody telling us what they wanted to hear or go back and re-do anything. When we made the final decision, that's what the final decision was.
How was it reconnecting with Ryan while creating this new disc?
It's been really cool. It's kind of one of those things where you don't know what you got 'til it's gone. He was burnt, we were burnt back in the day. Being away from each other we really realized some of the magic was gone as far as the chemistry that we all had as a band together. When we got back together and started playing shows we found out real quick what we were missing all along.
Once we started writing the record, the material just came so naturally. Everything just came out, it's been great. We've been having a lot of fun, laughing more than ever. It's definitely better than it ever was before.
What about who you are today as a musician and person can we hear on 'Whole'?
Me as a bass player and a songwriter, I've definitely improved over the years as anybody would tend to do, unless you're a drug addict or an idiot. I've honed in on my personal skills and I think us as a band we've definitely developed that Soil sound to where when you hear it you know it's Soil.
Every band goes through ups and downs, I like to call our last record 'Picture Perfect' our "Experimental record" the one where we had to try new things with. With this album 'Whole,' it was a return to the original sound that we had on 'Scars' and 'Redefine.' This time, in difference from those records to this one, we're better songwriters, better musicians.
With six albums under your belt, how do you choose your setlist?
Now with the new record, naturally we have to take a few of the old songs out and put some new ones in. There are definitely the staples like 'Halo,' 'Breaking Me Down,' Unreal' and 'Redefine.' What we've done is we've taken a few other choice cuts and we intermix them together. One song we pulled out of the vault was 'Black Betty' that we only released in the UK as a club single and we're doing 'Need to Feel' which is a song we haven't done since Ryan left.
We were even contemplating doing a song or two off of 'True Self' or 'Picture Perfect.' Right now we're focusing on the new record but as time goes on we'll pull out some other gems, maybe some tracks people haven't heard in a long time.
What are a couple of your favorite tracks off the record and even one of your favorites to play live?
Whenever you put out a new record, those are always the more fun songs to play live because they're new. My favorites off the record are 'Loaded Gun,' 'Way Gone,' 'The Hate Song' and 'Amalgamation.' The song 'Amalgamation' seems to be a really underground and fan favorite. Everybody in Europe and in the UK are kind of running with it.
With 15 years under your belts, what keeps the fire going in terms of creating new music?
I guess with any musician when you do it for your livelihood and it's part of who you are and what you're about, you burn to do it.  When you don't write music for a while and you don't play shows for a while – we complain the whole time when we're out on the road, when you get sick or it's a long time you're out there but then when you sit at home you're like, "Well I want to play some shows now."
I guess it's just that burning inside that accumulates and you have to let that out and that's where the creativity comes and the need to write music and play shows. It's great after all these years we still have an outlet to do that with this band. This band has withstood the test of time and been through a lot of ups and downs, we're still here standing. To be able to go out and still enjoy music and do things that we want it's pretty cool.
Are you guys trekking around the U.S. in a tour bus, Rv or van?
We actually have a mini-bus, it's an airport shuttle that we actually has converted. It has all the amenities of a bus with about a fraction of the cost and we own it so that definitely helps.
What would you say is currently the weirdest thing on your mini-bus? It could also be a person.
Oh it would probably be our bus driver Ron, he's a guy all his own. He sleeps with his boots on. He has a tendency to wander off and go into the woods, things like that. [Laughs] He's actually a great guy, he has some funny quirks which make him an original. Until we got used to it and understood, we were like "Holy s--- is this Michael Myers?" [Laughs]
What is one thing you must have on tour with you, no electronics?
My flat iron. [Laughs] My hair gets a little poofy.
Your hair looks lovely but that's technically electronic.
Oh, not electronic, probably my glasses and my contacts because I'm blind as a bat. I can't see without them.
Back to the hair, are you saying that the silky, straight locks are usually waves of poofiness?
Oh, if anybody wants to see my real hair look up the band Oppressor, that's our original band and that's what air drying does.
Any specific hair products that you use?
Nexxus Humectress, I've been using that for 20 years.
[We googled Oppressor -- thank goodness for that flat iron and Nexxus Humectress.]