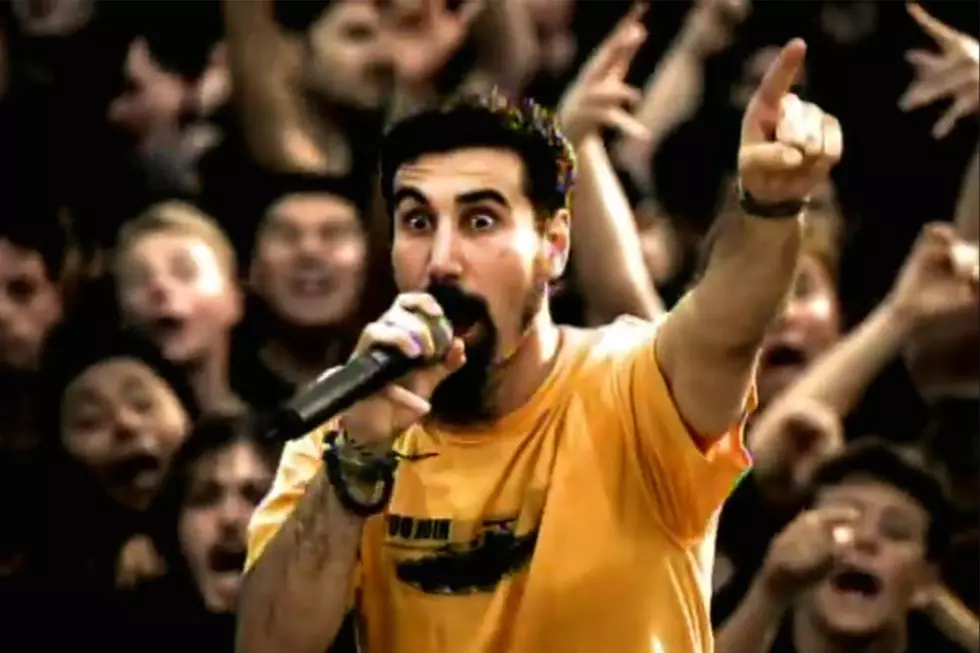 25 Covers of System of a Down's 'Chop Suey!' for National Chop Suey Day
YouTube: System of a Down
Welcome to National Chop Suey Day (Aug. 29), and while we're certain the national day was designed to salute the American Chinese culinary cuisine, we've chosen to pay homage to the greatest song ever titled after the dish, System of a Down's "Chop Suey!" Why? We wanted to, of course.
So go ahead, grab a brush and put a little makeup and leave your keys upon the table. You don't need to go anywhere and we won't be forsaking you. In fact, you'll get a full on selection of just about every version of "Chop Suey!" you could ever imagine -- some great, some .... well, at least they tried.
So, without further adieu, we commend our spirit to deliver you these 25 "Chop Suey!" covers.
Let's start with a few acts you know. Motionless in White have been rocking it for years and the Chris Motionless-led band decided to serve up their version of the System of a Down classic during their 2017 touring. This footage comes from a show at Philadelphia's Electric Factory

Bad Wolves are still relatively new, but consist of a bunch of metal vets, so it's not too surprising they'd pull out the System of a Down classic. The cover is somewhat of a rarity as the band only played a brief portion of the song and only included it in the setlist for a handful of dates. Check out Tommy Vext leading the audience live on Bad Wolves' version of "Chop Suey!"

Here's where things start to veer a little bit as Nekrogoblikon add some robot electro vocals to the beginning, accentuating with some symphonic flare before dismantling the song a bit and reconstructing it with their own unique instrumentation.

This one's brief, but very Tenacious D! KG strums away hard on the acoustic guitar, while Jack Black adds his own Flintstonian take on the lyrics. It's fun, it's in your face and right up Tenacious D's alley.

Who says the heavy stuff is just for rockers? Rapper Denzel Curry showed his knack for spitting rhymes transferred perfectly for the fast-paced delivery of the System of a Down classic. Check out a bit of his performance from a festival, clearly pulling the audience into this throw down of a track.

This collective from Ribeirão Preto takes you into the studio for their blistering performance led by female vocalist Isabela. The band is known for their covers of pop, rock and metal music.

The Jazz Lounge Version by Robyn Adele Anderson

What if "Chop Suey!" was recorded a full generation (or two) before 2001? Robyn Adele Anderson takes the feverish modern metal standard and gives it a jazz makeover, complete with piano, horns and a stand-up bass. Anderson and her cool cat compatriots put a little swing into things for one of the more stylish takes you'll find on this list.

This alt-metal band from Catalonia go primal with their screams, add some scratching and we think we might hear some xylophone tones, but make no mistake, the attitude of the original song remains intact. Throw in a video with a bonfire and some martial arts going on and you've got one of the more entertaining videos you'll see on this list.

The Way Too Chill Acoustic Version by Melodicka Bros

What if System of a Down chilled out on the beach with Jack Johnson? The answer might come in the form of Melodicak Bros, who know exactly what they've done, even stating on their YouTube video description that this is the "Way Too Happy Acoustic Cover" version. Somewhere, Jason Mraz, John Mayer and Dave Matthews are currently contemplating a cover addition to their setlist.

The Meme Version by Insane Cherry

It's time to get a little weird, but also praise someone who had way too much time on their hands. Utilizing animal noises, Insane Cherry has spliced together a video that almost gives dogs, goats, birds, a windy rhino and other creatures of the wild a voice. Enjoy and marvel at the editing mastery.

The Every Version Version by Anthony Vincent

The YouTube superstar from Ten Second Songs performs System of a Down's classic track in a variety of styles. System with Beach Boys harmonies? Sure. Disco System Bee Gees style? Why not. How about a capella like Pentatonix? Yes, Vincent has it covered. Perhaps something theatric like My Chemical Romance? He's got it. Maybe something closer to the hard rock origins? Vincent performs "Chop Suey!" in the style of Faith No More, Ghost and the insane metal vocal of Steelheart. Range is no challenge here, so enjoy the ride.

The Cello Version by Rob Scallon

Rob Scallon is another YouTube superstar, receiving acclaim for his unique instrumentation covering the music of others. It this performance, Scallon eschews some inventive guitar creation, instead deciding to go with a cello cover to salute the Armenian rock gods.

The Cutest Version by Nandi Bushell

Nandi Bushell has really seen her profile rise over this last year with some high profile YouTube covers playing multiple instruments and appearances on talk shows. This video appears to have been taken during her YouTube infancy, when the then 7-year-old aspiring drummer just wanted to rock out some "Chop Suey!"

The Cello Duet Version by Emil and Dariel

Yes, Rob Scallon gave us a cello version, but Emil & Dariel double down, with a pair a cellos firing away on all cylinders, plus we've got backing instrumentation and a music video. Rosin up those bows, flip that hair and bang your heads, Emil & Dariel deliver on this instrumental cover.

The Stylophone Version by Maromaro

Maromaro has gained popularity online by using the stylophone, his instrument of choice. The miniature, stylus-operated keyboard rocks by closing the circuits between printed circuit board and stylus. This version finds Maromaro attempting to recreate bass, kick and snare drums, hi hat, acoustic guitar and electric guitar. It's certain to give you a charge.

The Christian Kids Version by O'Keefe Foundation

Kids, they are the future. The O'Keefe Music Foundation has given a platform to young musicians to explore their love of music and here we have a group of youngsters ranging from an 8-year-old singer to 16-year-old bass and guitar players taking on "Chop Suey!" If you're worried that the themes might be a little much for an 8-year-old, some of the lyrics have been changed, giving the song a Christian-based makeover for the vocalist.

The Church Version by Gud Nuse

We take you from a kid-based Christian-leaning cover to "Chop Suey!" being taken on in a church. Gud Nuse is the performer here, giving the song a classical interpretation. Why in a church? Where else would you go when you feel forsaken while crying over angels?

The Folk Version by Waxx Featuring Siobhan Wilson

If System of a Down's "Chop Suey!" is considered chaotic and rapid fire in its approach, then let's give it up to Waxx featuring Siobhan Wilson for finding the exact opposite interpretation. This pair turn "Chop Suey!" into a Civil Wars-ish folk rendition, relying upon Wilson's breathy delivery to still bring the emotional weight to the song. Though the pair start off simplistic enough strumming acoustic guitars, they show their musicianship incorporating xylophone, keyboards, cello, drums and electric guitar into the mix.

The Orchestra Version by Metamorphestra

Given Serj Tankian's orchestra pursuits, you get the idea that the System of a Down singer might appreciate this cover. Nick Proch writes, "I was fortunate enough to be invited to Capitol Records in Hollywood to record with The Lyra Chamber Orchestra, an extremely talented ensemble of musicians based in Los Angeles." While initially intending to record "Chop Suey!" later, he took advantage of the opportunity in a world class studio to lay down this version.

The Even Heavier Version by The Animal in Me

Is it possible for "Chop Suey!" to get even heavier? If so, The Animal in Me give it their best shot. Fire up the guitars, add a little more distortion and infuse a more guttural approach on some of the vocals and you've got the makings of something pretty heavy. The three-piece band, with both male and female vocals, still keep in the spirit of the original, with the two vocalists pulling back to nail the melodic parts as well.

The Classical Piano Version by Gamazda

There are a lot of things going on in System of a Down's "Chop Suey!" but all of it lends itself well to the piano. Gamazda has built a fan base on YouTube for her translations of popular rock songs and there's no denying the passion with which she approaches "Chop Suey!" The camerawork as she bounds around the keys gives you an idea of just how chaotic the instrumentation is.

The Tiny Drums Version by Miniature Drums

Just when you think you've seen everything, we present you with System of a Down's "Chop Suey!" played on a miniature drum kit. Yes, the shower set up is a little scary, but props to the player for managing to keep on top of everything within such a small playing space. There are no missteps here.

The Really Intense Vocal Cover Version by Dan Vasc

If you're going to cover "Chop Suey!," it requires a certain sense of intensity. With that said, we give you Dan Vasc, who certainly has the power vocal scream and fierce steely-eyed stare at the camera while giving us his take on the System classic.

The Version We Can't Explain by Tongo

Not all of our covers on this list wow you for their musical prowess. This one from Tongo widely circulated back in 2016 for the sheer oddity of it all. The over the top graphics, his incredible yell, a variety of costumes, an almost reggae breakdown ... It's just so ... well Tongo. At present, over 17 million have viewed the clip on YouTube.

The Hilarious Karaoke Version by Bev and Bob Style Music

Have you ever done a karaoke version of "Chop Suey!"? Bev and Bob Style Music have made an art form out of it, utilizing cheesy backdrops and perhaps not always hitting their notes on time or finding their stride. "Chop Suey!" was a request, and while they initially feel the beat, it's clear they're just awaiting that moment to let loose and ... well ... just watch.

The Actual Real Version by System of a Down

We'd be remiss in a list of System of a Down covers if we didn't at least bring you the original. Released in August 2001 from the Toxicity album, "Chop Suey!" hit No. 7 on the Alternative Airplay chart, No. 12 on the Mainstream Rock chart and No. 76 on the Billboard Hot 100. The song has been certified gold in the U.S.