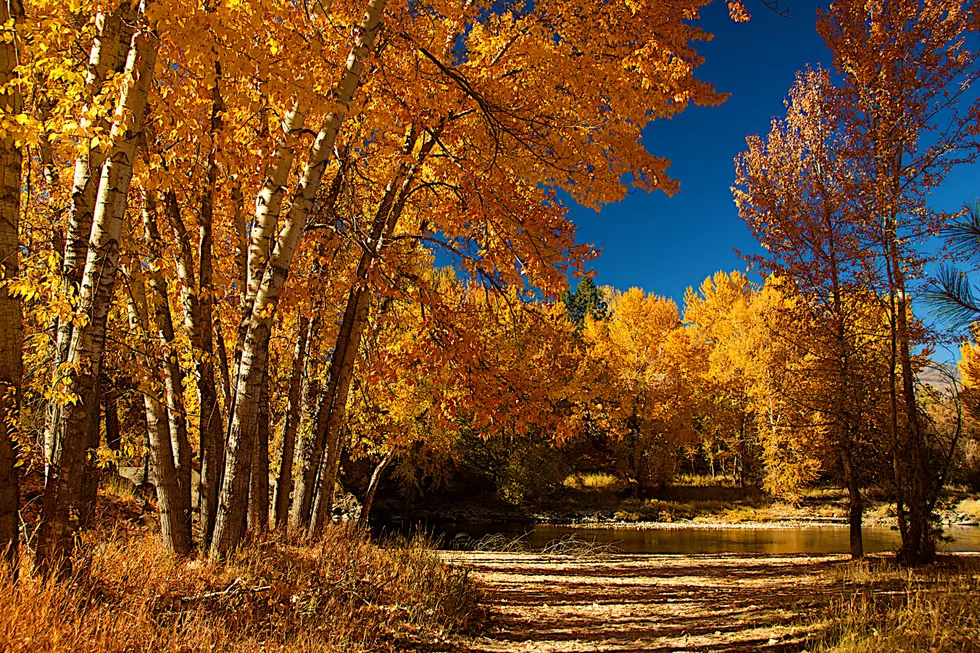 Photographer Tells Where to Find the Best Fall Colors in Western Montana
Credit: Dennis Bragg, Townsquare Media
New England might get all the national fall foliage fans. And there's no dispute photographing the fall colors in Colorado is a must you should experience at least once. 
However, Western Montana is also an amazing place to turn fall colors into fine art. The trick is knowing when, and where to look. 
Since I moved back to Montana 15 years ago, I've learned capturing the colors requires knowledge of which locations give you the most options for a great photo, and also a constant eye on the weather forecast. Since our weather varies widely between September 1 and mid-November, each color "pocket" has to be watched carefully to get the peak performance. Temperature shifts, and wind, can totally disrupt your outing.
So have the batteries charged and head out to some of my favorite spots.
10). Hamilton
While the entire Bitterroot has appeal, knowing locations in Hamilton can make photographing fall colors fun and easy. It's also a great way to get the kids started. Denton Park provides river access blocks from downtown, as does the newer Skalkaho Bend park. Both offer easy trails and varied scenes. 
9). Lee Metcalf Wildlife Refuge
A favorite as long as the wind hasn't moved through too soon. The cottonwoods and views of the Bitterroot Front give varied views for framing. Don't forget to look down for dried grasses to give late season variety.
8). Traveler's Rest
Easy access from Missoula. Multiple views along Lolo Creek for a variety of scenes. Good option when the cottonwood peak sometimes lasts into November. 
7) Lower Clark Fork
Great drive and views upon views when the larch turn between Plains and Thompson Falls. Mid-October is best. 
6). Missoula trails
Good options for regular trail walkers and cell phone shooters throughout the season. Hard to get the "M" around power lines. 
5). Upper Blackfoot/Seeley
If you love larch, and aspens, the closest option from Missoula. The aspen around Ovando to Lincoln will hit sooner. Oh darn, you might have to make a second trip for the larch. 
4). Bison Range
Don't waste time driving the Red Sleep Mountain Loop late in the season. Just take   the lower drive for some great shots against the backdrop of the Missions, and you might see critters "romancing" at the same time. 
3). Bull River
If you're serious about great photos, the long drive is the price of admission. Timing is hard because you want larch and aspens together, and some years that's difficult. But if you catch it, it will be one of your best experiences. Ever. Don't miss the Ross Creek Cedars side trip for close-up action. 
2). Rock Creek
Cottonwoods galore, and if you can time the lighting it's pure magic. If you don't have time for the entire drive through, try the upper reaches. Just respect private property and enjoy the peace and quiet. 
1). North Fork of the Flathead
I hate to even put this on the list because it's gotten so crazy busy the last few years (too many huckleberry bear claw posts on social media). But, it's another you-need-to-see-it-one-time destination. Aspen will hit here very early. So you have to choose between them, and the larch a few weeks later. Carry your bear spray and a spare and plan ahead for lighting on the shorter fall days. But stay late. Sunset on the Livingston Range can be unforgettable. 
The 14 Best Places in Missoula to Take Visitors From Out of Town
We asked locals where they like to bring visitors when they take a trip out to Missoula - and here's what they came up with.