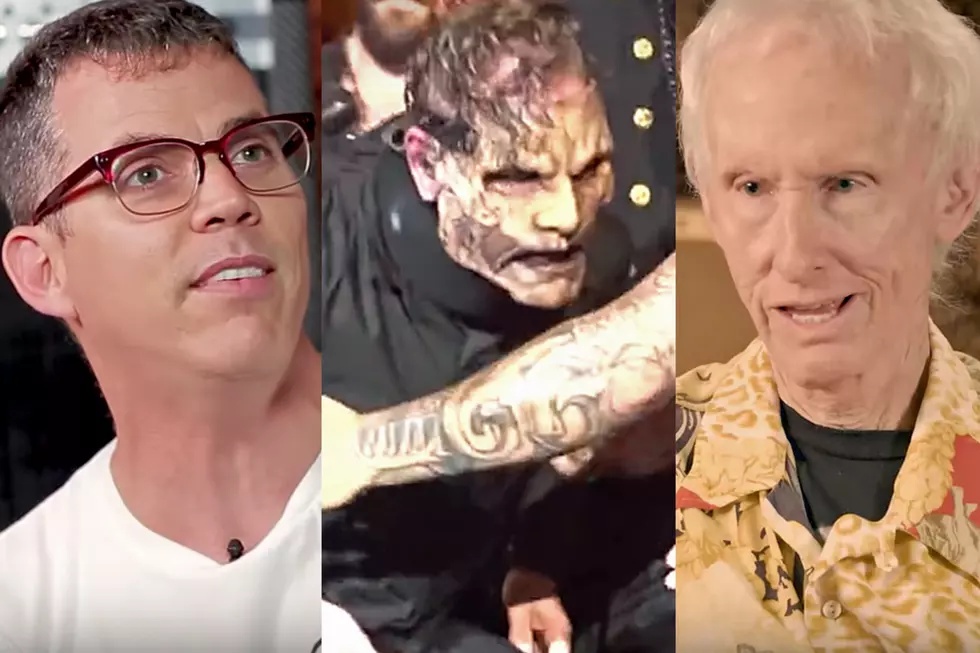 10 Biggest Rock + Metal Loudwire Videos of 2019
Loudwire / YouTube
Thank you so much for making 2019 the most successful year in Loudwire YouTube history. Beyond our back catalog of videos getting a steady stream of views, we had a batch of new clips break a million views as segments such as Gear Factor, Wiki Fact or Fiction and Loud Lists gave Loudwire 200 million video views this year.
Let's break down our biggest videos of 2019, as watched by you!
10

Halestorm's Lzzy Hale Plays Her Favorite Riffs

At the 2019 Louder Than Life festival, Gear Factor host Squiggy caught up with Lzzy Hale, frontwoman for Loudwire's Rock Artist of the Decade Halestorm. Playing through her Friedman rig, Lzzy took us through riffs from artists such as Black Sabbath, Slash and Joan Jett along with her own band.

9

Sum 41 React to Their Classic Music Videos

Sum 41's early music videos bring a feeling of nostalgia that rivals even Blink-182. With a notable resurgence coming from their 2019 album, Out for Blood, Sum 41 took some time to look back, dropping by Loudwire Studios to watch "In Too Deep," "Still Waiting," "Fat Lip" and more from their two-decade videography. The guys even revealed Rodney Dangerfield was offered a role in "In Too Deep," how they filmed "Pain for Pleasure" by accident and more.

8

Why's Rammstein So Popular?

With the release of Rammstein's "Deutschland," the German band laid claim to the biggest metal video of the year and, arguably, the best one of the decade. With over 91 million views in just eight months, some still question why the band is so massive, so we sought to answer that query. If you don't "get" Rammstein, check out our 10-point argument on exactly why the metal legends are filling stadiums worldwide.

7

10 Times Musicians Outclassed Interviewers

An "interview gone wrong" remains a guilty pleasure on YouTube. 99.9 percent of talks with artists go well, but the odd confrontational chat can often be far more entertaining. Whether it's Marilyn Manson explaining away a fear-mongering Bill O'Reilly or Chris Cornell defending the "noise" of Soundgarden in the early '90s, the musicians won these exchanges. If you want to see it go the other way, however, check out this video. Fun Fact: 10 Times Marilyn Manson Outclassed Interviewers is the first Loudwire video to get over 10 million views on YouTube.

6

10 Hilarious Security Guard Reactions to Music

With reaction videos somehow getting even bigger in 2019, unsuspecting security guards became living memes thanks to YouTube. It all started with one guard's unspoken hatred for Dance Gavin Dance, which was hilariously caught on film earlier this year. Of course, that led to us making a Loud List compilation of other security guards either rocking out to music or looking like they smelled a wet fart.

5

10 Times Joey Jordison Was the Best Drummer on Earth

Joey Jordison may no longer be a member of Slipknot, but his legacy is firmly in tact. The legendary percussionist brought an undisputed technicality to '90s nu-metal, inspiring a generation of young artists who wanted more than simple grooves. Joey remains one of the few metal musicians beloved by the masses and respected by metal purists thanks to his overwhelming skill and masterful compositions. You can find more speed freaks in our extremely popular 10 Stupidly Fast Drummers and 10 Stupidly Fast Bassists Loud Lists.

4

The Doors' Robby Krieger Plays His Favorite Riffs

At NAMM 2019, we ran into a true guitar icon, The Doors' Robby Kreiger. The Rock and Roll Hall of Famer was kind enough to plug in his SG for us and explain his history through riffs. Kreiger went through classic riffs from Elvis and a host of Doors tracks. He even explained that he chose the Gibson SG model because, "I was on an acid trip one time and it reminded me of the Devil."

3

Steve-O - Wikipedia: Fact or Fiction?

Of our many interview guests in 2019, Jackass legend Steve-O was our very biggest. In the return of 'Wikipedia: Fact or Fiction?' host and Loudwire OG Graham Hartmann went through the stuntman's full online history, proving and disproving what was written about Steve on Wikipedia. The episode has almost two million views in just four months and an additional video on how Steve-O got sober, and stayed sober, has nearly a million itself.

2

Top 10 Rock Star 'Simpsons' Cameos

Who would've guessed so many people liked The Simpsons? After all, it's probably the most successful and iconic TV show of all time. Throughout the decades, TV's favorite yellow family have run into countless rock stars, so we counted down the 10 best moments. But which cameo took the No. 1 spot?

1

Top 10 Craziest Slipknot Moments

Looks like we're not the only ones who love Slipknot! Our biggest video of the year is our Loud List compilation of insane Slipknot moments. If you're into the masked nine setting each other on fire, passing out onstage, breaking bones, performing massive stage dives and jumping the fuck up, you've gotta join the 2+ million maggots who have watched the craziest Slipknot moments ever. Be sure to check out Rammstein's craziest moments as well.