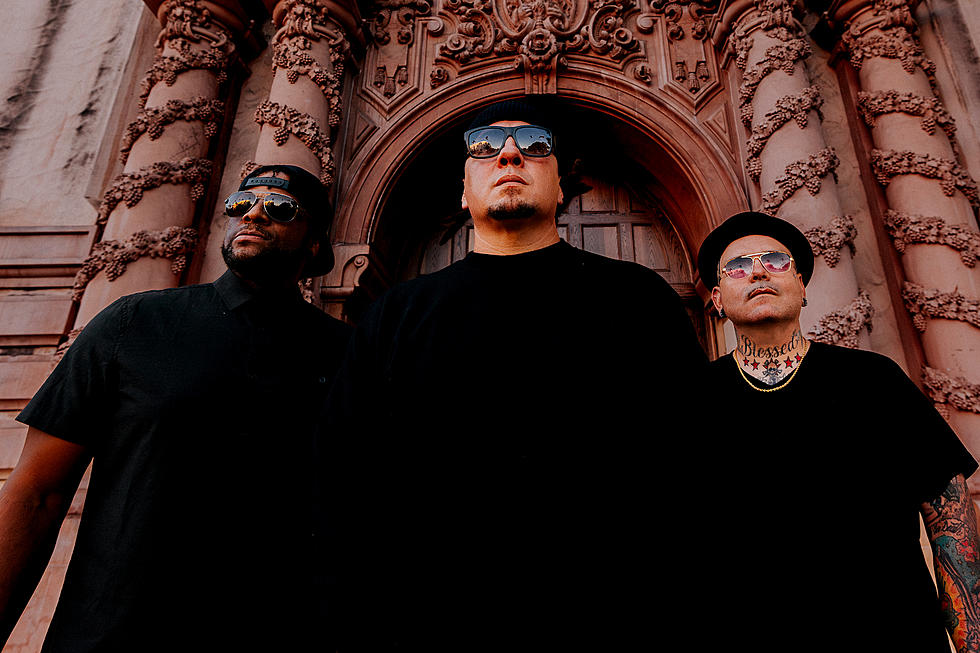 As P.O.D. Release New Music, Sonny Sandoval + Marcos Curiel Reflect on Nu-Metal, Band's Longevity – 'Loving Each Other as Friends'
Mascot Label Group
P.O.D.'s latest song, "Drop," marks their first new music since the release of 2018's Circles and is the first taste of what fans can expect from their upcoming 11th studio album, Veritas.
"It's been a long time coming," founding guitarist Marcos Curiel told Chuck Armstrong on Loudwire Nights the day "Drop" came out (Sept. 21). "We've been working on this music for quite some time. We started working on it during the pandemic and to finally see it come to fruition and come out to the world, it's exciting, man. We are so excited."
With "Drop" serving as a sort of re-entry into fans' lives, P.O.D. enlisted the help of Lamb of God's Randy Blythe to make sure they made an even bigger — and heavier — impact.
"We've always done shows and have been fans of Lamb of God," said frontman Sonny Sandoval, who joined Curiel for the interview. "But we never really connected on a personal level. It was probably like two years ago, we did the ShipRocked cruise with Lamb of God and we just connected there. Randy's a sweetheart, he's a good human being and he's really close to H.R. [of Bad Brains] and so are we. We kind of hung out that whole cruise together and then we became friends."
Sandoval admitted that even though they became friends, he still thought it was a long shot to get Blythe on "Drop" because, as he put it, "We're not that heavy, you know what I mean?"
Fortunately for P.O.D., Sandoval quickly learned that Blythe is a fan of all kinds of music and as soon as he heard the song, he dug it.
"It's funny, with music, a lot of people kind of put you in a box because they think your band sounds a certain way," Curiel added. "That's all you're about and that's it — but that's just not true."
P.O.D. and the "Nu-Metal" Label
As Curiel said that, it led Chuck to ask him and Sandoval how they felt about being labeled nu-metal in the late-'90s and early-'00s. Even before Chuck could finish the question, both guys started laughing.
At first, Chuck thought that meant they hated the nu-metal label, but Curiel quickly corrected him.
"Chuck, man, I'll tell you this straight up. We used to kind of be more like that [with the nu-metal label], but now as you get older, you go with whatever is going to connect to different people. Like, if that's the connection to them, if they want it to be nu-metal, cool. We're nu-metal. Other people thought we were rap rock, other people were into spiritual, Christian rock ... We were just a rock band and we never wanted to have any type of stigma or any kind of category. We were just a bunch of dudes that started in the garage. The American Dream, man."
The Longevity of P.O.D.
As they reflect on the labels that have been placed on them over the years, Curiel and Sandoval took the opportunity to also discuss the longevity of P.O.D.
Curiel and Wuv Bernardo started playing together in 1991 and in the next year, Bernardo invited his cousin, Sandoval, to join. Gabe Portillo came in on bass and P.O.D. was born.
"It's funny because I always tell people that trends come and go and we've seen so many trends during our life as a band," Curiel explained. "We've seen all these different styles come and then they kind of dwindle and fade away. We're still doing our thing ... These songs are just iconic and epic no matter where we go around the world. We'll play a song and be like, 'Damn, this is still strong.' We could be in another country that doesn't speak English and they know all the lyrics."
READ MORE: P.O.D.'s Sonny Sandoval Recalls the Moment Nu-Metal Blew Up
Curiel also added that one major reason they're still doing what they're doing all these years later is the fact that they actually like each other.
"A lot of it has to do with loving what we do and loving each other as friends and family. I don't think we'd be able to do this if that part of the equation wasn't there ... We love each other as bandmates, as friends, as family members — and we love to look at each other onstage and go, 'Dang, we're rocking this at our age.'"
What Else Did P.O.D.'s Sonny Sandoval and Marcos Curiel Discuss on Loudwire Nights?
The legacy of Satellite, their fourth studio album that came out on Sept. 11, 2001
What it was like getting to know Randy Blythe as a photographer
Some of the common threads between Blythe, H.R. and P.O.D.
Listen to the Full Interview in the Podcast Player Below
Sonny Sandoval and Marcos Curiel joined Loudwire Nights on Thursday, Sept. 21; the show replays online here, and you can tune in live every weeknight at 7PM ET or on the Loudwire app; you can also see if the show is available on your local radio station and listen to interviews on-demand. Stream "Drop" at this location and then check out P.O.D.'s full tour schedule.
The 66 Best Rock Songs of the 2000s: 2000-2009
The 21st century started off rocking.
The Best Hard Rock Album of Each Year Since 1970
Going year by year, looking at the best albums in hard rock since 1970.