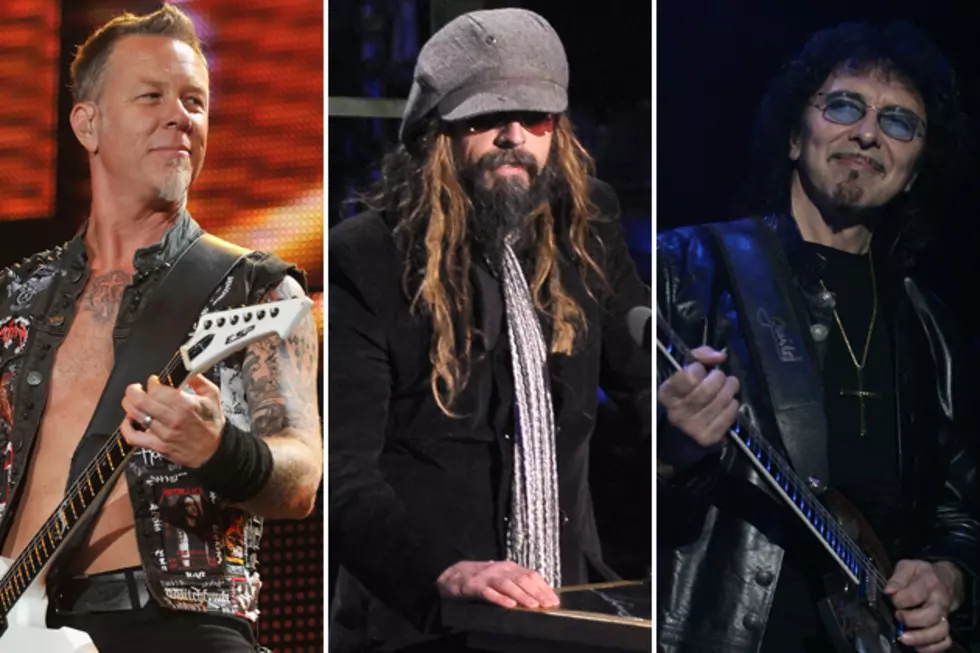 Revolver Golden Gods Awards 2013 [STREAMING]
Theo Wargo / Michael Loccisano / Paul Kane, Getty Images
The 5th annual Revolver Golden Gods Awards takes place tonight in LA. With this years honorees, Metallica, Rob Zombie and Tony Iommi. Watch the awards show LIVE.
The fifth annual Revolver Golden Gods Award Show looks to be the event's biggest ceremony to date, as Metallica, Rob Zombie and Tony Iommi will be among the honorees. This year's Revolver Golden Gods takes place May 2 at Los Angeles' Club Nokia and also features a headlining performance by Metallica.

Metallica have been chosen to receive the Ronnie James Dio Lifetime Achievement Award, joining such past honorees as Rush, Motley Crue, Lemmy Kilmister and Ozzy Osbourne. Drummer Lars Ulrich stated, "Since the Revolver Golden Gods Awards is fast becoming THE most rocking awards ceremony in the hard rock world, we are beyond psyched to be at the receiving end of this shout out and in the distinguished company of Rush, Lemmy, Ozzy and Motley Crue. I was hanging out and presenting at the shenanigans two years ago and the energy in the room and the vibe backstage was beyond f—ing cool, so Metallica is chomping at the bit to partake in this year's event."

The Golden God award, given to an honoree that embodies the spirit of hard rock and metal, will be presented to Rob Zombie this year. "What can I say?," said Zombie. "It is a complete honor to receive this award and have my name join the list of such legendary past winners as Alice Cooper and Gene Simmons. Pretty cool deal to be part of the Golden God club." The timing of the ceremony will also work well for Zombie, who also used the opportunity to announce that his next album, 'Venomous Rat Regeneration Vendor,' will drop April 23, followed by the release of his 'Lords of Salem' film on April 26.

The night's other major honoree, Black Sabbath's Tony Iommi, will be adding the Riff Lord award to his mantelpiece. Iommi says, "What a great honor to receive the Golden Gods Riff Lord Award for 2013, especially with our new Sabbath album coming out. I hope there will be some new favorite riffs in these songs." Last year's winner of the Riff Lord honor was Slash.